MALLORCA
Geography and Landscape

Basic information
Official language
Spanish
Capital
Palma de Mallorca
Area
3.640 km²
Population
947,309 (2021)
Currency
euro (EUR)
Web
.es
Code.
ESP
Tel.
+34

Cities in MALLORCA
Popular destinations SPAIN
Geography and Landscape
Geography
Mallorca or Majorca is an island in the western part of the Mediterranean Sea and the largest island of the autonomous Spanish region of the Balearic Islands or Baleares (Spanish: Comunidad Autónoma de las Islas Baleares). The total area of the island is 3625 km2 with a length of approximately 100 kilometers and a maximum width of more than 70 kilometers. The coastline is about 550 km long. Barcelona, located on the east coast of the Spanish mainland, is 248 kilometers from Palma de Mallorca, the capital of Mallorca. Valencia in Spain is 260 kilometer away, Algiers in Algeria 318 kilometer, Marseille in France 530 kilometer and Genoa in Italy at 812 kilometers.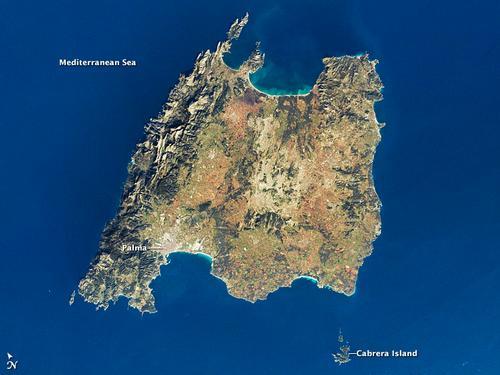 Mallorca Satellite photoPhoto: Public domain
Landscape
At the end of the Tertiary, about eight million years ago, mountain ranges such as the Alps and the Pyrenees arose and the islands of Mallorca and Ibiza were then raised above sea level. At that time the islands were still attached to the Spanish mainland, but due to the rising of the sea level, the islands of the Balearic Islands, including Mallorca, were created about 12,000 years ago.
Steep rocky coastal formations can be found in the west and on the North Cape (Cap de Formentor). The east and south coast are characterized by the presence of many bays and beaches (calas). Lagoons and swamps, the so-called wetlands, lie around the bays. Mallorca has several dune areas that constantly change shape due to the constant wind and the constant supply of sand, making it seem as if they are constantly on the move.
In the southeast (Sierra de Levante) and northwest (Sierra del Norte; Malloquin: Sierra de Tramontana) parallel mountain ranges run along the coast. In the Tramontana Mountains is also the highest point in Mallorca, the Puig Major, 1445 meters high. Other high peaks are the Teix (1062 m), the Galatzó (1026 m), the Massanella (1340 m) and the Tomir (1102 m).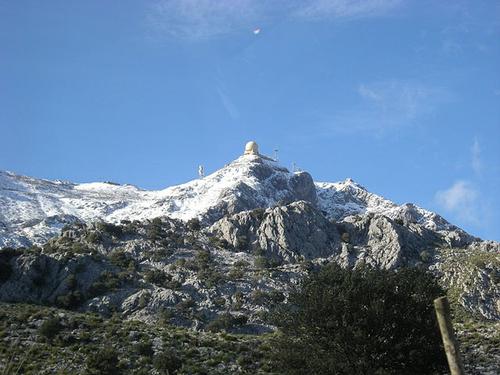 Puig Major, highest mountain in MallorcaPhoto: Paucabot CC 3.0 International no changes made
Deep ravines (torrents) run from the mountains to the coast. There are no real rivers on Mallorca, but the beds of these canyons can turn into wild rivers after heavy rainfall. Between the two mountain ranges is a fairly flat, fertile part that becomes more hilly towards the north and is called Es Pla. The hills that lie here do not exceed 350 meters. Limestone is an important rock in Mallorca and causes karst phenomena such as dripstone caves, gorges and depressions in various places, but especially along the east coast. Well-known stalactite caves are the Cuevas del Drac and the Cuevas dels Harms near Porto Cristo. All these phenomena are caused by water seeping down cracks and fractures and then dissolving the lime.
The most famous sandy beach in Mallorca is located on the south coast in the Bay of Palma.
---
Sources
Dominicus, J. / Mallorca
Gottmer
Lee, P. / The rough guide to Majorca
Rough Guides
Nahm, P. / Majorca, Minorca
Baedeker
Rokebrand, R. / Reishandboek Mallorca
Elmar

CIA - World Factbook

BBC - Country Profiles
Last updated November 2023
Copyright: Team
The World of Info