MALLORCA
Playa de Muro

Playa de Muro
Mallorca is a large island in the Spanish Balearic region. The island has an area of approximately one hundred by seventy kilometers. With its beautiful nature, attractive climate and fine culture, Mallorca acts as a magnet for tourists from all over the world. Every year as many as 10 million people migrate to the island with its various cities and villages.

Playa de Muro is located in the northeast of Mallorca. Playa de Muro is a quiet town near Puerto de Alcudia, with rich attractions. In Playa de Muro you can really relax and enjoy the beautiful nature. There is something for everyone at Playa de Muro, especially around the beach. Playa de Muro has a long beach of about five kilometers interrupted by a channel, which is directly connected to the Mediterranean Sea. Along the beach is a small center square with a few bars, discos and restaurants. The town is a coastal town and old fishing village. In addition to the sea and the canal, three more large lakes can be found further inland, including the Esperanza Lake. Playa de Muro is surrounded by nature. The most famous is the Albufera de Mallorca nature reserve that stretches for miles. Here you will find wetlands, exotic birds and beautiful walking routes.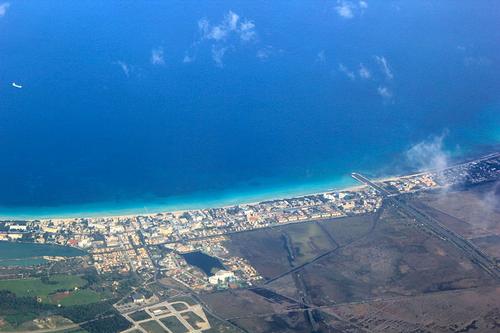 Playa de MuroPhoto: Chixoy in the public domain
Location
Playa de Muro is located about sixty kilometers from the capital Palma de Mallorca. Playa de Muro lies, as it were, between the comparable Ca'n Picafort and the larger Puerto de Alcudia.
The towns can be reached by a busy main road that borders the swampy reserve of Albufera with its enormous pine forests. Playa de Muro is not to be confused with the city of Muro. This city is located more than fifteen kilometers from Playa de Muro and has about six thousand inhabitants.
The outer cities are easily accessible by public transport. Buses run every 15 minutes in the direction of Alcudia and C'an Picafort. There is also a tourist train from the Gaviotas district. In this district you will mainly find hotel and apartment complexes near the lake Las Gaviotas.
The nearest airport, which is located in the vicinity of the capital Palma, is 67 kilometers from Playa de Muro. That's about an hour's drive. During this ride you can enjoy the beautiful culture and nature, which can be found abundantly in the area.
Weather
The weather in Playa de Muro is sunny all year round. In the summer months the temperature can reach thirty degrees. Outside the summer months you still have wonderful weather and you can enjoy temperatures of up to twenty degrees. There is not too much rainfall. The best time to travel is in the spring or autumn.
History
Not much can be said about the history of Ca'n Pastilla. It was originally a coastal town that emerged during the tourist influx in the 1960s.
For the history of Mallorca see the Mallorca page of Landenweb.
Sights
Playa de Muro is above all the town of attractions. Nature and culture are an attraction for the tourist. The flat area is ideal for cycling and walking. You can also enjoy the wooded area towards C'an Picafort and of course the beach.
The beach is very versatile. Entertainment options, quiet sun spots and for the kids there is also a children's park with a miniature golf and bowling alley. There is also a game hall. Along the beach you can look around at your leisure in the shops and have a bite to eat at the international restaurants. Playa de Muro is also internationally oriented, many people speak English. Playa de Muro is so popular because it offers the perfect combination of beach and activities. In addition to relaxing and sunbathing, there is nature and culture.
The sports enthusiasts have also a lot of facilities in Playa de Muro. There is a windsurfing school in this beautiful beach area. Waterskiing is also possible. And you can also ride a pedal boat or ride the slightly wilder banana. The familiar ball games are also available: tennis, golf and squash courts can be found in the hotel environment.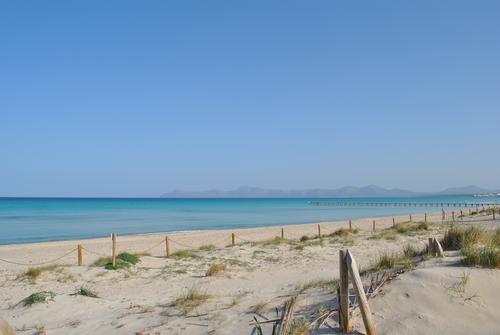 Beach Playa de MuroPhoto: Mallorcagallery CC 3.0 Unported no changes made
Playa de Muro beach is a long beach interrupted by a channel. The beach area is surrounded by shrubs, pine trees and coves. The bays are quite sheltered, so you won't be bothered by the wind. It is a beautiful area to sunbathe and relax.

The beach area borders the other beach areas of Puerto de Alcudia and C'an Picafort. The seabed slopes gently and it is therefore not immediately deep, ideal for children. There is also a playground for them and a fun go-kart track.

You can enjoy delicious food and nightlife such as bars and discotheques along the beach of Playa de Muro in the center square. Taking a walk in Playa de Muro is an attraction in itself. For example, you can visit the villa and apartment district of Las Gaviotas. Scattered are a number of quiet parks, where you can sit.

At various places in Mallorca it is possible to make a trip with a glass bottom boat. This is also the case in Playa de Muro. The deck of the boat is made of glass, which makes it possible to see under water. It is a nice trip.

It is possible to take a horse-drawn carriage ride along the main road towards the other cities. You get to see a piece of the center of Playa de Muro and the attractive surrounding landscape.
AlcudiaPhoto: Mike Lehmann CC 3.0 Unported no changes made
Puerto de Alcudia is a nice city to visit. This historic city is known for its medieval city walls, which completely surround the city. You can take a look at the Teatre Roma and the archaeological museum with high-quality sculptures. There is also plenty to do for the children in Alcudia. There is an amusement park called Zoolandia. You can also cool off in the water park of Puerto de Alcudia.
Tips
You will find dozens of eateries at the center square. Including cafeterias, Pizza Hut, Burger King and a Chinese restaurant.

There are also the familiar restaurants with international dishes. Playa de Muro keeps its tradition with its many seafood restaurants. There are also several meat restaurants. But exotic cuisine can also be found: Lebanese, Moroccan and Japanese food can be found in the old center. Of course there is also typical Spanish food. You often get dishes with olives, fish and tomatoes on the plate.

About eighty shops can be found in the old center. Here you will also find the supermarket. Furthermore, the town offers souvenir shops, clothing stores and perfumery.
Playa de Muro also has small entertainment options. These can mainly be found on the center square. There are several English pubs and a piano bar. There are also a number of disco bars. For the larger entertainment venues C'an Picafort or Puerto de Alcudio are the closest places.