MALLORCA
Puerto de Alcudia

Puerto de Alcudia
Mallorca is a large island in the Spanish Balearic region. The island has an area of approximately one hundred by seventy kilometers. With its beautiful nature, attractive climate and fine culture, Mallorca acts as a magnet for tourists from all over the world. Every year as many as ten million people migrate to the island with its various cities and villages.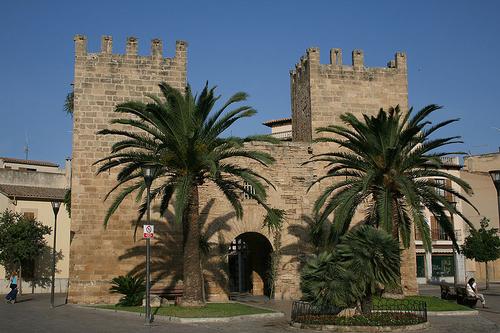 Entrance gate AlcudiaPhoto: Mike Lehmann CC 3.0 Unported no changes made
The municipality of Alcudia is located in the northeast of Mallorca, surrounded by medieval walls. In this municipality there is a city with about 6,000 inhabitants: Puerto de Alcudia. Puerto de Alcudia has the largest beach in Mallorca, many entertainment options and beautiful surroundings. There is, for example, a yacht and fishing port and a kilometer-long boulevard.

Puerto de Alcudia is one of the most popular destinations on the island of Mallorca. This is mainly due to the perfect conditions for a real sun holiday, including the enormous beach. The place has a beautiful location between various bays. Numerous apartments and hotels have been built around the marina, attracting thousands of tourists every summer, including many water sports enthusiasts.
Location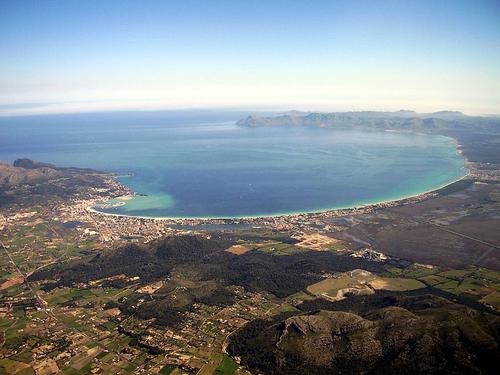 Bay of Alcudia from the skyPhoto:J.Rigo CC 3.0 Unported no changes made
The town of Puerto de Alcudia is located about sixty kilometers from the capital Palma de Mallorca and forty kilometers from the other large city Manacor. The town borders Playa de Muro, which is a quiet town where you can also enjoy a wonderful holiday on the beach. A motorway runs right through Puerto de Alcudia, connecting the cities.
Puerto de Alcudia has a green environment. In nature you will find hilly parts, canals and bays. Puerto de Alcudio also has three still lakes. There are various forests in the region, including the pine forests.

Close to a marina and fishing port is a densely built residential area called Aucanada. This area is also decorated with pine trees and set up with spacious villas. Definitely worth a visit. There is also the Esperanza district with various shallow canals and a large lake. There is also a second center, next to that of the center with its many terraces and the main road. There are eateries spread all over the town.

Within Puerto de Alcudia you can use the tourist train. The surrounding towns are easily accessible by public transport in Puerto de Alcudia. Buses run every 15 minutes to Playa de Muro and other seaside resorts in the area.

There is also a bus every hour to the capital Palma where the airport is located. That distance is about sixty kilometers. After a flight of two and fifteen minutes, the transfer time is still about five minutes.
Weather
The weather in Puerto de Alcudia is very pleasant in the summer months. Like everywhere in Mallorca, there is the Mediterranean climate. In the spring and autumn it can feel a bit fresh and a jacket is necessary. This also applies when the sun has set. But a jacket is absolutely not necessary during the day.
History
Not much can be said about the history of Puerto de Alcudia. It was originally a fishing village that was emerging during the influx of tourists in the sixties.
For the history of Mallorca see the Mallorca page of Landenweb.
Sights
There is a lot to see in Puerto de Alcudia. The city center has a rich history where you can soak up the medieval atmosphere. Various prehistoric finds have also been made. The city walls are built entirely by hand. Unfortunately little is left of that. After the Roman era, the buildings were destroyed by Arabs to ruins.

Many people also visit Puerto de Alcudia for its attractions. Within the city you can visit several places from ancient times, including the Teatre Roma, the archaeological museum and the two gates that close the roads to the capital Palma and the port. The city is beautifully constructed with narrow streets.

There is also plenty to do for the children in Alcudia. There is an amusement park called Zoolandia.

At various places in Mallorca it is possible to make a trip with a glass bottom boat. This is also the case in Puerto de Alcudia and the adjacent Playa de Muro. The deck of the boat is made of glass, which makes it possible to see under water. It is a nice trip.

There is also a small fun fair along the beach in the afternoon and evening. In short, plenty to do in Puerto de Alcudia!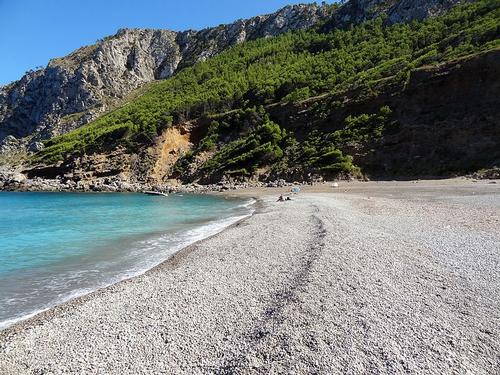 Beach Puerto de AlcudiaPhoto: Olaf Tausch CC 3.0 Unported no changes made
The seventeen kilometers long beach of Puerto de Alcudia runs between Playa de Muro and C'an Picafort. The beach is located in a huge bay and ends with a rocky area. A beautiful environment. Along the beach is a boulevard with palm trees.

Everything you need is available on the beach. There are several beach bars, each with a large terrace. The umbrellas are available free of charge and sun beds can be rented. There are also clean showers and toilets. There is also beach surveillance for safety.

The beach is also ideal for children. The seabed slopes very slowly. Behind the beach there are playgrounds for the children.

But Puerto de Alcudia is also a great destination for sports enthusiasts. Not many places elsewhere on Mallorca offer as many water sports as on the beach of this town. There is a windsurfing school / sailing school. You can also participate in other water activities such as rowing, canoeing and water skiing.
Tips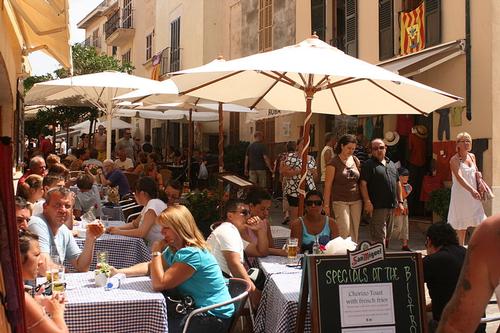 Dining options AlcudiaPhoto: Fredrik Weslien CC 3.0 Unported no changes made
In Puerto de Alcudia, almost a hundred restaurants can be found spread over different centers. Especially in the direction of the main road and the Esperanza district you can find a lot of dining options.

You will find familiar restaurants, as well as Thai and Chinese restaurants, pizzerias and grill restaurants. Almost all with a terrace.

Going out is also the showpiece of Puerto de Alcudia. There are no fewer than sixty-five places to go out, of which at least half are in the centers. Among other things, English pubs and cocktail bars are well attended. There are also five discotheques and disco bars.

The nature around Puerto de Alcudia is attractive. The Albufera reserve is nearby: the most famous natural part of Mallorca. It is a kilometer-wide nature reserve with wetlands, exotic birds and beautiful walking routes.