MALLORCA
El Arenal

El Arenal
Mallorca is a large island in the Spanish Balearic region. The island has an area of approximately one hundred by seventy kilometers. With its beautiful nature, attractive climate and fine culture, Mallorca acts as a magnet for tourists all over the world. Every year, no fewer than ten million people migrate to the island with its various cities and villages.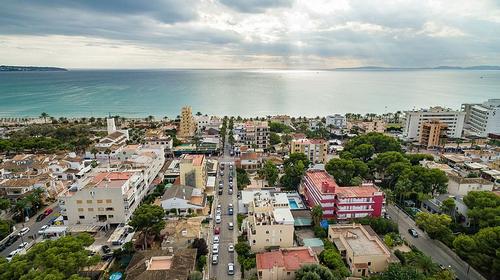 El ArenalPhoto: Dronepicr CC 2.0 Generic no changes made
The busy town of El Arenal is located in the south of the island of Mallorca. El Arenal is known for its beautiful beaches and perfect nightlife. On the beaches you can enjoy a well-deserved holiday, because of the wonderful Mediterranean climate. In the summer months it never rains in El Arenal. The holidaymaker can enjoy his holiday both quietly and actively, because for the active holidaymaker there is banana riding, parasailing and water skiing. In any case, it is impossible to have a boring holiday in El Arenal.
Location
This little town has about five hundred permanent residents. El Arenal is located only sixteen kilometers from the capital of Mallorca: Palma de Mallorca. El Arenal is thus easily and quickly accessible by plane and a small bus or car journey. Of course there is also the possibility to visit the busy capital during your holiday in El Arenal.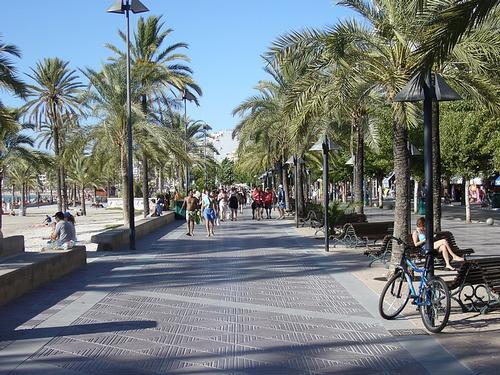 El Arenal BoulevardPhoto: Renee20Ir CC 2.5 Generic no changes made
The capital can be reached via the motorway that leads directly to Palma. As mentioned, El Arenal also borders Playa de Palma. A busy provincial road runs through El Arenal and Playa de Palma, which regularly causes long traffic jams. Furthermore, the interesting town of Llucmajor can be reached within 15 minutes via the Autovia de Levante motorway. Llucmajor has a few thousand inhabitants. The former fishing village of El Arenal borders the busy Playa de Palma and has a rich green nature. Little can be found of the fishing times. The landscape now consists of flat fields, forests and pine trees. The residential areas of El Arenal are lined with palm trees and have narrow streets. This also makes it wonderful to walk here. The residential areas are a bit older, but the town is also building for the future with brand new apartments. El Arenal owes its existence to that.
Weather
The weather in El Arenal is sunny all year round. In the summer months the temperature can reach thirty degrees. Outside the summer months you still have wonderful weather and you can enjoy temperatures of up to twenty degrees. There is not too much rainfall. The best time to travel is in the spring or autumn.
History
Not much can be said about the history of El Arenal. It was originally a fishing village that was emerging during the influx of tourists in the sixties.
For the history of Mallorca see the Mallorca page on Landenweb.
Sights
El Arenal is a great place to enjoy a real beach holiday. The El Arenal beach consists of sand with gravel in places. Almost two kilometers long. A considerable wind can blow at the sea. The sea is not directly deep, but is gently sloping, making it very safe for children. The sea area is rocky and is near a marina. The beach further borders that of Playa de Palma and continues to Ca'n Pastilla, almost five kilometers away.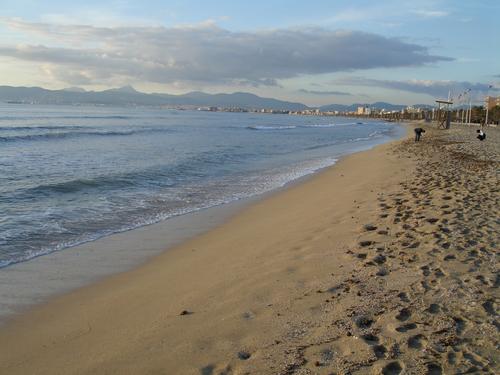 Playa de PalmaPhoto: Rene Westerholt in the publiic domain
There are plenty of facilities available on the beach. Renting sun beds or umbrellas is no problem and toilets and showers are also available on the beach. There are snack bars and cafes on the beach of El Arenal itself. You can also visit the long boulevard that runs along the entire beach. There is a playground for children near the beach.
As mentioned, there is also plenty to see in El Arenal. A walk through the narrow residential areas of the town with its palm trees is highly recommended and really gives you the feeling that you are in Spain. This residential area is located north of a harbor where luxury yachts have a beautiful berth.
You can also go shopping in the old center of El Arenal. There are dozens of shops in the sports, clothing and souvenirs category. There is also a huge supermarket. There is also a lively market every week where you can get everything.
You can also choose to make a unique trip with a glass bottom boat. The deck of this boat is equipped with glass so that you have a beautiful view both around you and below. Other boat trips, including along the harbor, are also possible. A horse-drawn carriage ride on the boulevard also gives you a real holiday feeling and a train runs along this route. The Aquacity Park is also a fun outing for children. This park is located just outside El Arenal and can be reached by public transport.
Tips
El Arenal is a huge attraction for young people who love to go out. For them, El Arenal is an absolute paradise: it is the entertainment center of Mallorca. The town has a lot to offer. On the boulevard there are numerous bars and discos. There are also several pubs. The bar of the MTV Beach House is well attended. Whatever you choose, El Arenal's nightlife continues into the small hours anyway.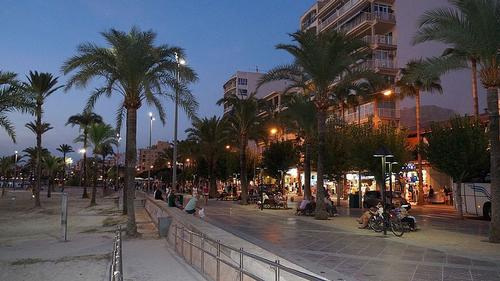 El Arenal NIghtlifeFhoto:Nikolai Bakhmarov CC 3.0 Unported no changes made
Those who want to spend their evening a little more relaxed shouldn't be put off by the busy nightlife of El Arenal. In the town you can also enjoy delicious food. Both in the center and on the boulevard. For simple Spanish cuisine you have to be in the center, for the familiar and international meals you have to choose a restaurant along the boulevard. Here you will find the well-known Dutch dishes. But also the croquette and fries sound familiar to the Spaniards here. There are also grill and fast food restaurants and pizzerias.