MALLORCA
Language


Cities in MALLORCA
Popular destinations SPAIN
Language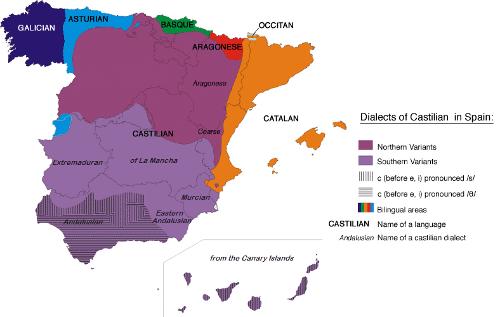 Map of Spanish Dialects, MallorcaPhoto: Stephen Shaw at the English Wikipedia CC 3.0 no changes made
Two languages are spoken and written in Mallorca, Mallorquin, a Catalan dialect, and Castilian Spanish (Castellano). In the thirteenth century, Catalan (Català) supplanted the Arabic of the Moors. After the unification of Spain, the court language, Castilian, became increasingly important and in 1715 declared the official language of all Spain, including the Balearic Islands.
It was not until the nineteenth century that there was more attention for Catalan again and its autonomous status since 1983 has made Catalan an official language again in the Balearic Islands.
A dialect of Catalan, Mallorquin is difficult to understand even for mainland Spaniards, and differs in both pronunciation and vocabulary.
English Castilian Mallorquin
shower ducha dutxa
double room habitación doble habitacio doble
bad baño bany
toilet sink toaleta
key llave clau
bank banco banc
post office la oficina de correos correus
credit card tarjeta de crédito carta de credit
breakfast el desayuno berenar
water el agua aigua
wine vino vi
Sources
Dominicus, J. / Mallorca
Gottmer
Lee, P. / The rough guide to Majorca
Rough Guides
Nahm, P. / Majorca, Minorca
Baedeker
Rokebrand, R. / Reishandboek Mallorca
Elmar

CIA - World Factbook

BBC - Country Profiles
Last updated May 2022
Copyright: Team
The World of Info