MALLORCA
Vacations and Sightseeing

Basic information
Official language
Spanish
Capital
Palma de Mallorca
Area
3.640 km²
Population
947,309 (2021)
Currency
euro (EUR)
Web
.es
Code.
ESP
Tel.
+34

Cities in MALLORCA
Popular destinations SPAIN
Vacations and Sightseeing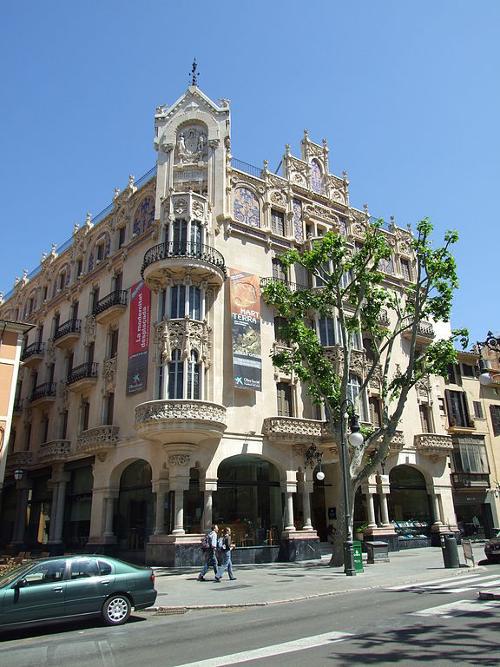 Gran Hotel MallorcaPhoto: Pérez CC 4.0 International no changes made
At the end of the 19th century, tourists already came to Mallorca. The first hotel, Gran Hotel in Palma de Mallorca, was opened in 1903. In 1935, about 40,000 tourists already came to Mallorca. Before, during and after the war, tourism declined sharply. It was not until the 1950s that Mallorca became more popular again.
In the early 1960s, the number of tourists exceeded a million, partly due to the opening of an airport on Palma de Mallorca. The oil crisis in the 1970s and the economic recession in the 1980s caused tourism to decline again.
At present, millions of tourists come to Mallorca every year, making Mallorca almost entirely dependent on tourism. Tourism is responsible for 80% of the island's income and provides work in construction and the hotel industry. The fact that the economy of the island is very vulnerable due to cyclical fluctuations has already become painfully clear several times.
The disadvantages of mass tourism, including pollution and water scarcity, are also becoming increasingly clear.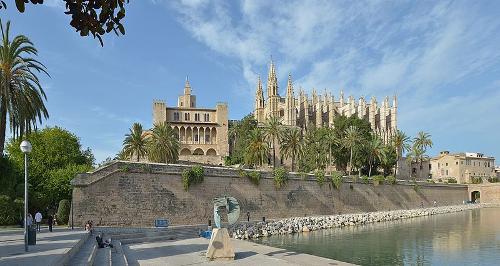 Palma de MallorcaPhoto: Wolfgang Moroder CC 3.0 Unported no changes made
Palma de Mallorca is the pride of the Majorcan, a city with the largest intact center in Europe and all architectural styles available, such as Gothic cathedrals, Catalan Art Nouveau and avant-garde modern buildings. One of the highlights is La Seu Cathedral, one of the most beautiful churches and most important Gothic buildings in Spain. In the beautiful city palace Can Marqués you can see the urban life of the nobility in the 18th and 19th centuries. The renowned Museu Es Baluard, a modern looking museum located in the old city wall and with underground chambers, allows the tourist to enjoy around 300 works of Spanish and European art of the 20th century. The Museau de Mallorca houses about 3000 pieces from prehistory to the Jugendstil that relate to the history of Mallorca. There is also an Islamic art and culture department. Read more on the Palma de Mallorca page of TheWorldOfInfo.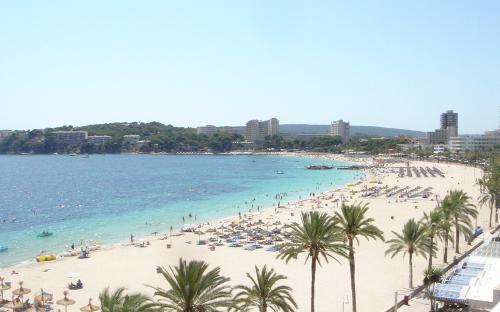 Magaluf beach, MallorcaPhoto: Hullernuc CC 3.0 Unported no changes made
However, most tourists do not come to Mallorca for the culture, but because of the great beaches. TheWorldOfInfo has included a large number of seaside resorts on separate pages. These are: Ca'n Pastila, Ca'n Picafort, Cala d'Or, Cala Millor, El Arenal, Magaluf, Palma Nova, Playa de Muro, Playa de Palma, Puerto de Alcudia, Sa Coma, Santa Ponsa.
---
Sources
Dominicus, J. / Mallorca
Gottmer
Lee, P. / The rough guide to Majorca
Rough Guides
Nahm, P. / Majorca, Minorca
Baedeker
Rokebrand, R. / Reishandboek Mallorca
Elmar

CIA - World Factbook

BBC - Country Profiles
Last updated November 2023
Copyright: Team
The World of Info