MALLORCA
Cala d'Or

Cala d'Or
Mallorca is a large island in the Spanish region of the Balearic Islands. The island 's area is approximately one hundred by seventy kilometers. With its beautiful nature, attractive climate and fine culture, Mallorca is a magnet for tourists from all over the world. Every year, no fewer than ten million people migrate to the island with its various cities and villages.
The charming village of Cala d'Or is located southeast of the island of Mallorca. It is a romantic but also worth seeing seaside resort. It is a Mediterranean village where you can enjoy your holiday in many ways.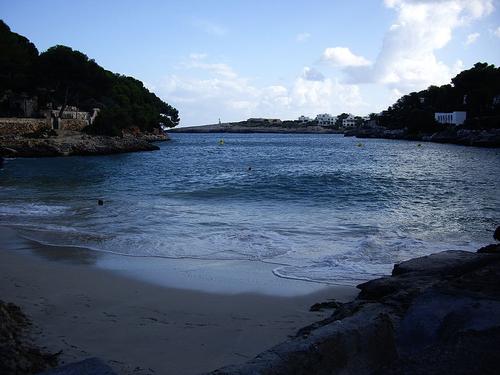 Cala d'Or BaYPhoto: Mmoyaq CC 3.0 Unported no changes made
Location
Cala d'Or is located about 65 kilometers from Palma de Mallorca, the capital of Mallorca. The village has almost 300 permanent residents, but in high season the tourist crowds in Cala d'Or increase. That is why the village has a car-free center. Cala d'Or borders two other villages: Cala Llamp and Porto Petro.
Cala d'Or is easily accessible by plane. In Cala d'Or itself, the suburbs such as Palma and Porto Petro are also accessible by public transport. Buses and taxis run regularly and trains are also used especially for tourists. Of course it is also possible to rent a car.
Weather
The weather in Cala d'Or is sunny all year round. In the summer months the temperature can reach thirty degrees. Outside the summer months you still have wonderful weather and you can enjoy temperatures of up to twenty degrees. There is not too much rainfall. The best time to travel is in the spring or autumn.
History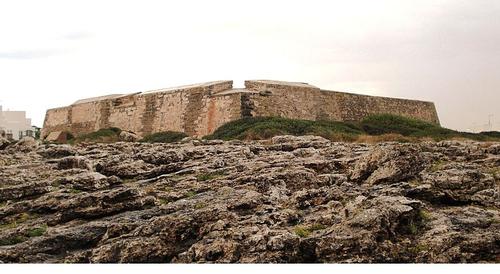 Es Forti Cala d'OrPhoto: Genet CC 3.0 Germany no changes made
There is not much to say about the history of Cala d'Or. It was originally a fishing village that was emerging during the influx of tourists in the sixties. A beautiful remnant from earlier times is the fort "es Forti" of Cala d'Or.
For the history of Mallorca see the Mallorca page on Landenweb.
Sights
Cala d'Or has many sandy beaches where you can enjoy the sun. The most famous beaches in Cala d'Or are the Cala d'Or beach and the Cala Gran beach. These two beaches are also in the center. The Cala d'Or beach is located between rocks and pine trees and has a deep bottom. The beach is almost seventy meters wide and borders the center of Cala Esmeralda. The Cala Gran beach is also a sandy beach. There are plenty of sun beds available on both beaches in high season. Bars and cafeterias are also open. You can also use the toilets and showers.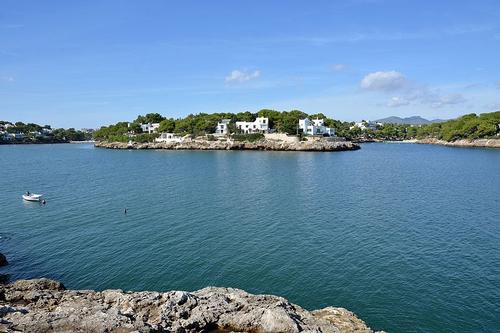 Cala d 'Or SeaPhoto: Dirk Vorderstrasse CC 2.0 Generic no changes made
The beaches are the perfect decor for sports. Windsurfing, diving and golf are the main sporting activities in the village. A windsurfing school is open daily at Cala Esmeralda beach. Diving is also possible at the Cala Gran beach. Golf is of course possible for young and old. Outside the village is a Golf Club where golf lessons can be taken, or you can golf freely. There is also room for mini golf.
Tips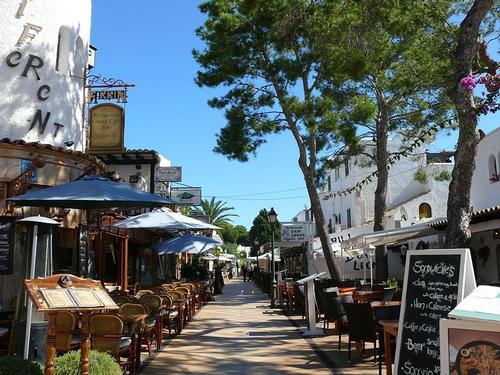 Entertainment center Cala d'Or Photo: Riessdo CC 3.0 Germany no changes made
Gazpacho, Tapas and Paella: it can all be found in the center of Cala d'Or. There are about a hundred different restaurants in the center. Especially the Italian, Mexican but of course also the Spanish cuisines predominate. The Paella and Pizza is the specialty at Cala d'Or, but the tapas bars are also recommended. The center also has dozens of bars, including pubs, cocktail and flamenco bars. There is also plenty of shopping in the village, with no fewer than 150 different shops. Nightlife options can also be found in Cala d'Or. You can enjoy dancing in the discotheques and disco bars.
You certainly do not have to leave the village of Cala d'Or for sights. The beautiful bays, wooded surroundings and the harbor of Cala Esmeralda are great trips in themselves. You can also take a trip with the glass bottom boat, deep-sea fishing or take a boat trip to other places.

Palma de MallorcaPhoto: Piutus (CC BY 2.0) no changes made
If you want to travel outside Cala d'Or, you can do so by public transport. There is a bus every hour to the capital of Mallorca: Palma. There are also nice shops there, but you can also enjoy the cathedral of La Seu, Bellver castle or Badia beach. But you will also find the caves of Drach and Hams in Manacor near Cala d'Or, where you can take a tour of the 'caves of antiquity'. There is also the Aquacity park for the children. This water park is highly recommended with its slides and wave pools.
The green hinterland with olive trees, rocky bays and sandy beaches are the attractions of the village. That is why Cala d'Or is also called 'the Garden Bay'. Nowhere else on Mallorca is there so much horticulture with even fig cacti. Furthermore, Cala d'Or has a hilly and wooded landscape where it is beautiful to walk.
But the center also has a lot to offer. With shopping centers, restaurants and a beautiful harbor, the beach can be varied with culture. Sports and entertainment are also popular in Cala d'Or. Furthermore, the village is known as a child-friendly place.