MALLORCA
Cala Millor

Cala Millor
Mallorca is a large island in the Spanish Balearic region. The island has an area of approximately one hundred by seventy kilometers. With its beautiful nature, attractive climate and fine culture, Mallorca is a magnet for tourists from all over the world. Every year no less than 10 million people migrate to the island with its various cities and villages.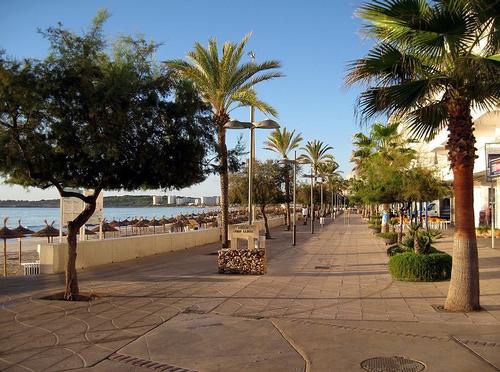 Boulevard Cala MillorPhoto: Olaf Tausch CC 3.0 Unported no changes made
Imagine that you are within three hours on the white beaches, on one of the most beautiful bays on the island of Mallorca. This is possible in Cala Millor, which is located on the east side of Mallorca. With its 850 meters long and 40 meters wide beach, Cala Millor is certainly not the largest town in Mallorca, but it is one of the nicest and quietest. The many terraces, the boulevard full of shops, boat trips, (water) sports opportunities and the walking and nature reserve are certainly worth a holiday. Cala Millor has long been a favorite among Western European tourists. Do you want a quiet holiday, but still plenty of fun activities? Then you are at the right place at Cala Millor!
Location
Cala Millor consists largely of hotels and holiday homes and has only a few hundred permanent residents. It is therefore a lot busier during the holiday season.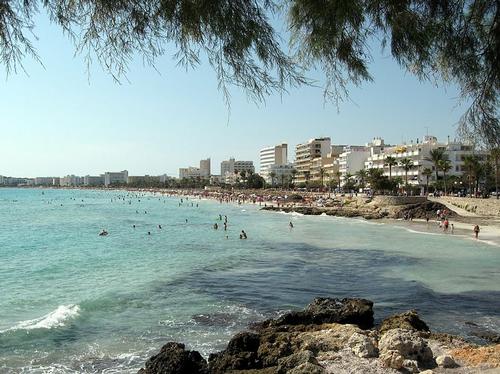 Cala Millor Beach viewPhoto: Olaf Tausch CC 3.0 Unported no changes made
Cala Millor has an exotic beach of up to two kilometers long. White beaches with clear blue water are the hallmark of this place. But when you move further inland, green hills meet you. Ideal for a walk and what is also ideal is the travel time. The flight is less than three hours. From the airport 'Palma de Mallorca Saint Joan', it is 59 kilometers to the destination. This is approximately one hour and ten minutes.

Public transport in and around Cala Millor is very flexible. The buses run about twice an hour. There are good connections with places around and larger cities, such as: Palma de Mallorca. This city is also worth a visit. In addition to the buses, there is also a tourist train. This runs once every hour and only runs from April to October. And if you miss the bus: there are plenty of taxis too.
Weather
For the weather you should definitely come to Mallorca. The island is worth a trip all year round. The hottest months are from May to September with about thirty degrees. But even in November you can still take a dip in the Mediterranean at twenty degrees.
History
There is not much to say about the history of Cala Millor. It was originally a fishing village that was emerging during the influx of tourists in the sixties.
For the history of Mallorca see the Mallorca page of Landenweb.
Sights
Cala Millor has its own boulevard with all kinds of tourist shops. Nice to spend a day on this. There are also restaurants and terraces on the boulevard.

For even more shops, souvenirs and boutiques, take a trip to Playa de Palma. Here you will find small shops and a cozy atmosphere on the boulevard. If you want to fully explore the boulevard, you can see everything by horse and carriage. For the larger stores you have to go more towards the center. There are no fewer than two hundred shops in the center of Playa de Palma.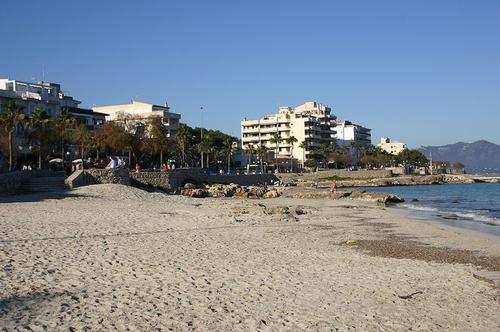 Cala Millor BeachPhoto: Kai Alpers CC 3.0 Unported no changes made
Cala Millor is a good base for nice boat trips. In Cala Millor you can also take the boat to Porto Cristo and Formentor. In the meantime, you enjoy the view.

Furthermore Cala Millor also has a special pirate boat trip including food, drinks and life music. Fun for the kids.
After a day of shopping in the center you can enjoy the special glass bottom boat. What makes the boat so special is that the deck is equipped with glass, so you can also see underwater. So nice to discover the underwater world, without having to enter the water.

If you want to go into the water, there is the diving school. Here you can learn to dive and thus explore the Mediterranean on your own.
Tips
Cala Millor is cozy because of all the restaurants and terraces. On the boulevard and in the town itself there are 40 restaurants, including: Chinese restaurants, pizzerias and hamburger restaurants. Cala Millor also has about 23 bars. These also range from English pubs to German bars. For an evening of party, Cala Millor has its own disco bar.
Cala Millor is nothing more than a small and quiet seaside resort in a peacefull area, but this certainly makes it not unattractive. On the contrary, it will surprise you how much there is to do in this town. So many activities, something for everyone. You can enjoy the beautiful clear waters with a boat trip or you can explore Cala Millor by taking a horse drawn carriage ride. These are suitable for getting a first impression of the small town. To taste even more culture, rent a car to explore Cala Millor and the beautiful surroundings.
Cala Millor MarketrPhoto: Olaf Tausch CC 3.0 Unported no changes made
There are countless opportunities to be active in sports. How about tennis, horseback riding, mini golf, football, pedal boats, diving, inline skating or fitness? But then there is also the real sport for women: shopping. In Cala Millor there are plenty of shops on the long boulevard or in the car-free center. Want to recover from all the sporting activities? This is very easy on the beach. Sunbeds and umbrellas are rented from April to October. The beautiful white beach slopes gradually.

Cala Millor is also thinking about the children. As mentioned, there are many sports activities, including diving. There is even a diving school for this, where children can go. They can also do their thing in the playground or race on the go-kart track. Trampolines are also provided, just as well as ponies. The Safari Park introduces them to wild animals. In addition to its image as a quiet town, Cala Millor is also a children's paradise.