MALLORCA
Sa Coma

Sa Coma
Mallorca is a large island in the Spanish Balearic region. The island has an area of approximately one hundred by seventy kilometers. With its beautiful nature, attractive climate and fine culture, Mallorca acts as a magnet for tourists from all over the world. Every year as many as ten million people migrate to the island with its various cities and villages.

Sa Coma is a beautiful town on Mallorca. Sa Coma may be small, but it offers you a wonderful holiday. It has a dazzling environment with beautiful beaches. There is plenty to do: there are adventurous activities, but also relaxing trips and you can take a boat trip on the Mediterranean. In addition, the cozy shops and terraces make Sa Coma complete.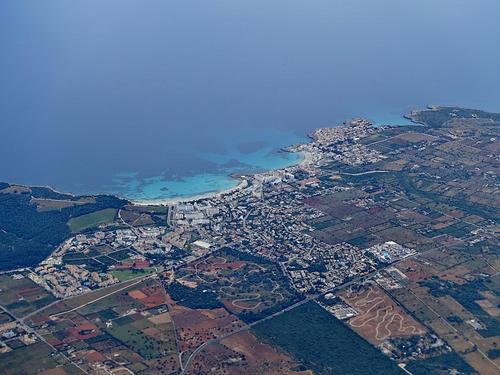 Sa ComaPhoto: Olaf Tausch CC 3.0 Unported no changes made
Location
Sa Coma has a length of 850 meters and a width of 40 meters. The flat seaside resort is therefore not very large. With its 750 inhabitants and many tourists, Sa Coma is a busy and pleasant place in the summer. Sa Coma is located on the east side of Mallorca, 2.5 kilometers south of Cala Milor.

Public transport is no problem in Sa Coma. Buses, taxis and even a tourist van will take you to your destination. For trips to other cozy places in the area, the bus runs about two to three times an hour. This will take you to: Cala Millor, Porto Cristo and Cala Bona. Also nice for a trip. Would you like to spend a day at S'illot and Cala Millor? Then the tourist train is also an option. It runs once every hour from April to October. There is also a good connection with Manacor, Palma de Mallorca (city and airport), Cala Radjada and Puerto de Alcudia. There are also plenty of taxis available and are happy to take you to your destination. Just make sure that you agree on a rate before you drive off or ask the driver to turn on the meter. This can save a lot of money!
Weather
The weather in Sa Coma is always good. In the summer months it is at its hottest in this town. The temperature can rise to about thirty degrees. If you go outside the summer months, you can also enjoy good weather in Mallorca. Because it is beautiful weather three hundred days a year.
History
Not much can be said about the history of Ca'n Pastilla. It was originally a coastal town that emerged during the tourist influx in the 1960s.
For the history of Mallorca see the Mallorca page of Landenweb.
Sights
Would you like to discover the towns of Porto Cristo and Formentor? Then do this with the special boat trip that takes you there. After a relaxing boat trip to one of these places you can enjoy the surroundings. In addition to the shops, terraces and bars, there are also the famous caves of Drach. Here you can see beautiful underground lakes and stalactites in these dripstone caves.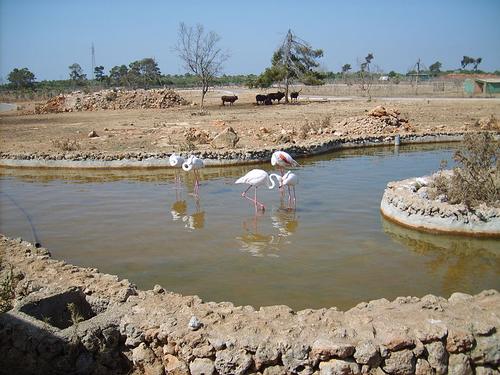 Safari park Sa ComaPhoto: OnkelJohn CC 3.0 Unported no changes made
Are you planning to go on the adventurous path, Reserva Africana is highly recommended. In this large safari park of 40 hectares you will see many African animals. These animals just live in the wild. With a car you can drive past zebras, giraffes, lions and rhinos. Another fun ride is on the tourist train, which takes you to S'illot and Cala Millor. These two places are nice to spend a day on. There you can enjoy the beautiful white beaches, busy boulevards, a pirate boat trip and learn to dive at the diving school. In the vicinity of Sa Coma you can also make a trip with a glass bottom boat. With this you can spot the entire underwater world. This glass bottom boat shows you not only the beautiful surroundings, but also the Mediterranean Sea, without getting wet!
When you go a little to the north, you will find Punta de n'Amer. In this peaceful natural landscape you forget everything around you and enjoy the old dune area. This is definitely recommended for a day of hiking with beautiful views.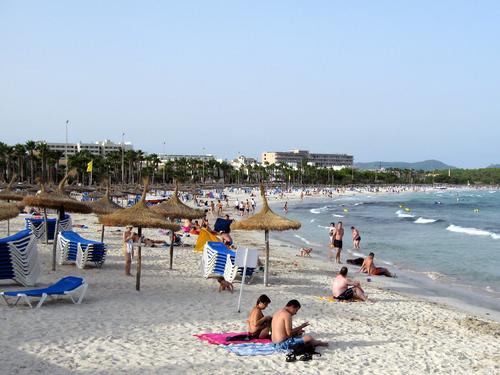 Sa Coma BeachPhoto: Olaf Tausch CC 3.0 Unported no changes made
The clear blue water and the beautiful flat sandy beach make Sa Coma a real popular leaf spot. The beach of Sa Coma has a bay with rocks and shady spots due to the low beautiful trees on the beach. There is also an opportunity to rent beach beds and a parasol. Perfect to fill a day at the beach. The seabed slopes gently, so you can go far into the water without suddenly being underwater. Ideal for children. This makes Sa Coma beach a popular place for everyone.
Tips
Sa Coma has many restaurants, terraces and bars. Sa Coma, for example, has about 40 dining options, including Chinese restaurants, pizzerias and burger joints. There are also 23 bars to be found. These range from English pubs to German bars. Although Sa Coma is not Salou, you can enjoy yourself in the cafes and bars, which make Sa Coma a party!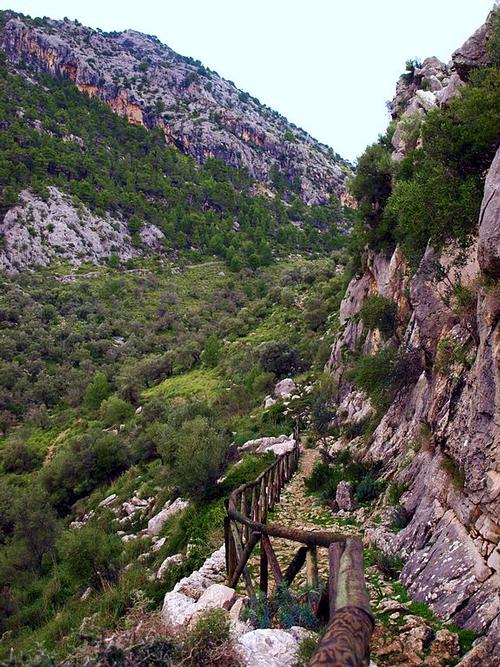 Nature Sa ComaPhoto: Chixoy CC 3.0 Unported no changes made
Sa Coma offers several nice trips. For relaxation, there is the beautiful nature reserve Punta de n'Amer. Sa Coma has fun activities for everyone. Likewise for the children. There are many fun things to do such as: go-karting on the go-kart track, swing in one of the playgrounds, race off in electric cars, jump trampoline or take a pony ride.

For sports enthusiasts, there is plenty to do in Sa Coma. On land or in the water, Sa Come has it all. How about a game of tennis or do you prefer squash, horseback riding, golf, football, handball, volleyball, inline skating or fitness? That is also possible, but if you prefer to do sports in the water, Sa Coma also has many sports activities in store. Wait you thought about diving? There is a special diving school for this. There is also space to rent pedal boats or to go water skiing. If it could all be even wilder, then there is 'banana riding'. Here you tear away on a banana boat across the Mediterranean!

In addition to all sports activities, there are also many shops! There are no fewer than 95 shops in Sa Coma. There are souvenir shops, leather goods stores, supermarkets and clothing stores. In between all these shops, there are of course also all kinds of nice terraces, restaurants and bars.