MALLORCA
Santa Ponsa

Santa Ponsa
Mallorca is a large island in the Spanish Balearic region. The island has an area of approximately one hundred by seventy kilometers. With its beautiful nature, attractive climate and fine culture, Mallorca acts as a magnet for tourists from all over the world. Every year as many as ten million people migrate to the island with its various cities and villages.

Southwest of the capital of Mallorca, Palma de Mallorca, is the rather large city of Santa Ponsa. The city has 9,000 permanent residents. It does not have a real center, but a long boulevard with various shops, so that the place can be seen as a real city. Especially because of the many tourists who take refuge to this beautiful spot every summer. Santa Ponsa is a tourist coastal town with beautiful nature. James I landed here in 1229 to conquer the island. This historical fact is still important and that's why a monument can be found of it, a stone cross.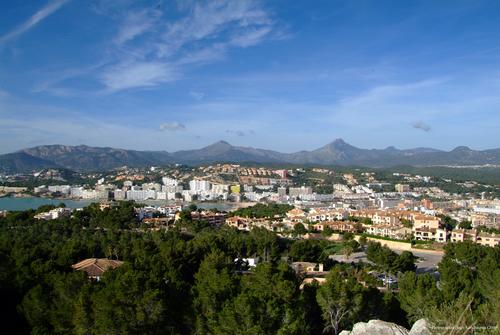 Santa PonsaPhoto: Ingo Kirschnereit CC 3.0 Unported no changes made
Location
Santa Ponsa is located about twenty kilometers from the capital of Mallorca: Palma. The nearest airport to Santa Ponsa, which is 28 kilometers away, is also located near Palma. The city is easily accessible by public transport over the motorway that runs outside the town.

Public transport also runs every 20 minutes to surrounding cities such as Palma nova, Magaluf and Puerto de Andraitx. The towns are located in a radius of eight kilometers and can therefore be reached within 15 minutes. In these cities you will find beaches, cozy shops and nightlife. Santa Ponsa is also adjacent to Costa de la Calma.

The nature of Santa Ponsa is worth a visit. The area is surrounded by forests and is very hilly. you will find a lot of pine trees in the bays, but also rocky areas. There are also parts with a flat landscape. In these parts mainly olive trees grow. A beautiful area for a walk.
Weather
The weather in Santa Ponsa is sunny all year round. In the summer months the temperature can reach thirty degrees. Outside the summer months you still have wonderful weather and you can enjoy temperatures of up to twenty degrees. There is not too much rainfall. The best time to travel is in the spring or autumn.
History
Not much can be said about the history of Santa Ponsa. It was originally a fishing village that was emerging during the influx of tourists in the sixties.
For the history of Mallorca see the Mallorca page of Landenweb.
Sights
Santa Ponsa is unique because of the long center that the town has. The center has almost 150 different shops. The offer mainly consists of shoes, souvenirs and clothing. There are also several supermarkets scattered around. There is a market every week.
Santa Ponsa is best known for its various residential areas, which make for a nice walk. In the north there is the huge tourist area of Es Castellot with luxury hotels and villas. There is also a square with a number of shops and entertainment venues. Higher buildings can be found just along the bay.

More to the south towards the Santa Ponsa beach and the Calo de Pallicer beach you will find a more greener residential area. There are many new hotels in the vicinity of the port area and construction is still underway.

A real trip is a boat trip to the towns of San Telmo and Isla Dragonera. The boat is not just any boat, it is a glass bottom boat. Through the glass deck you can view the underwater world of the sea.
Beach Santa PonsaPhoto: Gunnar Eberlein in the public domain
Santa Ponsa has long and beautiful beaches. The beach area of Santa Ponsa can be divided into three different parts: The Santa Ponsa sandy beach is one of two beaches specially designed for tourists. The coastline of about half a kilometer ends on both sides with a river and behind it a rocky part. The beach is decorated with beautiful palm trees. There is also a park.

For safety, there is also beach surveillance on the beach. There are sufficient facilities available. There are clean showers and toilets and various terraces and snack bars.

The beach is ideal for children. There is a playground with a number of play equipment. There is also a table tennis table. When the children go swimming, they should be aware of seaweed near the coast.

The Cala Blanca Beach is the second beach specially designed for tourists and the beach has various facilities. Sun beds and umbrellas can be rented and there is a snack bar. The Cala Blanca beach consists of pebbles and sand and also ends with a rocky part. The beach is located in a bay, which is why this beach is not very big.

The Calo de Pallicer shell beach is mainly intended for a walk. There are therefore not many facilities available. There is, however, a beautiful rocky area with a sheltered bay. At the Calo de Pallicer beach there is also a harbor with a number of luxury boats.
Tips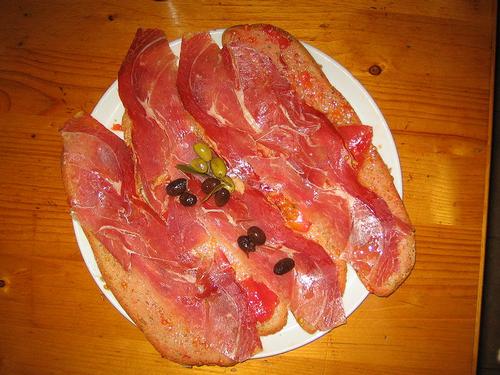 Local lunch Santa PonsaPhoto: Rafael Ortega Diaz CC 3.0 Unported no changes made
Santa Ponsa has an extreme range of dining options. This is because the restaurants are located in different places throughout the city. In total there are almost seventy-five eateries. They are mainly familiar restaurants including pizzerias, hamburger restaurants and Chinese eateries. You can also choose a Mexican restaurant or a typical Dutch eatery.

There are a lot of bars to be found. Like in so many places in Mallorca, there are English pubs. There are cocktail bars, piano bars and you can enjoy an ice cream in one of the many ice cream parlors. There are even two Dutch bars in Santa Ponsa. There are also various discotheques and night clubs and you can take a gamble in the amusement arcade.

Santa Ponsa is a place where you can walk. The area is completely located in a bay and is surrounded by hills. The area is surrounded by forests and has a long promenade and large marina. The beaches are the big draw of Santa Ponsa. There are several sandy beaches between the bays. Parts of the sandy beaches are sheltered. But Santa Ponsa is also very popular for its water sports. You can go parasailing, knee boarding and opt for a wild banana ride. There is also a diving school in Santa Ponsa. There is also the possibility to rent a pedal boat.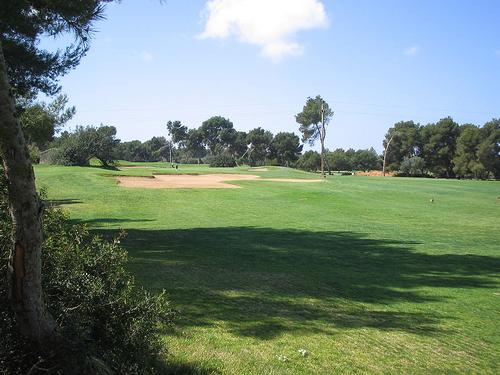 Golf Course Santa PonsaPhoto: Rafael Ortega Díaz in the public domain
Santa Ponsa is a golfing paradise par excellence. There are two huge and kilometer-long golf courses: Golf Sta Ponsta 1, 2 and 3, but also Club de Golf Poniente. So get the clubs out of the closet and hit a nice ball on one of these courses. You will also do the children a favor here with the mini golf complex.

In the evening, Santa Ponsa comes to life. The city has numerous cozy bars and restaurants, where you can eat cheaply and with a beautiful view. After dinner, a stroll can be taken and the tourists can get ready for a lively night out. Various nightclubs can be found in Santa Ponsa and Maguluf, 7 km away.

Many children spend the holidays in Santa Ponsa. There are a number of beautiful play areas for the children. Furthermore, the beaches are safe due to the gently sloping sea and the children can enjoy themselves peacefully and sheltered between the bays.