MALLORCA
Palma Nova

Palma Nova
Mallorca is a large island in the Spanish Balearic region. The island has an area of approximately one hundred by seventy kilometers. With its beautiful nature, attractive climate and fine culture, Mallorca acts as a magnet for tourists all over the world. Every year no less than 10 million people migrate to the island with its various cities and villages.
Palma Nova is a small town with three different beaches. This small cozy town was created by tourism. About fifty years ago, Palma Nova consisted of nothing more than a few houses whose inhabitants lived mainly from fishing and livestock farming. Palma Nova has since grown into a holiday resort where many tourists spend their holidays every year.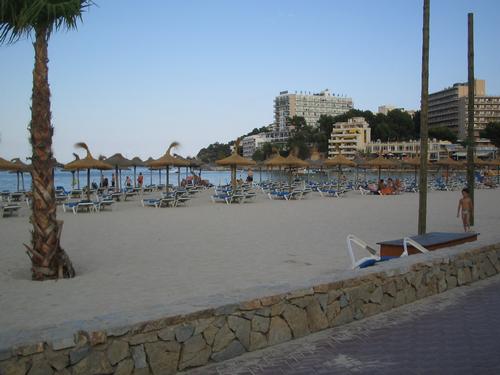 Palma NovaPhoto: Rafael Ortega Díaz in the public domain
Location
Palma Nova is located in the southwest of Mallorca and west of the large city of Palma de Mallorca. The town has only a few hundred inhabitants. When it is summer time, the town flourishes. The tourists make Palma Nova completely lively!

Palma Nova is located against another town in Mallorca. This town, called 'Magaluf' is connected to Palma Nova by a central district. This district consists of tourist buildings and hotels. Both Magaluf and Palma Nova are located on the Costa De Calvià, with many shops, bars, restaurants and beautiful beaches.

Palma Nova is located 35 kilometers from the airport 'Palma de Mallorca Saint Joan'. So you can be in Palma Nova within half an hour!
Weather
Palma Nova has a subtropical Mediterranean climate, so the weather is almost always nice. Mallorca does not have a real winter. In July and August it is hottest here, with temperatures reaching up to 30 degrees. The rest of the summer months are also wonderfully warm with always a cooling breeze.
History
Not much can be said about the history of Palma Nova. It was originally a coastal town that emerged during the tourist influx in the 1960s.
For the history of Mallorca, see the Mallorca page of Landenweb.
Sights
Palma Nova has plenty of great sights. Children don't have to be bored for a second here either. In addition to shopping in all the cozy shops in Palma Nova, there is a flea market every Saturday in nearby Magaluf. If you like to walk among the Spanish stuff, then it is definitely worthwhile to go to this market.

One kilometer outside Palma Nova is the water park Aquapark. With many water attractions, this is a fun outing for you and the children. Young and old can enjoy themselves here in all the swimming pools that are located in this park. The Aquapark also has many slides. In summer time, this park is open every day from 10am to 6pm. For a different water spectacle you can go on a boat with a glass bottom. This allows you to see the entire underwater world. This glass bottom boat shows you not only the beautiful surroundings, but also the Mediterranean Sea, without getting wet. In addition to this spectacular boat trip, there are also other boat trips that take you to surrounding towns around Palma Nova.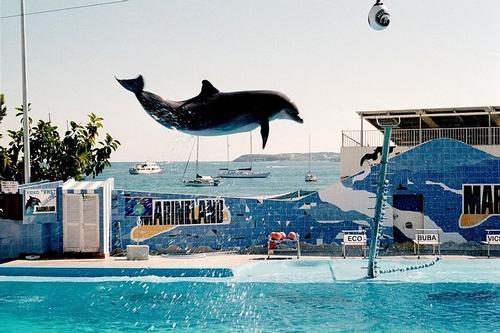 MarinelandPhoto: Hombre sur q373 shared CC 3.0 no changes made
In Portals Nous, which is about 3.5 kilometers from Palma Nova, you will find Marineland. Here you will encounter dolphins and other spectacular sea creatures. A nice trip for young and old.
Palma Nova has three sandy beaches with clear blue water and showers. The only downside to watch out for is the seabed. This runs off fairly quickly, so that one moment you are in the water up to your knees and the next moment up to your shoulders. Safety is guaranteed by means of beach surveillance and a first aid post. Relaxation is quite possible on these beaches. Parasols and sunbeds are available here in abundance!

Palma Nova beach is 452 meters long and 60 meters wide. This beach is bordered on both sides by rocks and offers a beautiful view. This beach has a relaxed atmosphere and you can eat something at a snack bar or cafeteria.

Son Matias Beach, like Palma Nova Beach, is a beautiful sandy beach. There are also shells in the sand. Son Matias Beach is the longest beach in Palma Nova, measuring 500 meters in length and 50 meters in width. To the north it borders on a rocky outcrop and in the south the beach changes to an elevation. Due to the seabed that slopes quickly, a part of the sea has been cordoned off, where children can play and swim safely.

The Havene beach with shells is adjacent to a small marina and the boulevard. This 325 meters long and 40 meters wide Havene beach brings cosiness with it through a cafeteria and restaurant with terrace.
Tips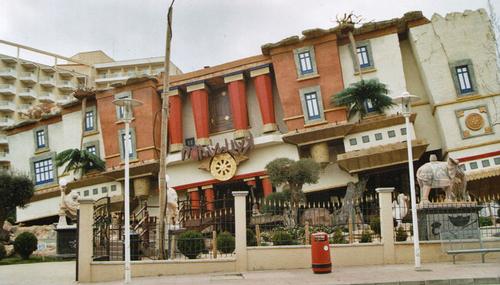 Palma Nova RestaurantsPhoto: Gunnar Richter CC 3.0 Unported no changes made
In Palma Nova you come across an eatery every now and then. There are about sixty of them with a varied selection. Over the years, many tourists have visited Palma Nova, which has given the cuisine an international character. So nowadays you can enjoy Chinese, Italian, Mexican, English, German, Dutch and Spanish food. Even a croquette sandwich is on the menu!

In addition to the sixty eateries, there are also about forty bars. These also all have a different character. There are English pubs, coffee bars, ice cream parlors and karaoke bars, where you can sing the stars from the sky.

For a real party you can go to one of the discotheques on Palma Nova. But you will mainly find discotheques in Magaluf. Here you will find the largest disco in Europe! This consists of five bars, laser shows, a pool table and much more, where you can have the party of a lifetime! This disco is open every day from 10pm to 5am.

In the hottest summer months of July and August it is very busy in Palma Nova. After August the crowds disappear again. Don't feel like crowds? Then you can also visit this town in September or October. In these months the weather is also wonderful with about 20 to 25 degrees.

With Palma Nova's 150 shops, the money flies out of your wallet. In and around the center you will find souvenir shops, supermarkets, jewelers, sports shops, clothing stores, liquor stores and perfumery. In addition, you will also find a market in Magaluf once a week. Enough shopping opportunities!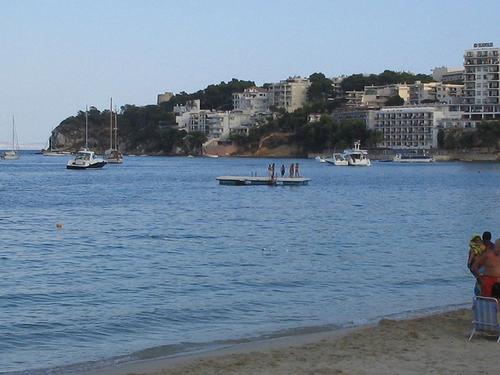 Water activities Palma NovaPhoto: Rafael Ortega Díaz in the public domain
For the real athletes, there are also countless sports that you can practice in Palma Nova. How about hitting a ball on the tennis court? Or you can go horseback riding, rollerblading, golf or volleyball on one of the three beautiful beaches. In addition to sports on the mainland, there are also plenty of fun water activities.

The Blaumari diving school is located on Son-Matias beach. Here you can take diving lessons or rent diving equipment. It is also possible to snorkel. Other fun water activities include water skiing, canoeing, pedal boating or tearing away on a banana boat.