ANDROS
Society


Popular destinations GREECE
Society
Administrative division
Greece administrative division since 2011Photo: Skgxt in the public domain
Greece was reorganized on January 1, 2011 as part of an overall administrative reform named after Kallikratis, a mid-5th Greek architect. century BC
Since 2011, Greece has been divided into 13 administrative regions, the so-called "periferia". These administrative regions are again subdivided into 74 regional units, the 'peripheral iaki enotita'. The regional units, which no longer have their own administration, are in turn subdivided into 325 municipalities or 'demoi'. In addition, Greece has had one autonomous region under its own Greek Orthodox administration since 1926, namely Agion Oros or the monk state of Athos in Chalkidiki (Northern Greece).
The 13 administrative regions of Greece are Attica (1), Central Greece (2), Central Macedoniaa (3), Crete (4), East MacedoniaËand Thracia (5), Epirus (6), Ionian Islands (7), North Aegean Islands (8), Peloponnese (9), South Aegean Islands (10), Thessalya (11), Western Greece (12) and Western Macedonia (12);(13).

Due to the administrative reorganization of 2011, Andros became a regional unit of the administrative region of South Aegean Islands, which further consists of the islands of Kalymnos, Karpathos, Kea-Kythnos, Kos, Mykonos, Milos, Naxos, Paros, Rhodes, Santorini (Thira) Syros, and Tinos. Mykonos accessories. In addition to the Northern Cyclades, there are also the Western Cyclades (including Kythnos, Melos and Serifos), the Central and Eastern Cyclades (including Naxos, Paros and Antiparos), the Small Cyclades (including Iraklia, Keros and Donousa) and the Southern Cyclades (including Folegandros, Ios and Santorini).

Since 2011, Andros has been a merged municipality (dimos) with the boroughs (dimotiki enotita) Chora (Andros town), Korthio and Ydrousa. The current political situation of Greece is described in the chapter history.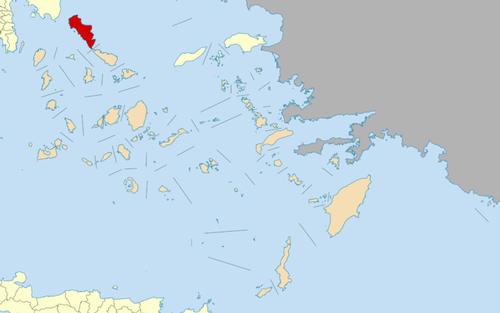 The municipality Andros compared to the other municipalities in the Aegean SeaPhoto: Public domain
---
Sources
Dubin, Marc / Griekse eilanden
Van Reemst
Greek islands
Lonely Planet
De Griekse eilanden
Lannoo
Leistra, Machteld / De Griekse eilanden
Gottmer/Becht
McGilchrist, Nigel / Greece : the Aegean Islands
Somerset Books
Midgette, Anne / Griekse eilanden : Egeïsche Zee
Het Spectrum

CIA - World Factbook

BBC - Country Profiles
Last updated May 2023
Copyright: Team
The World of Info