POROS



Popular destinations GREECE
Geography and Landscape
Geography
Poros is a Greek island belonging to the Saronic or Argo-Saronic archipelago, together with the islands of Aegina (26 km from Poros), Salamis, Hydra and Spetses (37 km from Poros).
Poros is located in the Gulf of Aegina opposite the region of Argolis on the Peloponnese and has an area of ± 31 km² and a coastline of 46 km. Poros is located about 58 km south of Piraeus and is separated from the Peloponnese by a 200-metre wide strait. Poros is located directly opposite the town of Galatas on the Peloponnese mainland. The strait is also called the 'Canal Grande of Greece', analogous to the largest and most important canal in Venice.
Actually, Poros consists of two islands, the woody Kalavria and the small, volcanic Spheria, where the capital Poros Town is located. The two islands are connected by a bridge. Opposite Russian Bay beach in the south-west of Poros are the small islands of Gerolimenas and Daskalio. East of Poros is the island of Modi, south is the island of Bourtzi.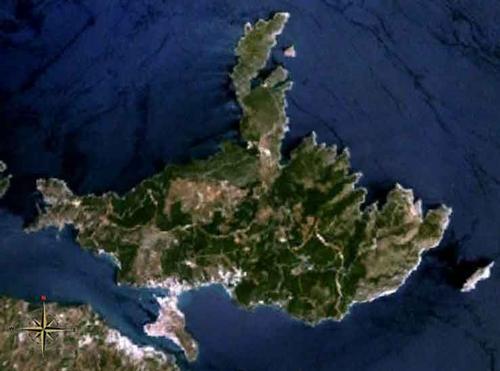 Poros Satellite PhotoPhoto: Public Domain
Landscape
The green (mostly pine) landscape of Poros is very hilly, with the highest peak being Vigla (358 m). Small creeks and seasonal rivers flow through steep valleys of the southern and north-eastern part. The western and northern parts of the island are characterised by rolling hills and shallow valleys. Sandy beaches are mainly found on the south coast of the island.
View of Poros TownPhoto:Vlahos Vlaggelis CC3.0 Unported no changes made
---
Sources
Wikipedia
CIA - World Factbook
BBC - Country Profiles
Last updated November 2023
Copyright: Team
The World of Info