NAXOS



Popular destinations GREECE
Geography and Landscape
Geography
Naxos is an island of the Cyclades, an island group belonging to Greece that can be divided into the northern Cyclades (Andros, Dilos, Mykonos, Syros, Tinos), the central Cyclades (Naxos, Amorgos, Antiparos, Paros), the western Cyclades (Kea, Kimolos, Kythnos, Milos, Serifos, Sifnos) and the southern Cyclades (Anafi, Folegandros, Ios, Santorini, Sikinos). In addition to these inhabited islands in the Aegean Sea, there are thousands of uninhabited islands, islets and rocky points.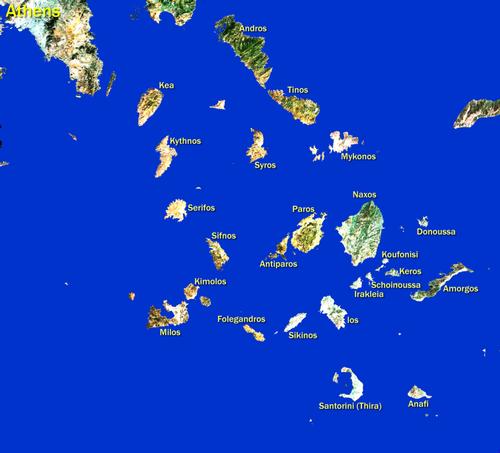 Naxos: Satellite photo of the CycladesPhoto: Henryhartley CC 3.0 Unported no changes made
Naxos, lying roughly in the middle of the Aegean archipelago, is the largest island of the Cyclades with a total area of 448 km2, a maximum length of about 38 km, a maximum width of about 21 km and a coastline with a length of about 150 km. Naxos lies 33 km southwest of the island of Mykonos, 35 km east of the island of Paros and northwest of the island of Amorgos. Naxos is located about 140 km southeast of Piraeus on mainland Greece.
South of Naxos, between Naxos and Amorgos, are the 'Lonely Islands' of Donoussa, Koufonissi, Irakliá and Schinoussa.
Landscape
Naxos is, especially in the interior, quite mountainous and certainly compared to the surrounding islands relatively green and fertile. The landscape here is very varied with mountains, forests, green valleys (including the Tragaia valley, the Livadi valley, the Melanes valley), springs and (underground) streams.
From the plateau of Tragea rises the highest peak of Naxos, the Zas (1001 meters). This mountain can be seen from almost anywhere on the island and is also the highest mountain in the Cyclades and the only mountain higher than 1000 meters. Other high "mountains" are the Fanari (883 m), the Marathos (523 m) and the Viglatouri (418 m). The highest village on Naxos is Komiaki.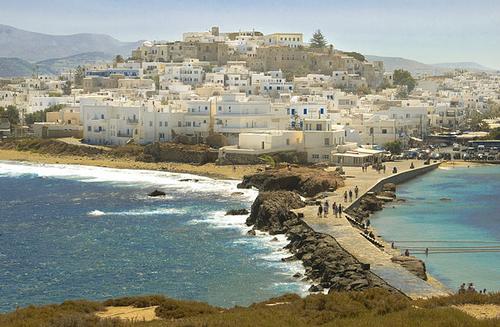 View of Naxos TownPhoto: Sergio Alvarez CC 2.0 Generic no changes made
Citrus fruits, olives and grapes, among others, are cultivated in the fertile valleys that run into the sea. The jagged coast of Naxos is quite steep in the north with high rock formations, in the west these rock formations are interspersed with secluded and often sheltered bays. The island has relatively long sandy beaches flanked by dunes. The interior has a number of caves, including the largest cave on Naxos, the cave Zas, with unusual formations of stalactites and stalagmites.
Naxos even has a number of waterfalls; near the village of Keramoti is the largest waterfall on the island, the 20-meter-high Routsouna Waterfall.
---
Sources
Wikipedia
CIA - World Factbook
BBC - Country Profiles
Last updated November 2023
Copyright: Team
The World of Info