LEFKAS



Popular destinations GREECE
Geography and Landscape
Geography
In the Ionian Sea, west of mainland Greece, there are about 330 larger and smaller islands, of which only 15 are inhabited. Lefkas or Lefkada is one of the Seven Islands. The Greeks use this name to refer to the Ionian Islands. There are many more than seven islands, but the Seven Islands are somewhat larger than all the smaller ones around them.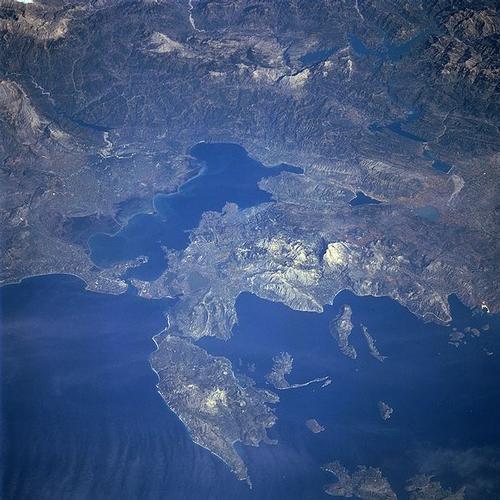 Lefkas Satellite photoPhoto: Public domain
Lefkas is located approximately in the middle of the archipelago and is, after Kefalonia, Corfu and Zakynthos, with a surface area of 304 km2 the fourth Ionian island. East of Lefkas is Corfu and off the coast are nine smaller islands: Kalamos, Kastos, Kythros, Madouri, Meganissi, Skorpidi, Skorpios, Spartli and Thileia.
The surface area of Lefkas is 303 km2 and the coastline is 117 km. Lefkas is up to 35 km long and 15 km wide and through a 78 meter long bridge with the mainland of connected.
Landscape
Lefkas is the most mountainous of the Ionian Islands. The flat parts of the island cover only 27% of the island, the rest is hilly and mountainous. The coastline of the island is jagged with many bays. The contrast between the west and the east coast is very striking. The west coast consists of high, steep rocky cliffs interspersed with beaches, while the east coast is a chain of fishing villages interspersed with pebble beaches and trees that reach down to the beach.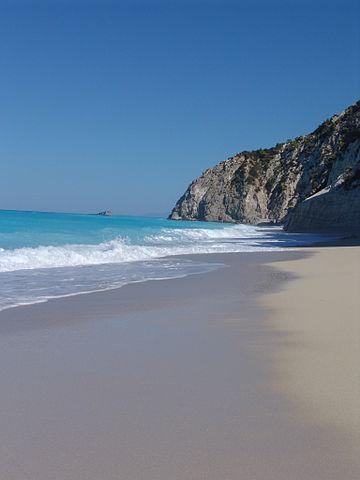 Egremni beach, LefkasPhoto: Dollbaby78 in the public domain
The interior is mountainous and covered with forests. The highest mountain is Stavrota (1182 m). This is followed by the Elati (1170 M), the Ai Lias (1014 m) and the Mega Oros (1012 m). The vast beaches on the west side of Lefkas are among the most beautiful in Greece, with the topper Porto Katsiki, which is completely surrounded by an almost perpendicular high cliff. But also Egremni, Gira, Kalamitsi, Kathisma, Nikiana and Pefkoulia are not to be sneezed at.
On the southern side of the island is the second largest cave in Greece, Papanikolis. Inland, near the town of Nidri, there is a spectacular waterfall.
---
Sources
Wikipedia
Leistra, M. / De Griekse eilanden Gottmer/Becht
CIA - World Factbook
BBC - Country Profiles
Last updated November 2023
Copyright: Team
The World of Info