KEFALONIA



Popular destinations GREECE
Geography and Landscape
Geography
In the Ionian Sea, west of mainland Greece, there are approximately 330 larger and smaller islands, of which only 15 are inhabited. Kefalonia, also known as Cephallenia, Cephallonia, Kefallinia or Kefallonia, is one of the Seven Islands. The Greeks used this name to refer to the Ionian Islands. There are many more than seven islands, but the Seven Islands are somewhat larger than all the smaller ones around them.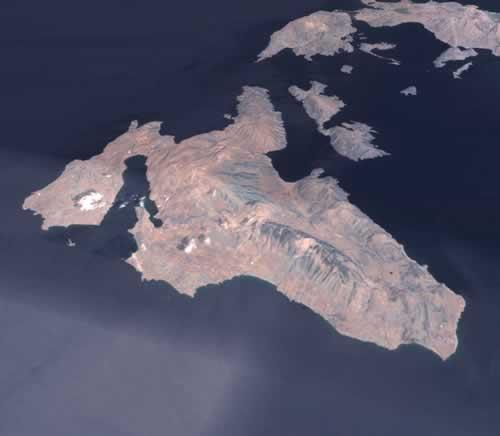 Kefalonia Satellite photoPhoto: Public domain
Kefalonia is located approximately in the middle of the Ionian Islands and is the furthest away from the Greek mainland. North of Kefalonia is the island of Lefkas, east, at only 2 km, is Ithaca and south is Zakynthos. Kefalonia, with an area of 781 km2, is the largest of the Ionian islands and has an average length of 80 km and an average width of 45 km. The coastline is 254 km long.
Landscape
Kefalonia, with its many peninsulas, is the most mountainous island of the Ionian archipelago. The island is dominated by the forested Áenos mountain range with a highest peak of 1628 metres, the Megalos Soros (also called Vouno by the islanders), which can be seen even from the Greek mainland. The rest of the island is covered with hills and mountains up to 1100 metres.
The few plains and valleys are mainly along the east and west coast of the island. Kefalonia's coastline is full of contrasts, with deep coves, long sandy beaches, steep rocky cliffs and deep caves, including the famous Drogarati stalactite cave. The island also has many springs and above and below ground lakes. The Lake Melissani, where the water that disappears underground on the coast near Argostoli, comes back to the surface, is remarkable. Due to the mixing of sea water and fresh water, the water of the approximately 4 km2 large and 10-30 metres deep lake has become brackish.
The beautiful, long sandy beaches are mainly in the south of the island, including the beaches of Myrtos, Petani, Lourdata, Skala and Trapezaki. The beach of Myrtos is called the most beautiful beach of Greece.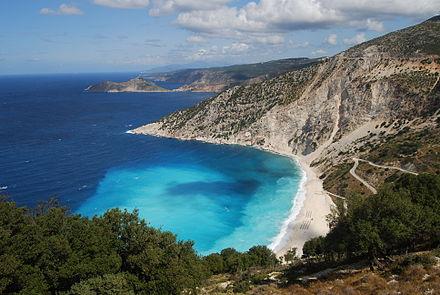 Myrtos beach, KefaloniaPhoto: Att Sims CC BY 2.0 no changes made
---
Sources
Wikipedia

Leistra, M. / De Griekse eilanden
Gottmer/Becht

CIA - World Factbook

BBC - Country Profiles
Last updated November 2023
Copyright: Team
The World of Info