MYKONOS


Popular destinations GREECE
Geography and Landscape
Geography
Mykonos is an island of the Cyclades, a group of islands belonging to Greece that can be divided into the Northern Cyclades (Andros, Mykonos, Dilos, Syros, Tinos), the Central Cyclades (Paros, Antiparos, Naxos, Amorgos), the Western Cyclades (Kea, Kythnos, Kimolos, Milos, Serifos, Sifnos) and the Southern Cyclades (Santorini, Folegandros, Sikinos, Ios, Anafi). In addition to these inhabited islands, there are thousands of uninhabited islands, islets and rocky outcrops.
Mykonos, located 177 km southeast of the port city of Piraeus on mainland Greece, is a relatively small Greek island in the Aegean Sea, situated between Tinos, Siros, Paros and Naxos, near Delos. Mykonos has a surface area of 86 km2 and a coastline of approximately 80 km. Mykonos is a maximum of 16 km wide from west to east and 11 km long from north to south. Just southwest of Mykonos is the small island of Dilos (formerly Delos), which is only 6 km2 in size.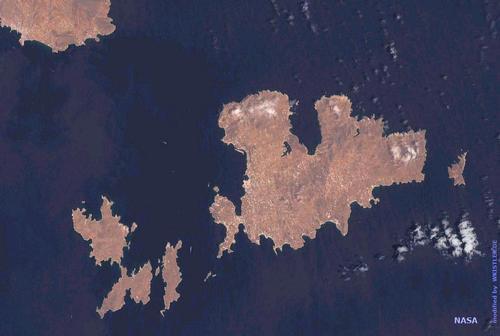 Mykonos Satellite PhotoPhoto:public domain
Landscape
On Mykonos, the high mountains that are found on most Cyclades islands give way to low, bare rocky hills that, together with the enchanting (sandy) beaches, characterise the landscape of the island. Grey-green rocks covered with prickly pears, fields of wild flowers surrounded by whitewashed farmhouses and chapels or windmills characterise the interior of Mykonos.
The highest point of Mykonos is in the north, Profitis Ilias (372 m); in the east is Profitis Ilias Anomeritis (341 m). Of particular shape are the so-called 'breasts of Aphrodite'. Mykonos has no real rivers, but in the rainy season some streams are formed.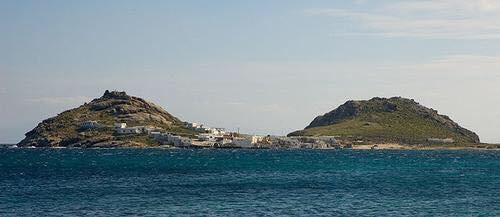 The 'breasts of Aphrodite', MykonosPhoto: Ross Berteig CC BY 2.0 no changes made
---
Sources
Wikipedia
CIA - World Factbook
BBC - Country Profiles
Last updated November 2023
Copyright: Team
The World of Info