SKOPELOS



Popular destinations GREECE
Geography and Landscape
Geography
The Sporades Islands, also known as the Northern Sporades, are an archipelago located in the north-west Aegean Sea and east of the Greek mainland. Between the islands of the Sporades and mainland Greece lies the second largest island of Greece, Evia. The Sporades consist of 24 islands, four of which are permanently inhabited: Skopelos, Alonissos, Skiathos and Skyros.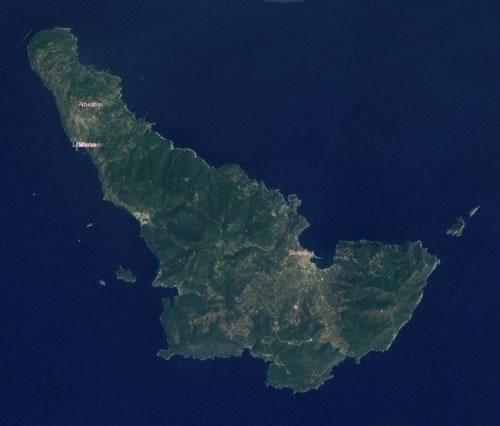 Skopelos Satellite PhotoPhoto: Public Domain
The Southern Sporades are also a Greek island group in the Aegean Sea. However, they are usually referred to as the Dodecanese, minus the island of Kastelorizo, but plus the islands of the prefecture of Samos located to the north of the Dodecanese. The name Southern Sporades is not often used anymore.
Skopelos is a Greek island that is part of the Northern Sporades. Skopelos has a surface area of 96 km² and a coastline of 67 km. making it slightly larger than Mykonos (85 km2) and Santorini (73 km2). Skopelos is approximately 17.5 km long at its longest and 8 km wide at its widest point.
Skopelos is the second largest island of the Northern Sporades after Skyros. Skopelos lies at a short distance exactly between the islands of Skiathos and Alonissos, east of the Pelion peninsula, northwest of Skyros and north of the large island of Evia. The shortest distance between Skopelos and Skiathos is 7.3 km, and the shortest distance between Skopelos and Alonissos is only 4.1 km. Surrounding Skopelos are a number of small uninhabited islands, including Agios Georgios, Dassia, Mikro, Paximoda, Plevro and Stroggylo. Skopelos is at the same geographical latitude as Sardinia, Mallorca, the Azores and California in the United States.
Landscape
The green, overgrown island of Skopelos is known for its long beaches, clear seawater and small bays surrounded by pine forests, which often grow right down to the sea or the beach. The forested areas (approx. 8 million trees are estimated) alternate with fertile plains with almond, olive, fig and especially plum orchards. Most of the beaches, many pebble beaches and only a few sandy ones, are located on the south-western coast.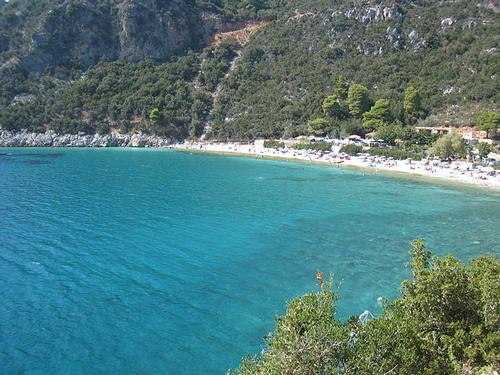 Limnonari beach, SkopelosPhoto: Stefanos Titanas CC 2.0 Generic no changes made
Two large mountain ranges dominate the island; Mount Delphi, the highest mountain of Skopelos in the northwest with a peak of 660 metres and with the dense Váthia forest; in the southeast Mount Palóuki with a peak of 546 metres. In addition, there are a number of mountains on Skopelos that are between 300 and 600 metres high. In the north and northeast of the island, the coast is quite rugged with rocks.
---
Sources
Wikipedia
CIA - World Factbook
BBC - Country Profiles
Last updated November 2023
Copyright: Team
The World of Info