SARDINIA


Popular destinations ITALY
Geography and Landscape
Geography
Sardinia (Italian: Sardegna; French: Sardaigne) is an Italian island in the Tyrrhenian Sea (Mediterranean Sea) and is separated from the island of Corsica by the Strait (Bocche) of Bonifacio. Sardinia is only 12 kilometres south of Corsica and together with the small islands of Maddalena, Caprera, Asinara and Sant'Antioco it forms the "regione" of the same name.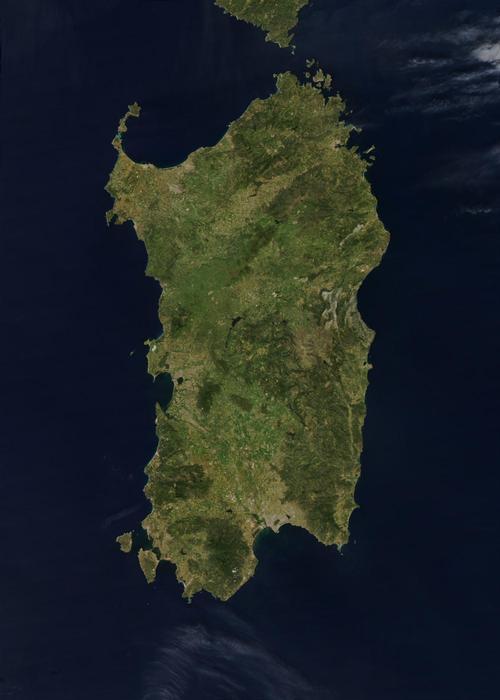 Sardinia Satellite PhotoPhoto: Public Domain
With a surface area of just over 24,000 km2, Sardinia is the second largest island in the Mediterranean Sea after Sicily. From north to south, Sardinia measures approx. 270 km and from east to west no more than approx. 145 km. North Africa lies only at approx. 180 km and the mainland of Italy at approx. 190 km. Important cities are Oristano, Sassari, Nuaro, Olbia and of course Cagliari, the capital of the island.
Landscape
Sardinia has fewer high mountains than nearby Corsica, but is predominantly hilly and sometimes mountainous.
The highest mountains are the Punta la Marmora with 1834 metres and the Monte Bruncu Spina with 1829 metres. These mountains are part of the Gennargentu mountain range that runs through the interior from north to south, ending in the Gerrei mountain range to the south and Monte di Alba to the north. From east to west, the Marghine Goceano mountain range runs across the island. To the south-west is the Iglesiente mountain range and south-west of Cagliari is the Capoterra mountain range. The mountains in the east are almost bare, while the mountains in the interior are covered with dense forests. Sardinia has an 1800 kilometre long coastline. On the south coast, there are kilometres of beaches. The east coast and the north-east coast are very rocky. The rest of the coast is characterised by large inlets with small bays and shell and pebble beaches.
Top of the Punta la Marmora, the highest mountain in SardiniaPhoto: David Edgar CC 3.0 Unported no changes made
The most important of the often water-poor rivers are the Tirso, Flumendosa, Mannu and Coghinas. The largest lakes are the beach lakes of Cagliari and Cabras and inland the Omodeo reservoir in the Tirso. Along the western shore of the bay near Cagliari is a network of lakes and marshes. The large lagoon of the Santa Gilla marsh covers more than 4000 ha, including the old Macchiareddu salt flats, where the only salt works still in use are located.
---
Sources
Ardito, F. / Sardinië
Van Reemst
Bülow, F. von / Sardinië
Deltas
Vries, W. de / Sardinië
Gottmer

CIA - World Factbook

BBC - Country Profiles
Last updated November 2023
Copyright: Team
The World of Info