SARDINIA
Society

Popular destinations ITALY
Society
State structure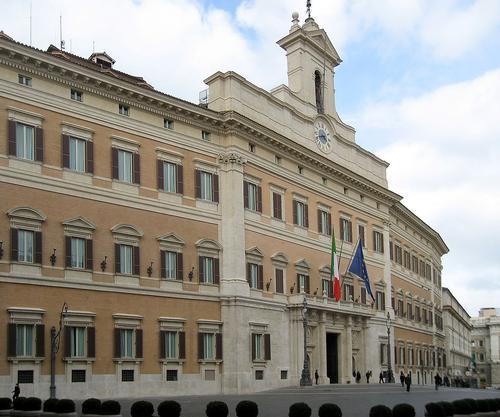 Italy's Parliament is located in the Palazzo MontecitorioPhoto: Manfred Heyde CC 3.0 Unported no changes made
On 1 January 1948 Sardinia became an autonomous region within Italy. On that day, also the new constitution of Italy came into force with limited self-government. A fairly large part of the Sardinians still strive for independence, especially the socialists and communists.
The president and the regional parliament have their seat in the capital Cagliari. Sardinia is divided into four provinces: Cagliari with approx. 755,000 inhabitants, Sassari with approx. 430,000 inhabitants, Nuoro with approx. 258,000 inhabitants and Oristano with approx. 156,000 inhabitants.
The current president of Sardinia is Ugo Capellacci since 2009. For the current political situation in Italy see chapter history.
Administrative division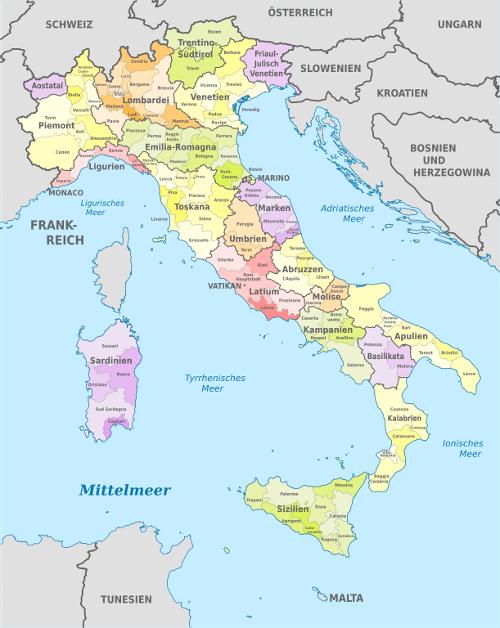 Regioni ItalyPhoto: TUBS CC 3.0 Unported no changes made
There are 20 regioni (regions), which are subdivided into 95 provinces and 8091 municipalities (comuni). These administrative units are governed by councils, which are elected every five years, and an executive body. The executive body is accountable to the board.
Five regions (Sicily, Sardinia, Aosta Valley, Trentino-Alto Adige and Friuli-Venezia Giulia) have a certain degree of autonomy (regioni a statuto Speciale), due to the fact that they are either islands or they border other countries .
The largest region is Sicily, the smallest Aosta Valley.
Below is an overview of the 20 regions with their respective capital:
Abruzzo L'Aquila
Basilicata Potenza
Calabria Catanzaro
Campania Naples
Emilia-Romagna Bologna
Friuli-Venezia Giulia Trieste
Lazio Rome
Liguria Genoa
Lombardy Milan
Le Marche Ancona
Molise Campobasso
Piedmont Turin
Puglia Bari
Sardinia Cagliari
Sicily Palermo
Trentino-Alto Adige Trento
Tuscany Florence
Umbria Perugia
Aosta Valley Aosta
Veneto Venice
Education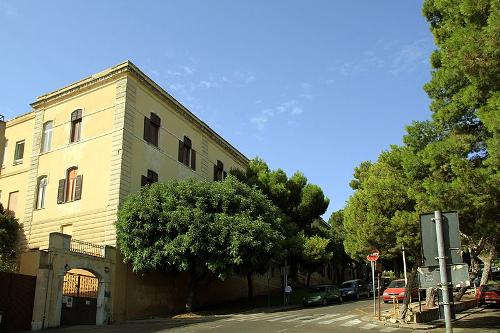 University of Cagliari, SardiniaPhoto: Trolvag CC 3.0 Unported no changes made
Children in Italy can take advantage of private, foreign and (free) public education as far as primary education is concerned. The private and foreign schools are of course only available to children with rich parents. The disadvantage is that the best teachers do not end up in public education, which means that the level of public education is a lot lower. After kindergarten or other types of childcare, compulsory schooling begins.
From the age of six, everyone attends five years of primary school and three years of secondary school. The five years of primary school are concluded with a test. If the test is passed, the child is entitled to admission to secondary education (scuola medi). When secondary education is completed successfully, one can continue one's studies at the so-called lyceums. There are different lyceums: artistic, technical, scientific, classical and linguistic. After that, one can study further on the university level.
In Sardinia there are two universities, in Cagliari (since 1626) and in Sassari (since 1677).
---
Sources
Ardito, F. / Sardinië
Van Reemst
Bülow, F. von / Sardinië
Deltas
Vries, W. de / Sardinië
Gottmer

CIA - World Factbook

BBC - Country Profiles
Last updated November 2023
Copyright: Team
The World of Info