SAMOS



Popular destinations GREECE
Geography and Landscape
Geography
Samos is the largest of the Northern Aegean islands after Lesbos and Chios and is the closest of all the Aegean islands to Turkey. It is only separated from Turkey by the narrow strait of Mycale (also called Eptastadio Channel or in Turkish Dar Bogaz), which is about 1200 metres wide.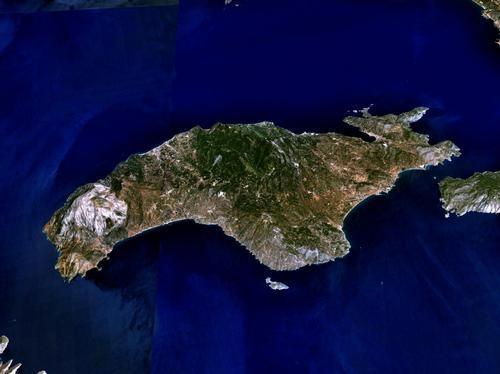 Samos Satellite PhotoPhoto: Public Domain
Samos, together with the small islands around it, has a surface area of 475 km² and is thus the seventh largest Greek island. From east to west, the maximum width of the island is 49 km and from north to south it is 20 km long. The length of the entire coastline is about 140 km. To the southeast and south of Samos are the islands of Ikaria, Fourni and Agathonissi. To the north-west of Samos is the larger island of Chios.
Landscape
The very green Samos has a varied landscape with high mountains, extensive forests, green valleys, fertile plains in the south, high coasts and many beautiful pebble beaches and some bright white sandy beaches.
Despite this variety, Samos is largely mountainous with the Ámpelos massif (also known as the Karvounis massif) in the centre of the island. The highest peak of this mountain range is the Profítis Iliás (1140 m). In the west is the Kérkis massif with the Vigla (1440 m) and the highest peak of Samos, the Kérkis (1443 m). The Kérkis is also the third highest mountain of the Aegean islands.
Beaches can be found everywhere, such as at Megalo Seitani in the west, Psili Ammos and Mikali in the east, Tsabou, Lemonakia and Tsamadou in the north and Votsalakia and Chrisi Ammos, the most beautiful beach of Samos, in the south.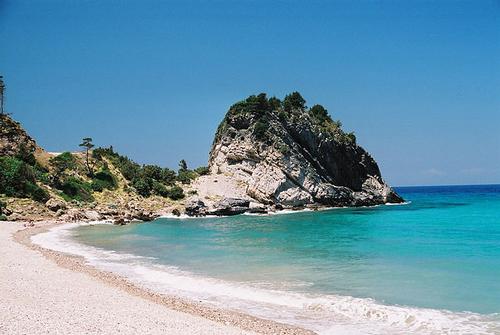 Potami Bay on SamosPhoto: Pe-sa in the public domain
Samos is one of the most water-rich islands in the Aegean Sea and springs spring almost everywhere on the island, most of which provide water all year round. In order to make up for water shortages during extremely dry periods, artificial lakes have been created near the towns of Pythagório and Mytiliníi. Límni Alíkes near Mykáli is a natural lake.
---
Sources
Wikipedia

Schönrock, D. / Samos
ANWB

CIA - World Factbook

BBC - Country Profiles
Last updated November 2023
Copyright: Team
The World of Info