TURKEY



Cities in TURKEY
Geography and Landscape
Geography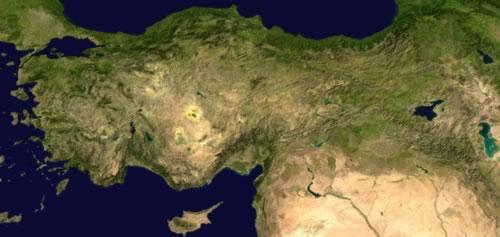 Turkey Satellite PhotoPhoto: Public Domain
The highlands of Anatolia are the most important landscape in Turkey. It consists of an approx. 2000-2500 m high, treeless, partly desert-like plateau, surrounded in the north and south by high ridge mountains, both with a large number of peaks of 3000 m and more. To the Aegean side the highlands dissolve into a number of smaller mountain ranges.
On the highland there is an area without run-off, which takes up about one third of the entire highland. It consists largely of salt steppes, interspersed with salt marshes and salt pans. The released soil salt was transported with the remaining water to the lowest point of the area, where at 940 m altitude it formed the Tuz Gölü (= Salt Lake; approx. 1650 km2). Salt lakes also formed in the southwest of the drainless area. A narrow plain runs along the entire coast of the peninsula, where the rivers have formed wide valleys that penetrate deep into the land.
The Armenian Highlands begin roughly on the line where the Asia Minor peninsula emerges; the mountain ranges of Pontic Mountains and Antitaurus converge here and then fan out to the east in such a way that a large highland consisting almost entirely of volcanic rocks is formed: Armenia. The average height of this is about 1650 m; in the north and south, however, it rises to over 4000 m in its fringes. To the east is Turkey's highest mountain, Ararat (5156 m). Turkey is located in an area characterized by the frequent occurrence of earthquakes, often of a very devastating character. Volcanism is also widespread throughout Turkey, but most concentrated in Armenia. In Western Anatolia, volcanic activity started again since 1924. European Turkey is a largely low-lying landscape with many swamps.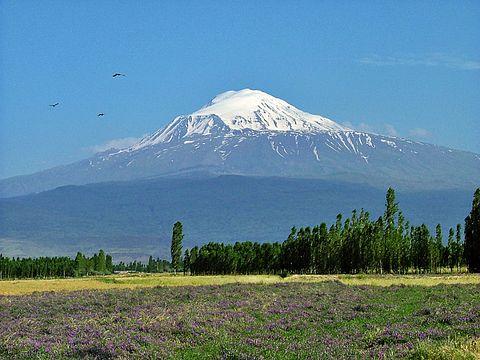 Ararat, Turkey's highest mountainPhoto: Henri Tissen CC 3.0 Unportedno changes made
Turkey has few rivers, which, moreover, are hardly suitable for shipping. Generally speaking, the rivers flow to all sides of the Anatolian plateau and break through the fringe mountains on their way to the sea. They have a large decline (up to 11%) and therefore develop a strong erosion effect; at the mouth they often form delta landscapes from the entrained material. The largest river flowing entirely in Turkish territory is the Kizil Irmak (= Red River). The Turkish lakes are largely located in the two drainage-free areas and have partly salty, partly brackish, and in places with underground drainage, partly even fresh water.
---
Sources
Brosnahan, T. / Turkey
Lonely Planet
Graven, R. van den / Reishandboek Turkije
Elmar
Te gast in Turkije
Informatie Verre Reizen
Turkije
Het Spectrum
CIA - World Factbook
BBC - Country Profiles
Last updated October 2023
Copyright: Team
The World of Info