TURKEY
Population


Cities in TURKEY
Population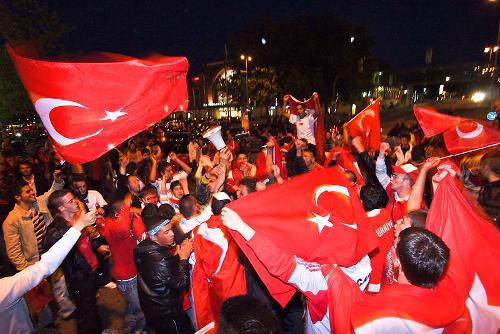 Turkish FootballfansPhoto: Arne List CC 2.0 Generic no changes made
Turkey has 84,490,286 inhabitants (2020) The vast majority (70-75%) consists of Turks. The Kurds are the largest minority (19%).
Smaller minority groups are the half million Arabs and the tens of thousands of Cherkesses, Bulgarians, Armenians and Greeks. Originally much larger numbers of Greeks and Armenians lived in Turkey, but their numbers have decreased significantly after the First World War. The Kurds mainly live in the southeast of the country.
The population growth was 0.52% in 2017. 25% of the population is under 15 years old. The most populous provinces are the western provinces, those along the Black Sea and the provinces of Adana and Hatay on the Mediterranean.
More than 75% of the population lives in the cities. The largest cities are: Istanbul (14.8 million inhabitants), Ankara (4.9 million inhabitants), Izmir (2.9 million inhabitants), Bursa (1.9 million inhabitants), Adana (1.7 million inhabitants). million inhabitants). Other cities of any size are Gaziantep, Konya, Kayseri, Eskisehir, Mersin and Diyarbakir. Many Turks work abroad, especially in Western Europe (millions of them in Germany and about 400,000 in the Netherlands).
The average life expectancy in 2017 is 75 years (men 72.7 and women 77.5 years).
---
Sources
Brosnahan, T. / Turkey
Lonely Planet
Graven, R. van den / Reishandboek Turkije
Elmar
Te gast in Turkije
Informatie Verre Reizen
Turkije
Het Spectrum
CIA - World Factbook
BBC - Country Profiles
Last updated November 2023
Copyright: Team
The World of Info