ALONISSOS



Popular destinations GREECE
Geography and Landscape
Geography
Alonissos is part of the Northern Sporades, an archipelago belonging to Greece in the northwestern Aegean Sea. Alonissos is the fourth largest island in the Northern Sporades, after Evia, Skyros and Skopelos. The elongated Alonissos has an area of 64.5 km2. Alonissos is 4.5 km wide and has a length of about 20 km from southeast to northwest. Alonissos has a coastline of approximately 74 km.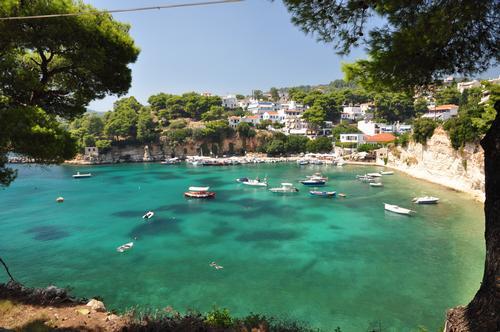 Alonissos LandscapePhoto: Giuliagi CC 3.0 Unported no changes made
In the vicinity of Alonissos there are still some small islands, including the closest to Alonissos Peristera (16 km2), Piperi, the furthest from Alonissos, Kyra-Panagia (25 km2), the largest of the small islands around Alonissos, the mountainous Gioura (14 km2), the shepherd-inhabited Skantzoura (12 km2), Dio Adelfi (3 km2) and Psathoura (1 km2), the most northerly island of all Sporades.
Landscape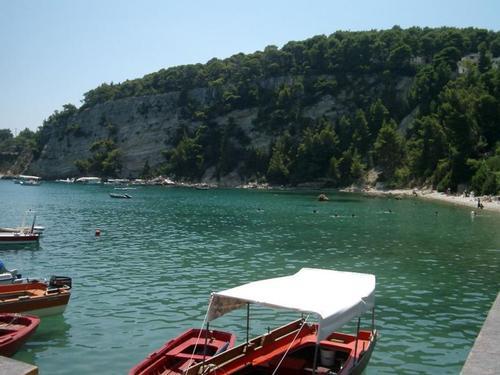 Alonissos BayPhoto: Public domain
Alonissos is a green, hilly island, covered with many pine forests and olive and grape orchards. The highest point on Alonissos is the Kouvouli (476 m), followed by the Geladias (456 m), the Tourkovigla (343 m), the Kalovoulos (355 m) and the Vouno (255 m). The island is known for its beautiful beaches, especially on the east side (including Chrisi Milia Kokkinokastro, Tzorzi Gialo and Steni-vala) and clear water. The 82 sandy, pebble and fine gravel beaches, which are nowhere long due to the rugged nature of the coastline, are surrounded by pine trees and beautiful rock formations. The west coast of Alonissos is much more rocky with steep cliffs in some places, and therefore has far fewer beaches. The seawater around Alonissos is known as the cleanest of the Aegean Sea.
---
Sources
Browne, J. / An insider's guide to Alonnisos
Travelleur
Skiathos, Skopelos and Alonnisos
Thomas Cook
Wikipedia
CIA - World Factbook
BBC - Country Profiles
Last updated May 2023
Copyright: Team
The World of Info