ANDROS



Popular destinations GREECE
Geography and Landscape
Geography
Andros is the northernmost island of the Cyclades, an archipelago belonging to Greece that can be divided into the northern Cyclades (Andros, Mykonos, Dilos, Syros, Tinos), the central Cyclades (Paros, Antiparos, Naxos, Amorgos), the Western Cyclades (Kea, Kythnos, Kimolos, Milos, Serifos, Sifnos) and the Southern Cyclades (Santorini, Folegandros, Sikinos, Ios, Anafi).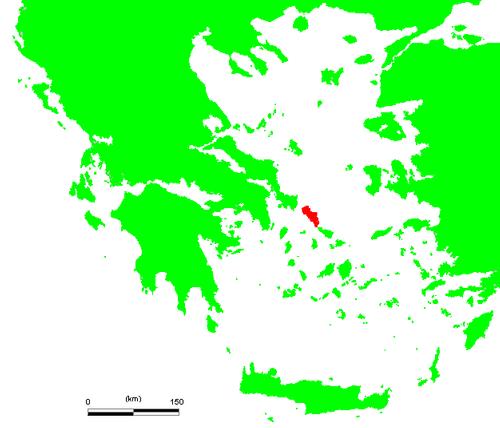 Andros on the map of GreecePhoto: Public domain
Andros has an area of 373 km2, a coastline of 177 km, and is the largest island of the Cyclades after Naxos. Andros has a maximum length of 39.8 kilometers and a maximum width of 16.7 kilometers. Andros is located about ten kilometers from the mainland of Greece and between the (almost) island of Evia and the island of Tinos.
Landscape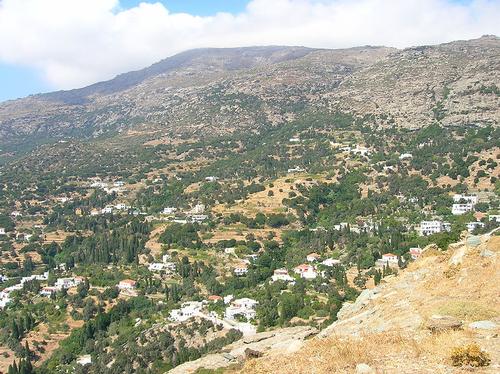 Andros landscapePhoto: Public domain
Scenically, Andros is an island with a capricious, varied relief, because besides green valleys and beaches, it also has ravines, steep cliffs and rugged mountain peaks, and therefore differs sharply from the other islands of the Cyclades. Andros has four mountain ranges, Saranda (725 meters) north of the Makrotandalos highlands (200 meters) and south of the Batsi, Ateni and Katakoilos valleys;Petalo with the highest peak of Andros (Kouvara or Profitis Ilias, 997 meters), south of the above valleys and north of the Messaria Valley;Gerakonas (720 meters), between the valleys of Messaria and Korthi;Pachi (681 meters), south of the Korthi Valley and ending in the very south of Andros.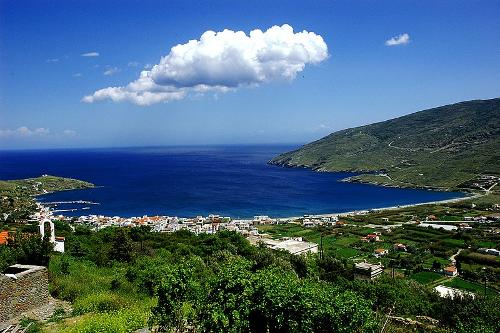 AndrosPhoto: G Da CC 3.0 Unported no changes made
Plains are rare on Andros. Because the island is relatively high, it rains more often than on the other islands of the Cyclades and Andros is therefore much 'greener'.
In the south and west we find those steep, gray cliffs, with many small bays in between, sandy and gravel beaches. Some of the largest bays are Gavrio, Batsi, Hora and Korthion;in the north still the Fourni bay and Agios Petros. Green, fertile landscape, Andros is the most fertile island of the Cyclades, can be found in the south, which contrasts strongly with the arid, barren north of the island.
There is plenty of water on Andros, due to the many sources (Andros was once called 'Hydroussa' or 'water island') and rivers that occur on the island.
Most sources originate on the east coast. Four rivers run from west to east that never dry up due to the proximity of the mountain ranges. Arnipotamos flows into Lefka Bay, Achla in Achla Bay, Megalos Potamos in Paraporti Beach, Dipotamata in Syneti Bay. Besides these rivers there are seven others, which also carry water all year round.
---
Sources
Dubin, Marc / Griekse eilanden
Van Reemst
Greek islands
Lonely Planet
De Griekse eilanden
Lannoo
Leistra, Machteld / De Griekse eilanden
Gottmer/Becht
McGilchrist, Nigel / Greece : the Aegean Islands
Somerset Books
Midgette, Anne / Griekse eilanden : Egeïsche Zee
Het Spectrum

CIA - World Factbook

BBC - Country Profiles
Last updated August 2023
Copyright: Team
The World of Info