ANDROS
Vacations and Sightseeing

Basic information
Official language
Greek
Capital
Chora
Area
380 km²
Population
9,221 (2011, last known)
Currency
euro (EUR)
Web
.gr
Code.
GRC
Tel.
+30

Popular destinations GREECE
Vacations and Sightseeing
Andros, the most northerly island of the Cyclades, is typically a Greek island where the tourist can still completely unwind. The main reason for this is that Andros does not yet attract so many foreign tourists, it is mainly Greeks from the mainland who spend their holidays on Andros or go there on weekends. The mountainous Andros is an island with many springs, waterfalls and mountain rivers and a rich vegetation and beautiful beaches, including those of Ágios Pétros, Batsí, Chrissí Ámmos and Psíli in the northwest, Fellós in the west and Órmos in the east.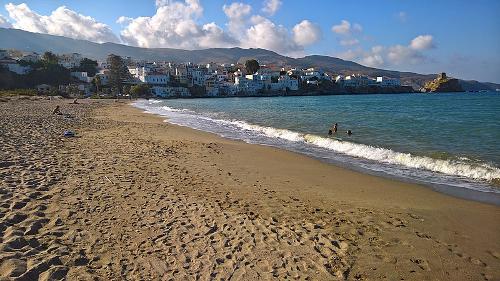 Andros BeachPhoto: GKantaris CC 4.0 International no changes made
During the holiday period, July to September, many so-called 'panigír' take place, village festivals in which each village honors its own patron saint with music, dance, processions and as a highlight all residents have a joint meal on the village square. The capital, Andros Town, hosts a famous international choir festival every June with choirs from all over the world, and Batsí a dance festival with dance groups from all over Greece. A visit to the archaeological museum and a museum of modern art are certainly worthwhile.
---
Sources
Dubin, Marc / Griekse eilanden
Van Reemst
Greek islands
Lonely Planet
De Griekse eilanden
Lannoo
Leistra, Machteld / De Griekse eilanden
Gottmer/Becht
McGilchrist, Nigel / Greece : the Aegean Islands
Somerset Books
Midgette, Anne / Griekse eilanden : Egeïsche Zee
Het Spectrum

CIA - World Factbook

BBC - Country Profiles
Last updated May 2023
Copyright: Team
The World of Info