ANDROS
Economy


Popular destinations GREECE
Economy
The main port of Andros is that of Gavrio, located in the northwest of the island, 31 kilometers from the capital Chora. In summer, many tourists are brought in by ferry boats. There are fixed connections (2 hours by boat) with Rafina in mainland Greece and with the islands of Tinos and Mykonos. Less frequent sailing is done between Andros and the islands of Amorgos, Paros, Santorini and Siros, among others.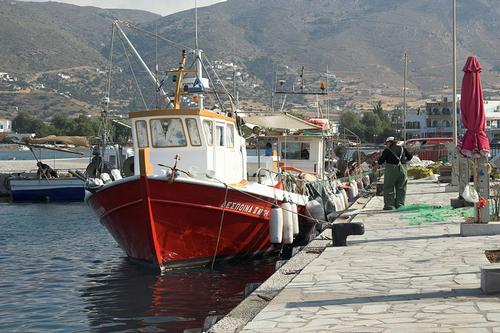 Port of Gavrio, AndrosPhoto: Zde CC 4.0 International no changes made
Andros is far from being a top tourist destination, and tourism does not contribute as much to the economy as it does in many other Greek islands. Most tourism is concentrated around the holiday resort and coastal town of Batsi, which is a few kilometers south of Gavrio. The capital Chora is important for tourism, among other things because of the many hotels, guesthouses and lodgings. Its proximity to mainland Greece makes Andros attractive not only as a residence or summer residence for wealthy Greeks, but also for foreigners. Greeks, English and Scandinavians mainly visit Andros.

The 'richest' village of Andros is Stenis, northwest of Chora. Many shipowners' families live there, and many residents of Andros therefore work in shipping. The fertile Andros has many olive, fig and citrus trees. The fruits of these trees are mainly harvested for the local market and tourists. In Apikia, East Andros, mineral water is extracted from the Sariza well, which is sold in bottles throughout Greece.

See also the section economy of Greece.
---
Sources
Dubin, Marc / Griekse eilanden
Van Reemst
Greek islands
Lonely Planet
De Griekse eilanden
Lannoo
Leistra, Machteld / De Griekse eilanden
Gottmer/Becht
McGilchrist, Nigel / Greece : the Aegean Islands
Somerset Books
Midgette, Anne / Griekse eilanden : Egeïsche Zee
Het Spectrum

CIA - World Factbook

BBC - Country Profiles
Last updated April 2023
Copyright: Team
The World of Info