THASOS



Popular destinations GREECE
Geography and Landscape
Geography
Thasos is the most northerly of the Aegean islands and is located just off the coast at a distance of only seven kilometres from the Greek region of East Macedonia, near Keramoti Bay and the Nestos River estuary.
Thasos has an area of 386 km2 and the length of its coastline is 95 km. Southeast of Thassos is the island of Samothraki and only 24 km away is the city of Kavala on the mainland of Greece. Other islands close to Thassos, inhabited or not, are Lemnos, Grambousa, Kinira, Diapori and Panagia.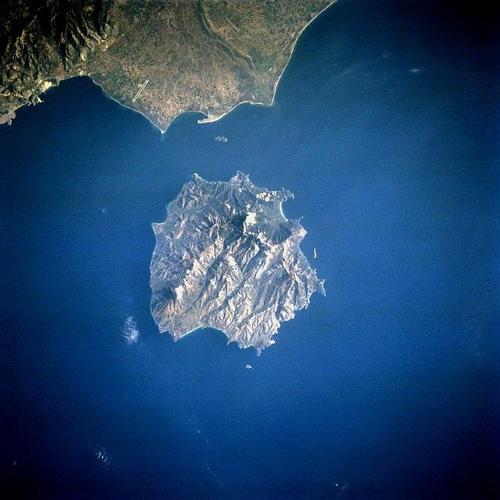 Thasos Satellite photoPhoto: Public Domain
Landscape
Thasos has a round shape and is a mountainous, wooded island. Thasos is also known as the greenest and most fertile island of the Greek archipelago and is therefore called "the green diamond".
From northwest to southeast across the island runs a mountain range with five peaks, of which the 1205 m high Ypsario or Ipsario is the highest peak; other peaks are Prophet Elias (1108 m) and the Phanos (744 m). The west and south of the island have much less steep slopes. The north and east are very watery with small rivers, streams and waterfalls.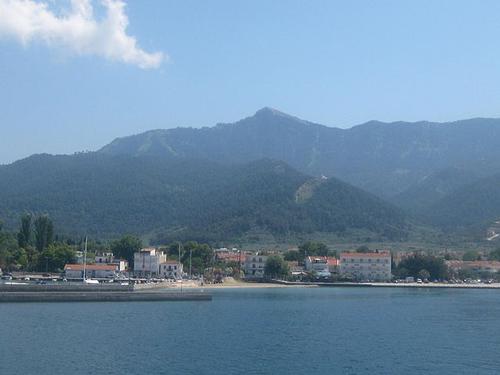 Ypsario, highest mountain of ThasosPhoto: Pe3kZA CC 3.0 Unported no changes made
The coast of Thasos is rocky and jagged, with steep cliffs and over a hundred, often closed, bays. Most of the beaches are located on these bays and are generally gravel and sandy and quite wide. Golden Beach", on which the resorts Skala Panagia and Skala Potamia are located, is the most beautiful beach on the island with a length of approximately 3 kilometres.
---
Sources
Wikipedia
CIA - World Factbook
BBC - Country Profiles
Last updated November 2023
Copyright: Team
The World of Info