LESBOS



Popular destinations GREECE
Geography and Landscape
Geography
The Greek island of Lesbos (Greek: Lésvos, but most Greeks call it Mytilini after the capital Mytilene) is located in the East Aegean Sea, not far from the coast of Turkey. Lesbos is in the Sporades archipelago, between the islands of Chios and Limnos. Athens is approximately 300 km away.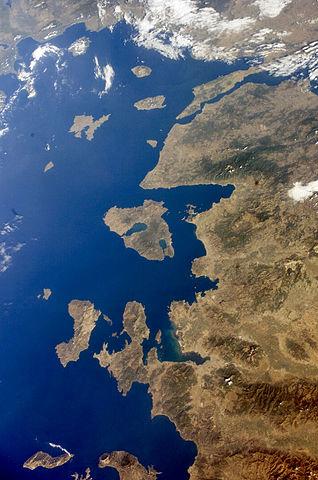 Satellite photo LesbosPhoto: Publlic domain
Lesbos is the third largest island in Greece, after Crete and Evia, with a surface area of approximately 1,630 km2. The total length of the coastline is 370 km, the maximum length of the island is 70 km, the maximum width 45 km.
In the middle of the island, there is a large bay, the Gulf of Kallonis, which has an area of about 160 km2. In the south there is a smaller bay, the Gulf of Gera, with an area of 50 km2.
Landscape
Lesbos has a varied landscape with dense forests and many olive groves (more than 11 million olive trees!). Lesbos is hilly and mountainous with the highest peaks, Olympus 967m in the south and Lepetimnos 968m in the north. The shape of the island is largely determined by two large bays, in the centre that of Skala Kallonis (approx. 160 km2) and in the south-east Gera Bay (approx. 100 km2), both of which go very deep inland. Around these bays and behind large parts of the coast, the landscape is flat to slightly hilly. The western tip of Lesbos is volcanic and the rugged landscape there is barren, arid and mountainous due to the volcanic eruptions of prehistoric times. That is also when the 'petrified forest' was created after the eruption of the Ordymnos volcano, where over an area of almost 30 hectares several ancient petrified sequoia trees 'stand'. Due to the underground volcanic activity, Lesbos also has a number of medicinal hot springs, of which Polichnitos with 81-92°C is one of the hottest hot springs in Europe. Once out of the ground, the water is cooled to 42-44° degrees for bathing.
Most beaches, which range from small and narrow to quite long and wide, consist of gravel, pebbles and cobbles; there are only a few sandy beaches. In the south of Lesbos, there is Vatera, the longest beach on the island (11 km). Very crowded in the south is Agios Isidoros, a pebble beach.
---
Sources
Dubin, Marc S. / Griekse eilanden
Van Reemst
Greek islands
Lonely Planet
Griekse eilanden
Lannoo
McGilchrist, Nigel / Greece : the Aegean islands
Somerset Books
Midgette, Anne / Griekse eilanden : Egeïsche Zee
Het Spectrum

CIA - World Factbook

BBC - Country Profiles
Last updated April 2023
Copyright: Team
The World of Info