SPETSES



Popular destinations GREECE
Geography and Landscape
Geography
Spetses, located at the entrance of the Argolic Gulf, is one of the Argo-Saronic islands, along with Hydra, Poros and Aegina, and is 52 nautical miles from the port of Piraeus and about 2.5 km northwest of the village of Kosta on the coast of mainland Greece (Peloponnese), but is furthest from Athens. The nearest larger islands are Dokos, at about 13.5 km, and Hydra, at about 18.5 km.
Spetses has an area of 22 km², is up to about 7.5 km long, up to about 3.5 km wide and has a coastline of 33 km. Spetses is the southernmost and smallest of the islands in the Saronic Gulf, which also includes two smaller islands, privately owned Spetsopoula (8 inhabitants) and the uninhabited islets of Falkonera and Velopoula.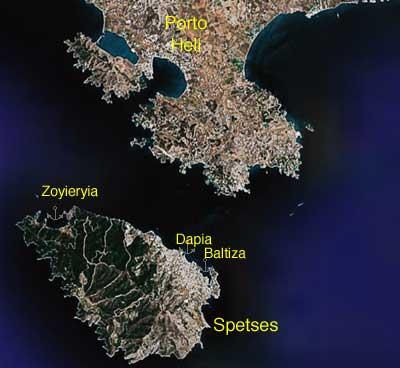 Spetses Satellite PhotoPhoto: Public Domain
Landscape
Spetses is a green island consisting mainly of hills covered with Aleppo pines. The north-western part of the island is flatter. The coast of Spetses is jagged, with many small bays and coves. However, in 2004, part of the landscape was destroyed by a forest fire. The island is largely car-free. There is one sandy beach on Spetses, the rest are pebble beaches. The highest point of Spetses is the 291 metres high hill Profitis Ilias. Near the beach Agia Anargiri is the sea cave Bekeri.
---
Sources
Wikipedia
CIA - World Factbook
BBC - Country Profiles
Last updated November 2023
Copyright: Team
The World of Info