AEGINA



Popular destinations GREECE
Geography and Landscape
Geography
Aegina or Egina (pronounced: Éjina) is a Greek island that belongs to the Saronic or Argo-Saronic archipelago, along with the islands of Salamis, Poros, Hydra and Spetses. Located in the middle of the Gulf of Aegina or Saronic Gulf, Aegina is the closest island to Athens, just 20 km from the port of Piraeus. Aegina has a number of beaches that are not very wide but where it is still good to stay. The main beaches are Kolona, Marathonas, Aiginitissia, Klima, Ayia Marina and Souvala.
The surface of Aegina is approximately 85 km² and the total length of the coast is approximately 60 km. The distance from west to east is a maximum of 15 km, from north to south about 10 km. Aegina is the second largest island in the Saronic archipelago after Salamis. The islands of Angistri (13 km²) and the tiny Moni (1.35 km²) are close to Aegina.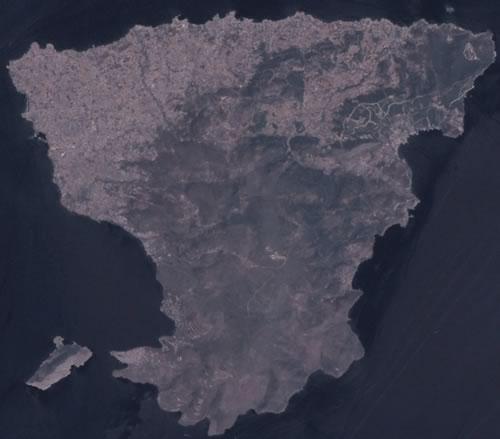 Aegina Satellite photoPhoto: Public domain
Angistri is an inhabited pine-covered island with beautiful beaches, four villages (Megalochori - Skala - Limenaria - Metochi) and varied accommodation for tourists. Around Angistri are some small islands, including Metopi, Dorousa, Kira, Spalathronisi and Aponissos.
The uninhabited Moni is an ideal island for people looking for peace, sea, sun and nature. In summer there are regular boat connections between Perdika and Moni on Aegina. The small boats moor on the beach and behind that beach is a beautiful forest area that, situated on the steep slope of a mountain, covers almost the entire north of Moni. The rest of the island is bare and rocky, but chamois, deer, peacocks and even a small group of seals live on and around the island.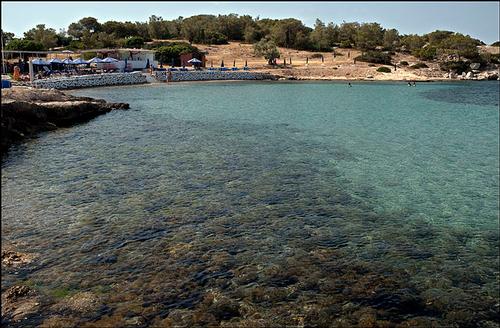 Moni BeachPhoto: Ggia CC 3.0 Unported no changes made
Landscape
Aegina is made up of volcanic rock, marl and chalk. It is a fairly flat island with a number of low mountains, of which the Oros, an extinct volcano, is the highest at 532 meters and the Nikolaki at 451 meters a close second. The east side of Aegina, where the two aforementioned mountains are located, has a rugged, inhospitable landscape. The west side of the island, where Aegina city is located, is more fertile and less mountainous than the east; the fields there are overgrown with grapevines, olive trees, fig trees, almond trees and especially pistachio trees. In the south you can find many red-colored rocks. The sandy and gravel beaches on Aegina are small and narrow.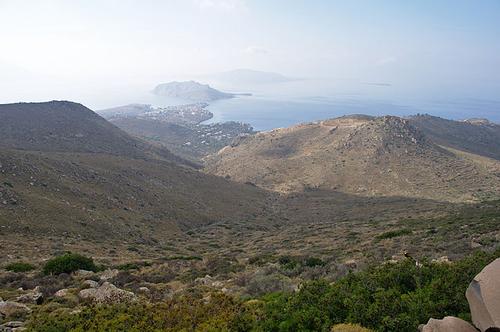 Coastal landscape AeginaPhoto: Pawel "pbm" Szubert CC 3.0 Unported no changes made
Aegina also has several wetlands, which, although small, are of great importance for the vegetation on the island and for the bird population. The main wetland is that of Marathonas, located on the west side of Aegina.
---
Sources
Wikipedia
CIA - World Factbook
BBC - Country Profiles
Last updated November 2023
Copyright: Team
The World of Info