AEGINA
Vacations and Sightseeing

Basic information
Official language
Greek
Capital
Aegina
Area
87.4 km²
Population
13,056 (2019)
Currency
Euro (EUR)
Web
.gr
Code.
GRC
Tel.
+30

Popular destinations GREECE
Vacations and Sightseeing
Aegina has a well-developed tourist infrastructure that mainly caters to mainland Greeks who flock to Aegina on the weekends.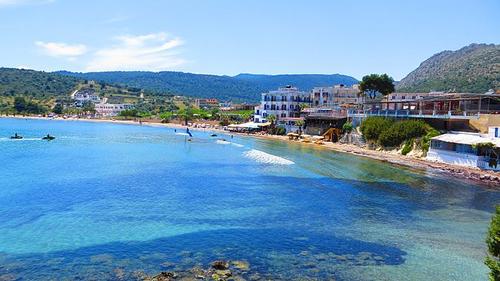 Agia Marina, seaside resort on AeginaPhoto: Mister No CC 3.0 Unported no changes made
Most visitors come from Athens and head to the busy seaside resort of Agia Marina on the north coast, or to one of the small beaches on the east coast. In general, Aegina does not have many beaches, but more to offer interesting ancient sites and good hiking areas.
The temple of Aphaia is the top attraction in Aegina. This ancient temple predates the Parthenon in Athens. With the Temple of Poseidon of Sounion on the Athenian Riviera and the Parthenon in Athens - the Temple of Aphaia is the third link in a hypothetical isosceles triangle. Precious objects from the temple are on display at the National Archaeological Museum of Athens. but next to the temple is a small local archaeological museum with objects found on the island.
You can also visit the archaeological site of Kolona. In ancient times, a large Doric temple was built here, dedicated to the god Apollo. A monolithic column that formed part of the temple still stands and was an important beacon for Venetian sailors who called the area Colonna.
---
Sources
Wikipedia
CIA - World Factbook
BBC - Country Profiles
Last updated October 2023
Copyright: Team
The World of Info