AEGINA
Society


Popular destinations GREECE
Society
Governance Aegina
Greece was given a new administrative division on January 1, 2011 as part of an overall administrative reform, named after Kallikratis, a Greek architect from the mid-5th century BC.
Since 2011, Greece has been divided into 13 administrative regions, the so-called "periferia". These administrative regions are again subdivided into 74 regional units, the 'peripheral iaki enotita'. The regional units, which no longer have their own administration, are in turn subdivided into 325 municipalities or 'demoi'. In addition, Greece has had one autonomous region under its own Greek Orthodox administration since 1926, namely Agion Oros or the monk state of Athos in Chalkidiki (Northern Greece).
The 13 administrative regions of Greece are Attica (1), Central Greece (2), Central Macedonia (3), Crete (4), East Macedonia and Thrace (5), Epirus (6), Ionian Islands (7) , North Aegean (8), Peloponnese (9), South Aegean (10), Thessaly (11), West Greece (12) and West Macedonia (13).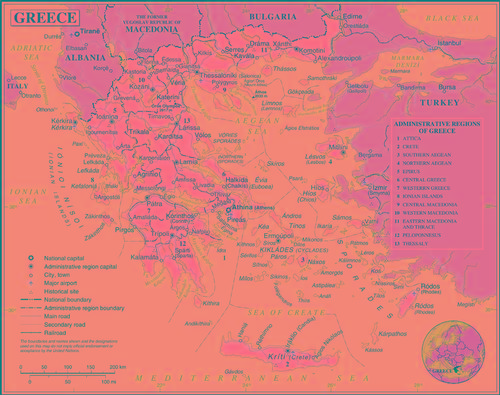 Administrative regions of Greece, including AtticaPhoto: Public domain
Aegina is part of Attica, one of the thirteen administrative regions of Greece. Since 2011, the Attica region consists of eight regional units (peripheral uniaki enotita): Aegina belongs to the Islands regional unit and there are also the regional units East Attica, West Attica, West Athens, Central Athens, South Athens, Northern Athens and Piraeus. The municipality of Aegina consists of the island of Aegina and a number of smaller islands. Aegina town is the island's capital; other places on Aegina are Kypseli, Masagros, Perdika and Vathy. Geographically, Aegina belongs to the Argo-Saronic Islands, together with Hydra, Kythira, Poros, Salamis and Spetses, among others.
Before 2011, the current administrative region of Attica consisted of the prefectures (nomi) of Athens, East Attica, Piraeus and West Attica. The Islands regional unit, like the other regional units, no longer has its own administration. In addition to Aegina, the islands of Angistri, Antikythera, Dokos, Hydra, Kythira, Poros, Salamis, Spetses and Spetsopoula also belong to the Attica region. The Attica region, with a total area of 3,808 km² and the capital Athens, had approx. 3.8 million inhabitants in 2011, of which approx. 13,000 live on Aegina. The current political situation of Greece is described in the chapter history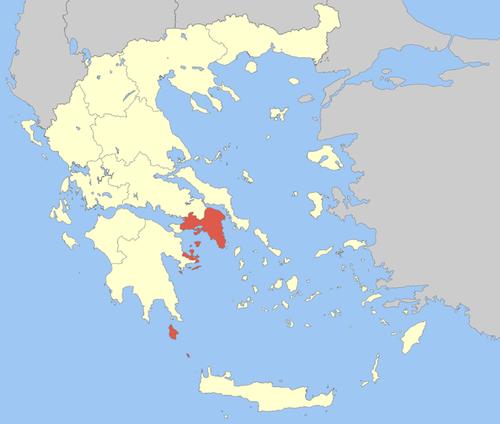 Aegina belongs to the Attica regionPhoto: Pitichinaccio in the public domain
---
Sources
Wikipedia
CIA - World Factbook
BBC - Country Profiles
Last updated November 2023
Copyright: Team
The World of Info