KOS



Cities in KOS
Popular destinations GREECE
Geography and Landscape
Geography
After Rhodes and Karpathos, Kos is the largest of the Dodecanese islands in the south-east Aegean Sea. This archipelago comprises about 200 islands, which lie off the Turkish coast like a long chain of beads.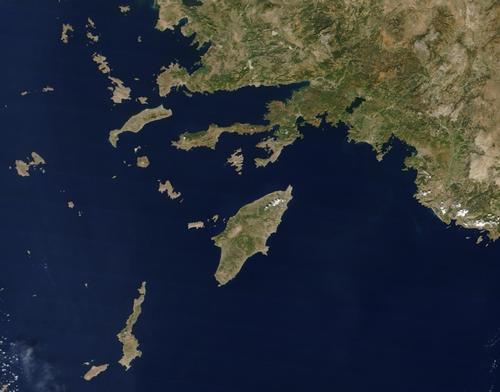 Kos Satellite Photo DodecanesePhoto: Public domain
Kos has a length of 50 km and is between 1.5 and 13.5 km wide; its total area is 290 km2. The coastline is about 116 km long and Kos is located about six kilometres from the Turkish coast, at the height of the well-known tourist resort of Bodrum. Kos is located north of Nsiros, south of Kalymnos, southeast of Samos and northwest of Rhodes.
Landscape
Kos is generally quite flat, with the Dikaios Mountains in the south with a highest peak of 846 metres. In the north there are salt pans, near Kos town (medicinal) hot springs.
Along the entire coastline of Kos there are many wide sandy beaches. The south-west coast has some beautiful beaches, including Golden Beach and Paradise Beach (Paradissos).
Plaka is a woody area between the airport and the town of Kefalos with many pine trees.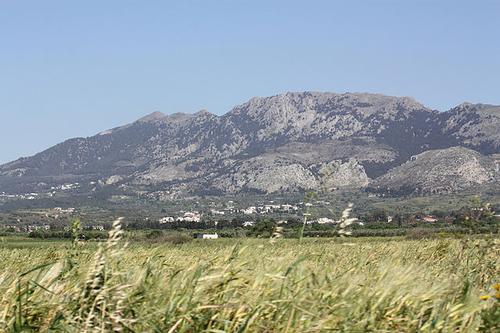 Dikaios mountains on KosPhoto: Wgauthier CC 2.0 Generic no changes made
---
Sources
Facaros,D / Rhodes & the Dodecanese
Cadogan
Griekse eilanden
Van Reemst
Hendriksen,B / Rodos, Kos en dodekanisos
Babylon- De Geus
Hermans, F / Rodos en Kos
ANWB

CIA - World Factbook

BBC - Country Profiles
Last updated November 2023
Copyright: Team
The World of Info