SKIATHOS



Popular destinations GREECE
Geography and Landscape
Geography
Skiathos is part of the Sporades Islands (also known as the Northern Sporades), a group of islands belonging to Greece in the north-western Aegean Sea. The inhabited islands of the Sporades are Skopelos, Alonissos, Skyros and Skiathos. The smallest inhabited island of the Sporades (42 km2), Skiathos, has a length of 13 km and a width of 9 km. The coastline is about 44 km and Skiathos is closest to the Pelion peninsula, which belongs to mainland Greece.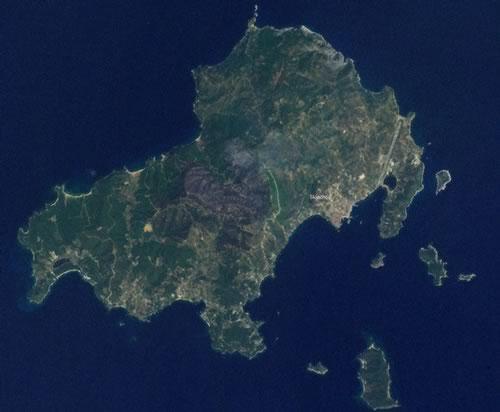 Skiathos Satellite PhotoPhoto: Public Domain
Landscape
On Skiathos, the colour green dominates, especially the low hills in the southeast of the island that are covered with pine trees. In the spring, Skiathos is known for its floral splendour.
The north-western part of Skiathos is rough and quite inaccessible, but here lies the beautifully located Cape Kastro. The south-eastern part is completely different in terms of landscape, and here is the capital Skiathos Town (also called Chadro). Cape Sozon and Cape Gournes in the west form the Bay of Katavothras. The north side of the island has many caves that can only be reached by boat.
Skiathos has many (approx. 70) beautiful (sandy) beaches, of which Koukounaries, located in the south-west, is considered the most beautiful beach of Greece, but also many bays, coves and peninsulas. Other famous beaches are Achladias, Kanapitsa, Platanias and Troullos. The highest point on Skiathos is Karaflitzanaka (433 m), and there are a number of creeks scattered around the island.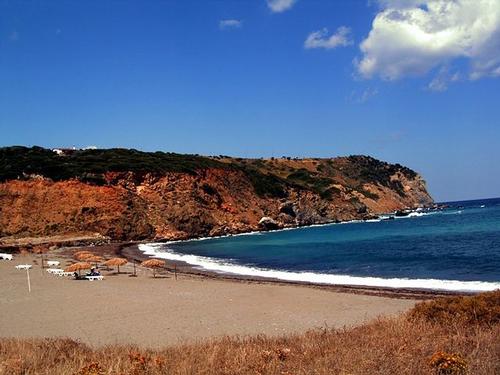 Beach in the north of SkiathosPhoto: Arne Nordmann CC 3.0 Unported no changes made
---
Sources
Dubin, Marc / Griekse eilanden
Van Reemst
Greek islands
Lonely Planet
Greek islands
Fodor's
De Griekse eilanden
Lannoo
Leistra, Machteld / De Griekse eilanden
Gottmer/Becht
McGilchrist, Nigel / Greece : the Aegean Islands
Somerset Books
Midgette, Anne / Griekse eilanden : Egeïsche Zee
Het Spectrum

CIA - World Factbook

BBC - Country Profiles
Last updated November 2023
Copyright: Team
The World of Info