HYDRA
Society


Popular destinations GREECE
Society
State structure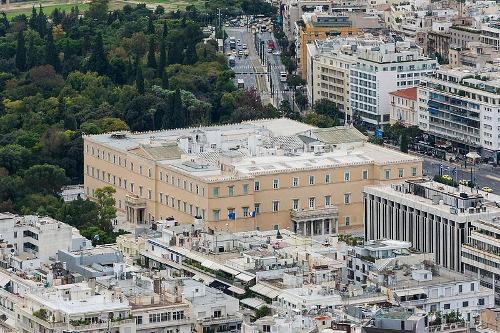 Greece VouliPhoto: Jebulon in the public domain
The constitution dates from 1975, after which important amendments were made in 1986. Legislative power rests with the unicameral parliament (the "Vouli"), whose 300 members are elected once every four years under an "enhanced right of proportional election". The system favors the strongest party in order to achieve a majority sufficient for government, which, however, encourages a two-party system.
The head of state is the president, who is elected by parliament (a two-thirds majority is required) for a term of five years and is eligible for re-election once. The president appoints and dismisses the prime minister. He may also dissolve parliament and in a state of emergency he can issue laws by decree. His function is largely ceremonial, as head of state he has no executive power. This power rests with the Council of Ministers, which is accountable to parliament for this. There is universal suffrage for all Greeks from the age of 18.
After the military dictatorship, a popular vote on the return of the monarchy to the disadvantage of ex-king Constantine was unfavorable. For the current political situation see chapter history.
Administrative division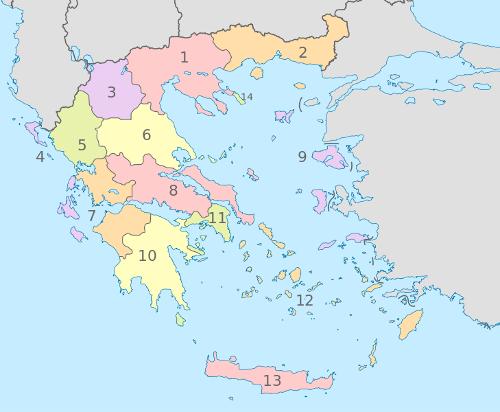 Greece administrative divisionPhoto: TUBS CC 3.0 Unported no changes made
Greece is divided into 13 administrative divisions, the so-called "Peripheries" (districts). These "Peripheries" are subdivided into prefectures. A prefecture is called a "Nomos", with a "nomoi" at its head. In total there are 51 prefectures. In addition, Greece has one autonomous area under its own administration, namely Agion Oros (Mount Athos) in Chalkidiki (Northern Greece). Greater Athens has a separate status. The other provinces are: Central Greece, Peloponnese, Ionian Islands, Epiros, Thessaly, Macedonia, Thrace, Aegean Islands and Crete.
A place of residence is then called either "Dimos" (municipality, city) or "Kinotita" (community, village). In total there are 900 municipalities and 133 communities.
Before 2011, the current Attica administrative region consisted of the prefectures (nomi) of Athens, East Attica, Piraeus and West Attica. Hydra is part of Attica, one of the thirteen administrative regions of Greece. The Attica region, with a total area of 3808 km2 and capital Athens, had a population of approximately 3.8 million in 2011, of which approximately 2,000 live on Hydra.
As of 2011, the Attica region consisted of eight regional units (perifereiaki enotita): Hydra belongs to the Islands regional unit and there are also the regional units of East Attica, West Attica, West Athens, Central Attica, South Attica, North Attica and Piraeus.
In addition to Hydra, the islands of Aegina, Angistri, Antikythera, Dokos, Kythira, Poros, Salamis, Spetses and Spetsopoula belong to the Attica region. The municipality of Hydra (72 km2 in total) consists, in addition to Hydra and Dokos, of a number of uninhabited islets, including Agios Georgios and Trikeri. Geographically, Hydra belongs to the Argo-Saronic Islands, located in the Gulf of Aegina, close to mainland Greece.
It is noteworthy that the small island of Hydra has supplied Greece with one president, five prime ministers and numerous ministers over the course of time. For the current political situation in Greece, see the history section.
Education
In addition to primary and secondary schools, Hydra also has an annex to the Athenian School of Fine Arts, in Tompázi House, and the National Merchant Navy School, in Tsamados House. The famous French painter Marc Chagall taught at the school in Tompázi House.
The National Merchant School is the first maritime school in Greece. The school started in 1749, and in the years before the War of Independence, its teachers were mainly drawn from Portugal and Italy. In 1930 it became the merchant navy school as we know it today, with even some of its own ships. The training lasts four years and the school has produced thousands of captains.
---
Sources
Wikipedia
CIA - World Factbook
BBC - Country Profiles
Last updated November 2023
Copyright: Team
The World of Info