ZAKYNTHOS
Society

Popular destinations GREECE
Society
State structure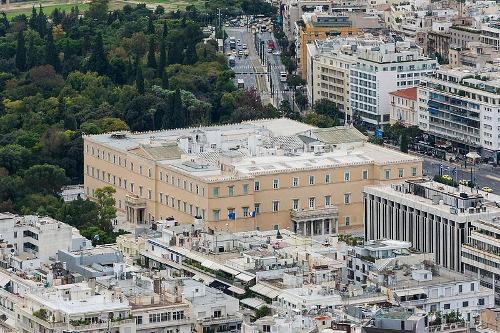 Greece VouliPhoto: Jebulon in the public domain
The constitution dates from 1975, after which important amendments were made in 1986. Legislative power rests with the unicameral parliament (the "Vouli"), whose 300 members are elected once every four years under an "enhanced right of proportional election". The system favors the strongest party in order to achieve a majority sufficient for government, which, however, encourages a two-party system.
The head of state is the president, who is elected by parliament (a two-thirds majority is required) for a term of five years and is eligible for re-election once. The president appoints and dismisses the prime minister. He may also dissolve parliament and in a state of emergency he can issue laws by decree. His function is largely ceremonial, as head of state he has no executive power. This power rests with the Council of Ministers, which is accountable to parliament for this. There is universal suffrage for all Greeks from the age of 18.
After the military dictatorship, a popular vote on the return of the monarchy to the disadvantage of ex-king Constantine was unfavorable. For the current political situation see chapter history.
Administrative division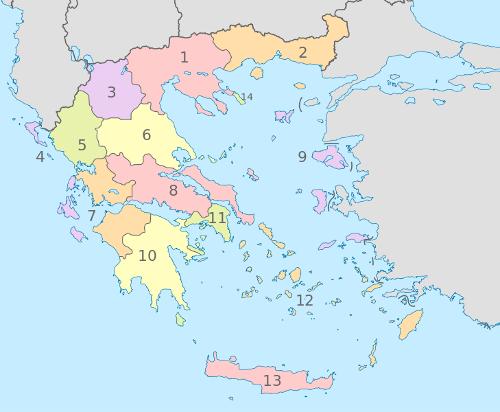 Greece administrative divisionPhoto: TUBS CC 3.0 Unported no changes made
Greece is divided into 13 administrative divisions, the so-called "Peripheries" (districts). These "Peripheries" are subdivided into prefectures. A prefecture is called a "Nomos", with a "nomoi" at its head. In total there are 51 prefectures. In addition, Greece has one autonomous area under its own administration, namely Agion Oros (Mount Athos) in Chalkidiki (Northern Greece). Greater Athens has a separate status. The other provinces are: Central Greece, Peloponnese, Ionian Islands, Epiros, Thessaly, Macedonia, Thrace, Aegean Islands and Crete.
A place of residence is then called either "Dimos" (municipality, city) or "Kinotita" (community, village). In total there are 900 municipalities and 133 communities.
Education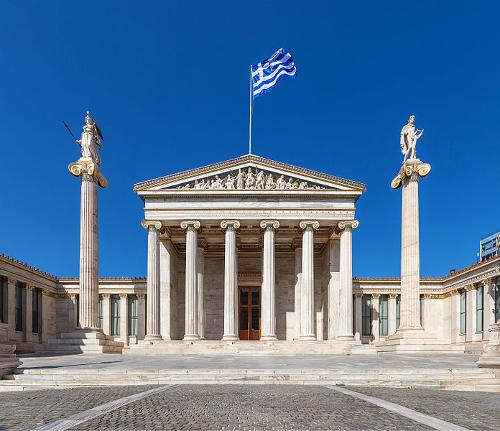 Universaty of Athens GreecePhoto: Thomas WolfCC 3.0 Germany no changes made
Pre-primary education (Nypiagogeia) takes two years and is currently optional, but is gradually becoming compulsory.
Compulsory education in Greece lasts nine years, from 6 to 15 years. The first six years the pupils follow education at the "Dimotiko Scholio" (primary education) and the last three years at the Gymnasio, the first phase of secondary education. General education is provided in all classes and there is day and evening classes.
Children who leave primary education are automatically admitted to the first class of the Gymnasio without exams. A final certificate (apolytirio) must be submitted from primary school. English is a compulsory subject and is taught from the fourth grade of primary education.
At the end of the Gymnasio, the students receive a diploma (Apolytirio Gymnasiou). In order to receive this diploma, the students must generally have an average of 10 points with a maximum of 20 for all subjects and the school absenteeism may not exceed the maximum permitted limit.
Upper secondary education is not compulsory. The second phase of secondary education is provided at the Lykia and the Technikés Epangelmatikés Scholés (technical schools).
The existing types of Lykia are: the general Lykio, the technical-professional lykio, the extended (Polikladiko) Lykio, the classical Lykio, the ecclesiastical Lykio, and the music lykio.
The study at a Lykio takes three years, and there is both a day and an evening course. The evening course lasts four years. Pupils who have completed the Gymnasio can enroll in any secondary school of the second stage on the basis of the diploma of the Gymnasio. There are no entrance exams. The student must be at least 14 years old. Foreign language teaching (English or French or German) is provided to all types of Lykia; Classical Lykio is always taught German.
At the end of each school year, pupils are required to take an official written exam in each subject to determine whether they move on to the following year. At the end of the third year of Lykio, the pupils have to take a final exam; if they pass this they receive the final diploma, the "Apolytirio Lykiou".
Higher education can be university or non-university and is provided at universities and technical educational institutions. Universities are made up of faculties that are divided into departments or "tmimata". A department's program leads to a standard diploma or "ptychio".
The Technical Educational Institutions consist of departments that together form faculties; these include general training (visual arts and arts training, business administration and economics, health and welfare professions, agricultural science and technology, applied technology, food technology and nutrition).
University courses last at least four years, courses at technical universities of applied sciences at least three years.
Graduates can pursue a PhD if they wish; they have to write a dissertation in Greek and present it in public.
---
Sources
Wikipedia
CIA - World Factbook
BBC - Country Profiles
Last updated November 2023
Copyright: Team
The World of Info