ZAKYNTHOS
Plants and Animals

Popular destinations GREECE
Plants and animals
Plants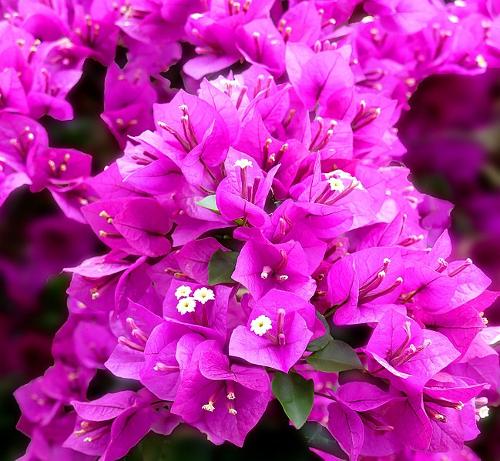 Bougainvillea, ZakynthosPhoto: Jim Evans CC 4.0 no changes made
Zakynthos has an overwhelming amount of flowers, plants and trees in all colours and scents. The most common flowers are bougainvilleas, cyclamen, irises, wild orchids and roses, but also the pleasantly smelling sea lily can be found on Zakynthos. A plant species that occurs frequently along the coast of Zakynthos is Posidonia oceanica, a species of sea grass. The plants, which are approximately 1 metre long, form dense forests at depths of between 2 and 25 metres and form a very important ecosystem as a breeding ground for a wide variety of organisms.
Herbs are also common on the island, including dill, rosemary, parsley and basil.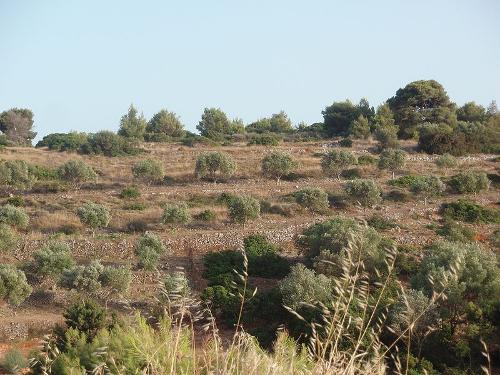 Olive trees, ZakyntkosPhoto: Christaras A CC 3.0 no chsnges made
Common trees and shrubs include fig trees, lemon trees, orange trees, walnut trees, olive trees, pomegranate trees and grape vines
Animals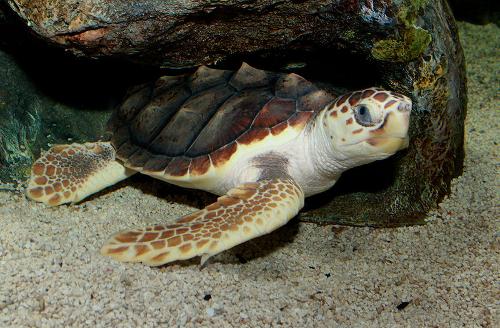 Caretta Caretta, ZakynthosPhoto: Brian Gratwicke CC 2.0 no changes made
The Caretta Caretta or loggerhead turtle, which lays its eggs in the protected bay of Laganas in spring, is an impressive sea turtle with a length of about 1 metre and a weight of about 125 kg. They can live up to 90 years. In September and October, the eggs hatch and the little turtles begin their dangerous journey to the sea. Other turtles that occur on Zakynthos are the European Box Turtle and the Caspian Sea Turtle.
On the southwest coast live monk seals, like the loggerhead turtle an endangered species. Sometimes dolphins can be spotted in the waters around Zakynthos.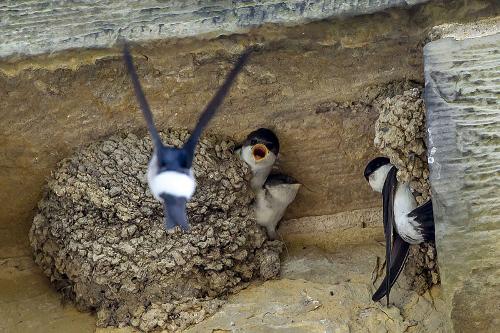 House MartinPhoto: Michael Palmer CC 4.0 no changes made
Zakynthos and the island of Strofada, some tens of kilometres south, are a stopover for many migratory birds, the most common being the turtle dove. Permanent residents of Zakynthos are the house martin, the golden oriole, the little owl and the buzzard.
In the summer months, Zakynthos is populated by many species of butterflies, including the orange alfalfa butterfly, the dark hare butterfly, the bicoloured fritillary and the swallowtail butterfly.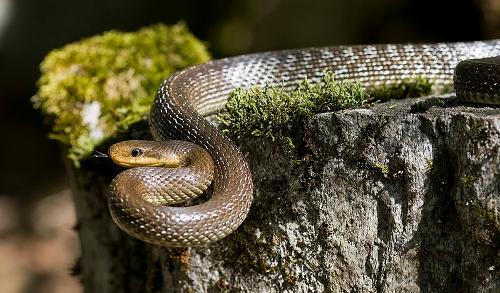 Esculape Snake, ZakynthosPhoto: FelixReimann CC 3.0 no changes made
Zakynthos is also home to such animals as the jumping frog, the tree frog, the common or brown toad, the green toad, the grass snake, the dice snake, the Balkan whip snake, the poisonous sand viper, the lizard snake and the spectacular two-metre-long esculape snake. The following lizard species have been sighted on Zakynthos: giant black lizard, taurian wall lizard and keeled lizard. The mammal world is not spectacular with hedgehogs, hares and several species of bats.
---
Sources
Wikipedia
CIA - World Factbook
BBC - Country Profiles
Last updated November 2023
Copyright: Team
The World of Info