ZAKYNTHOS
Geography and Landscape

Basic information
Official language
Greek
Capital
Zakynthos City
Area
406 km²
Population
41,472 (2017)
Currency
euro (EUR)
Web
.gr
Code.
GRC
Tel.
+30
Popular destinations GREECE
Geography and Landscape
Geography
In the Ionian Sea, west of mainland Greece, there are about 330 larger and smaller islands, of which only 15 are inhabited. Zakynthos, 'Fiori di Levante' (Flower of the East or the Orient) as the Venetians called it, is one of the 'Seven Islands' or 'Eptanissa'. The Greeks used this name to refer to the Ionian Islands. There are many more than seven islands, but the 'Seven Islands' are somewhat larger than all the smaller ones around it.
Zakynthos Satellite PhotoPhoto: Public Domain
Zakynthos, also known by its Italian name Zante, is located close to the Greek mainland, only 15 km west of the Peloponnese, on a par with the Italian island of Sicily. Zakynthos is the southernmost Ionian island, still 13 km south of Kefalonia. Zakynthos has a length of about 35 km and a width of about 20 km. The total area of Zakynthos is 406 km2 and it is the largest Ionian island after Kefalonia and Corfu. The length of the coastline is 123 km. In the bay of Laganas lies the islet of Agios Sostis.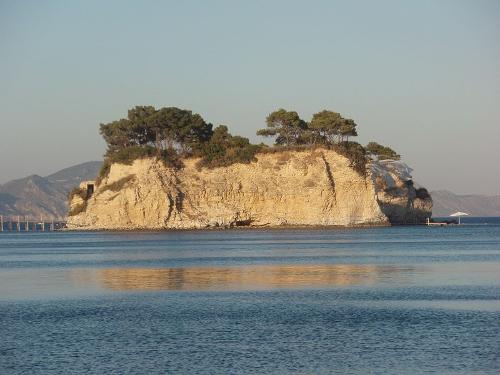 Island Agios Sostis, ZakynthosPhoto: Christaras A CC BY-SA 3.0 no changes made
Landscape
Zakynthos is a green, fertile island. The interior is a vast plain with fields, vineyards and large olive groves. The west and north coasts of the island are jagged with high cliffs that slope gently to the east and south. This part of the island consists of limestone rock, where erosion has created caves and underground cavities. A separate area is the Vasilikos peninsula.
Tourism is concentrated on the south, east and southeast coasts of Zakynthos. Here you will also find many sandy beaches, some of which are very narrow. The most famous beach of Zakynthos is at Laganas and is nine kilometres long. Here there is also a dune area, a protected nature reserve where sea turtles lay their eggs.
Across the island, from the northwest to the southeast, runs the rugged Vrachionas mountain range, with its highest peak at 756 metres.
---
Sources
Wikipedia
CIA - World Factbook
BBC - Country Profiles
Last updated November 2023
Copyright: Team
The World of Info