KALYMNOS
Geography and Landscape

Basic information
Official language
Greek
Capital
Pothia
Area
109 km²
Population
11,913 (2021)
Currency
euro (EUR)
Web
.gr
Code.
GRC
Tel.
+30

Popular destinations GREECE
Geography and Landscape
Geography
Kalymnos is the fourth largest island of the Dodecanese, after Rhodes, Karpathos and Kos. Dódeka means 'twelve' in Greek, so Dodecanese means 'twelve islands'. In reality, however, there are hundreds of islands and islets in this part of the Aegean Sea, south of the northern Aegean Islands. Apart from many uninhabited rocky islets, the Dodecanese consist of about 170 larger islands, 18 of which are inhabited. The total area of the Dodecanese amounts to approximately 2714 km2.
South of Kalymnos is Kos, north of Kalymnos is the island of Leros. The island of Télendos, located west of Kalymnos, was not separated from Kalymnos until an earthquake in 554 AD. Other inhabited islands close to Kalymnos are Psérimos, Kalolimnos, Pláti and Nerá.
The surface area of Kalymnos is approximately 110 km2 and the island has a maximum length of 21 km and maximum width of 13 km. The total coastline, with a complex interplay of cliffs, peninsulas, bays and fjord-like coves, is 96 km.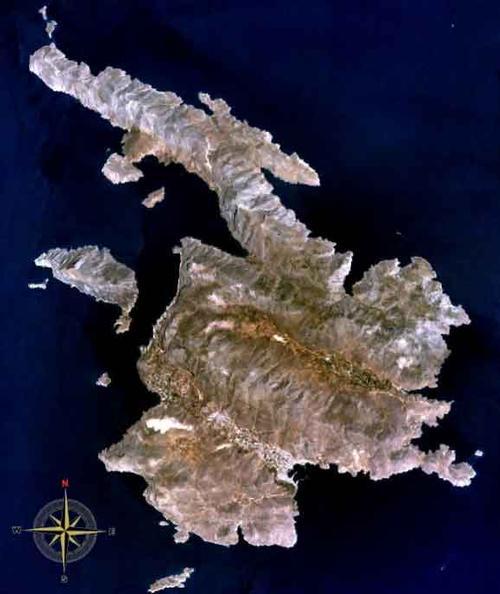 Kalymnos Satellite PhotoPhoto: Public domain
The island of Télendos is 'inseparable' from Kalymnos, if only because it was not separated from Kalymnos until the year 554 after a major earthquake. Télendos has volcanic beaches and from Myrties on Kalymnos, boats go to the small harbour of Télendos. The highest point of Télendos is the hill Ráhi (458 m).
Landscape
Kalymnos has three mountain ranges with deep fjord-like coves and bays, including the bays of Vlychadia, Pithari and Arginonda. The grey-pink mountains of Kalymnos are generally bare and barren, with two fertile green valleys in between, of which the Vathy Valley (also called the Mandarin Valley) is the most famous, where mandarins as well as other citrus fruits grow.
In the middle of Kalymnos is the highest peak of the island, Profitis Ilias (678 m). To the east are the Kyra Psili (650 m) and the Pirnari (425 m), in the north the Patella (435 m) and the Koukoula (365 m).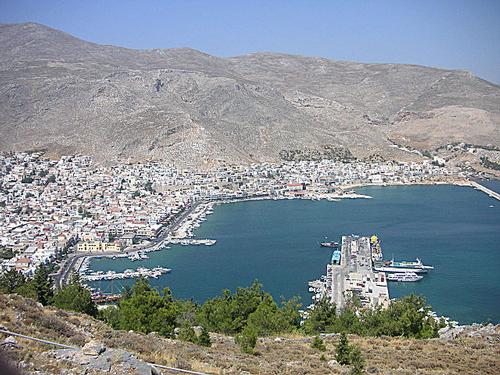 Barren mountain ranges characterize KalymnosPhoto: Michiel1972 CC Attribution-Share Alike no changes made
The coastline is mostly rocky with beautiful beaches in the west, for example at Emporios, Kantouni, Masouri, Myrties and Skalia, but also in the north, although secluded, beaches can be found.
Kalymnos has many caves, the most famous of which is the Nymph Cave or Seven Virgins Cave. This cave is located near the capital Pothia in the Flaskias mountain. Some other beautiful caves are those of Skalia and Kafala with impressive stalactites and stalagmites. The largest cave on Kalymnos is that of Daskaleio.
---
Sources
Wikipedia
CIA - World Factbook
BBC - Country Profiles
Last updated October 2023
Copyright: Team
The World of Info