CORSICA
Population


Cities in CORSICA
Popular destinations FRANCE
Population
Due to the many victims of the Second World War and large-scale emigration to the French mainland and abroad, in 2017 there are only 330,000 people in Corsica. The population living on the island is concentrated in the main cities (Ajaccio, Bastia, Bonifacio, Calvi), some smaller centers and the zones of Aléria, Marana and Balagne.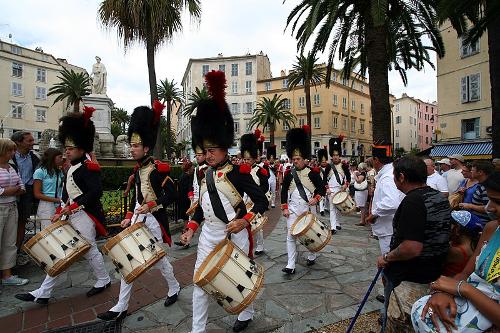 Corsicans celebrate Napoleon's birthdayPhoto: Steve Hedin CC 3.0 Unported no changes made
Approx. 100,000 of them live in the capital Ajaccio and in Bastia. On average, about 37 people live in Corsica per km2. Due to the migration to the French mainland in particular, there are currently more Corsicans living abroad than in Corsica. It is estimated that between 700,000 and 800,000 Corsicans have emigrated over time, of which about 500,000 to the French mainland. A remarkable colony of Cap Corse descendants even resides in Venezuela.

In 1886 a maximum of 276,000 people lived there, in 1955 the lowest number with 170,000. A study in 1990 found that 60% of the population was born on the island. There are now about 22,000 foreigners living in Corsica, which is about 8% of the total population. This includes about 12,000 Moroccans, 3,000 Italians, 3,000 Portuguese and 2,000 Tunisians and other groups from North Africa, the so-called "pied noirs". After the Algerian war between Algeria and France in 1962, Corsica also received many repatriated compatriots. Since 1975, not many immigrants have come to Corsica, but the number of French people from the mainland, called "pinzutti" by the Corsicans, is increasing.
---
Sources
Corsica
Lannoo
Corsica
Lonely Planet
Corsica
Touring/Lannoo
Driessen, J.W. / Corsica
Elmar

CIA - World Factbook

BBC - Country Profiles
Last updated November 2023
Copyright: Team
The World of Info