CORSICA
Climate and Weather


Cities in CORSICA
Popular destinations FRANCE
Climate and Weather
Corsia has a typical Mediterranean climate with dry, warm summers and humid winters with an average temperature of 12°C. In the mountains it is much cooler and the higher you go the colder it gets. Snow can be found above 1,600 meters from October to June. The sea temperature is sometimes above 25°C from June to September. Corsica has an average of 2700 hours of sunshine per year. Between June and September, the average daytime temperature is above 25°C. In July and August the temperature can reach above 35°C.

Ajaccio on the west coast has an average of 12 days a year temperatures above 30 °C. Corte in Central Corsica and located between the mountains has temperatures above 30°C on average for 32 days. October to December are the wettest months with severe storms and sometimes floods. In the east there is more rainfall than in the west, but in July there is practically nowhere rain. In the mountains there are harsh winters and some peaks are covered with snow all year round. Corte has about 30 freezing days a year, Ajaccio about eleven a year and Bastia in the northwest only about three a year. It is remarkable that the climate in the north is slightly warmer than in the south.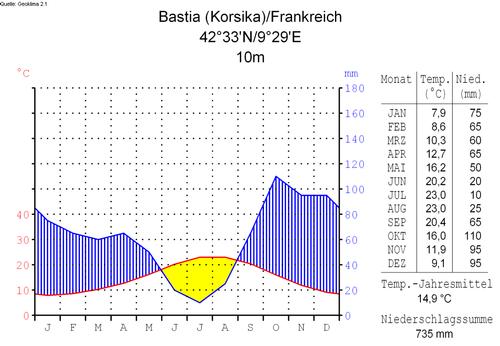 Climate diagram BastiaPhoto: Hedwig in Washington CC 3.0 Unported no changes made
There are different winds in Corsica (see image), each with its own name.
The tramontane is a cold north wind, and it blows occasionally in winter.
The Libeccio is a hot, dry southwest wind in summer. In winter, this wind often brings rain in the west.
The grecale is a northeasterly wind with rain in the north.
The mistral (Corcican: maestrale) is a cold northwest wind that rarely blows.
The mezzogiorno is a cool sea breeze that often blows in the spring.
The sirocco is a dusty wind from the southeast, often followed by thunderstorms.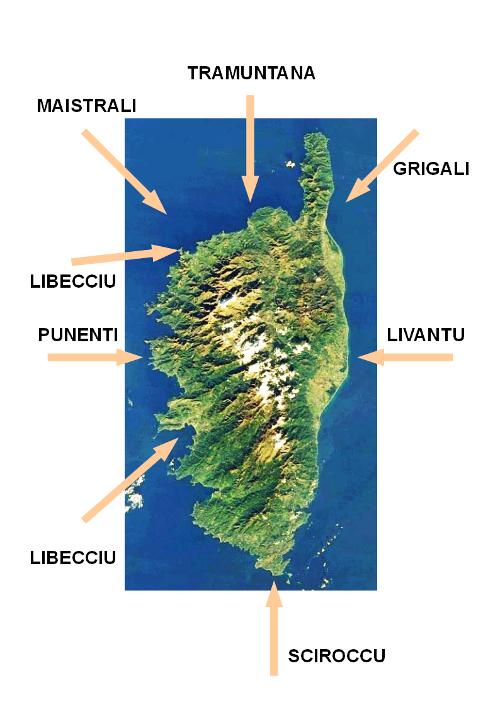 Corsica has many special wind conditionsPhoto: Public domain
---
Sources
Corsica
Lannoo
Corsica
Lonely Planet
Corsica
Touring/Lannoo
Driessen, J.W. / Corsica
Elmar

CIA - World Factbook

BBC - Country Profiles
Last updated November 2023
Copyright: Team
The World of Info