ALSACE



Popular destinations FRANCE
Geography and Landscape
Geography
Alsace (French: Alsace, German: Elsass) is a region in France, located on the left bank of the Rhine and bordered by Lorraine in the west. The region is divided into the departments of Haut-Rhin and Bas-Rhin. The capital city is Strasbourg.

The total area of Alsace is 8,280 km2 and ranges from 30 km wide to 170 km long from north to south.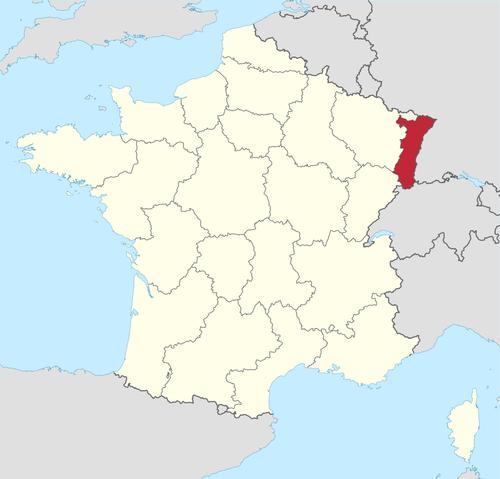 Location of Alsace in FrancePhoto: TUBS CC 3.0 Unported no changes made
The department Bas-Rhin borders in the south on the department Haut-Rhin, in the south-east on Vosges and Meurthe-et-Moselle, in the west on Moselle and in the east and the north on the Rhine.
The department Haut-Rhin is bordered by the departments Bas-Rhin, Vosges, Territoire-de-Belfort and in the east and north by the Rhine. To the south by the Swiss cantons of Jura, Solothurn, Basel-Landschap and Basel-City.
Landscape
The Alsatian Plain (Plaine d'Alsace) lies between the Vosges and the Rhine. The landscape of Alsace is therefore largely determined by the subsoil. The subsoil consists for a large part of gravel, shingle and coarse sand, on which old oak and pine forests grow. In the very lowest parts of Alsace, there is still a small part of the former marshes, the "Rieds". The largest part of this formerly marshy area has been converted into a cultivated landscape with meadows, orchards and fields.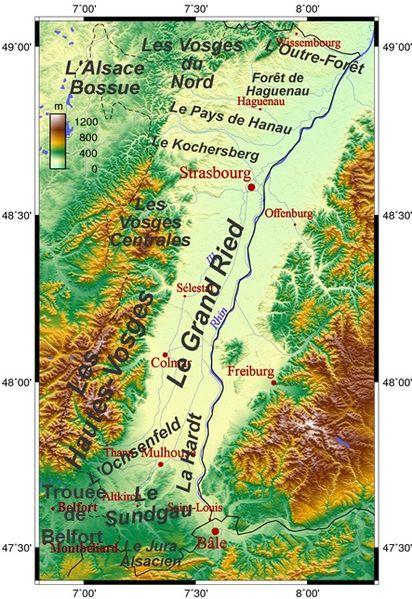 Natural regions of Alsace, including the Grand RiedPhoto:Monsieur Fou CC 3.0 Unported no changes made
In the northern part of Alsace, Bas-Rhin, you will find the Regional Park of the Northern Vosges. This protected nature reserve is a wonderful place for nature lovers. The possibilities for walking and cycling are countless. The northern Alsace has varied landscapes. The eastern part is fairly flat; the western part is hilly. The Bruche, with 90 kilometres, is the longest Vosges river in Alsace.
Also in the southern department of the Haute-Rhin, nature is abundant. From the high peaks of the nature park 'Ballons des Vosges', you have a wonderful view of the southern part of the Vosges.
Besides the beautiful nature, Alsace is especially known for its lovely, cosy villages and towns. Located in valleys, between the slopes full of Alsatian vineyards, these are atmospheric places where it is good to stay.
---
Sources
Dominicus, J. / Vogezen, Elzas
Gottmer
Elzas, Vogezen, Champagne
Michelin
Graaf, G. de / Vogezen en Elzas
ANWB
Schuppen, S. van / Vogezen, Elzas en Lotharingen
ANWB
Tschirner, S. / Elzas, Vogezen
ANWB
Wikipedia

CIA - World Factbook

BBC - Country Profiles
Last updated November 2023
Copyright: Team
The World of Info