ANDALUSIA
Population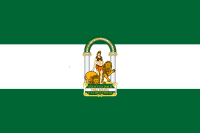 Popular destinations SPAIN
Population
General
Andalusia is one of the 17 autonomous regions of Spain. Andalusia has 8.4 million inhabitants (2016) and is therefore the largest Spanish autonomous region by population and good for approximately 20% of the Spanish population. Andalusia just like Spain has a population density of approximately 96 people per km2. With almost 700,000 inhabitants, Seville is the fourth largest city in Spain and the largest city in Andalusia. Málaga is a close second with approx. 600,000.
Most Andalusians live in the big cities and on the tourist coastal region. The provinces of the same name have the greatest population density, the provinces of Córdoba and Granada are in the middle bracket, Jaén, Huelva and Almería are the least populated.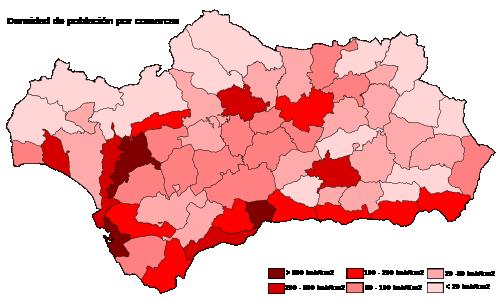 Population density overview Andalusia Photo: Té y kriptonita CC 3.0 Unported no changes made
In the fifties and sixties of the last century, hundreds of thousands of Andalusians left the countryside of Andalusia to get recognition in the factories in the north of Spain and in Western European countries such as the Netherlands, Belgium and Germany. The 1970s saw the depopulation and aging of the rural areas of Andalusiaa due to the rapid rise of mass tourism, which provided many jobs in the coastal area. After the accession of Spain to the European Union in 1986, many Andalusians returned from abroad, but they too remained mainly in the big cities.

Population growth Andalusia 1787-2014
| | |
| --- | --- |
| 1787 | 1,850,157 |
| 1842 | 2,300,020 |
| 1860 | 2,965,508 |
| 1887 | 3,380,846 |
| 1900 | 3,544,769 |
| 1910 | 3,800,299 |
| 1920 | 4,221,686 |
| 1930 | 4,627,148 |
| 1940 | 5,255,120 |
| 1950 | 5,647,244 |
| 1960 | 5,940,047 |
| 1970 | 5.991.076 |
| 1981 | 6,440,985 |
| 1991 | 6,940,522 |
| 2001 | 7,357,558 |
| 2011 | 8.424.102 |
| 2014 | 8,500,000 |
Flamenco
Flamenco is a type of music with tight rhythm structures, combined with a dance, originating from the south of Spain, especially from Andalusia, but the provinces of Extremadura, Murcia and Huelva have also contributed to the development of (different types of) flamenco. Flamenco, with among others (African)-Arabic and many gypsy influences, originated in the second half of the 19th century and every new generation adds something new to it. About 40 different styles can be distinguished, from the popular 'fandango' to the gloomy 'siguiriya'.
The basis of flamenco is the singing, the 'cante flamenco', which in the past was usually accompanied with rhythmic 'knocking', for example clipping fingers, clapping hands, staccato stamping with feet or using castanets. Nowadays flamenco is usually accompanied by a Spanish flamenco guitar (el toque), but also sometimes by flute, violin, piano and cello. The singing is also supported by the typical flamenco dance (el baile). In recent decades flamenco has also been influenced by Latin American music and especially Cuban music. More recently, influences can be seen from world music and even from rock, punk and hip-hop. Where the name flamenco comes from has never been resolved and many theories are circulating.
Flamenco music is divided into three categories: cante jondo (sad song) or cante grande, cante intermedio and cante chico. These three categories are subdivided into different forms, each with its own key and rhythm.
| | | |
| --- | --- | --- |
| FLAMENCO SHAPES | | |
| CANTE JONDO or GRANDE | CANTE INTERMEDIO | CANTE CHICO |
| soleares | tienos | alegrías |
| siguiryas | tarantas | bulerías |
| tonsás | tarantos | tanguillos |
| martinetes | peteneras | tangos |
| | granainas | fandangos |
| | | fandangos de Huelva |
| | | malagueñas |
| | | verdiales |
| | | farruca |
| | | garrotin |
| | | rumba |
The development of flamenco can be divided into a number of periods:
-1800-1860 'La Etapa Primitiva' or primitive period
-1860-1920 'La Etapa Clásica o de los Cafés Cantantes' or classical period
-1920-1950 'La Etapa de laÓpera Flamenca' or the period of flamenco opera
-1950-now 'La Etapa de Renacimiento' or period of the rebirth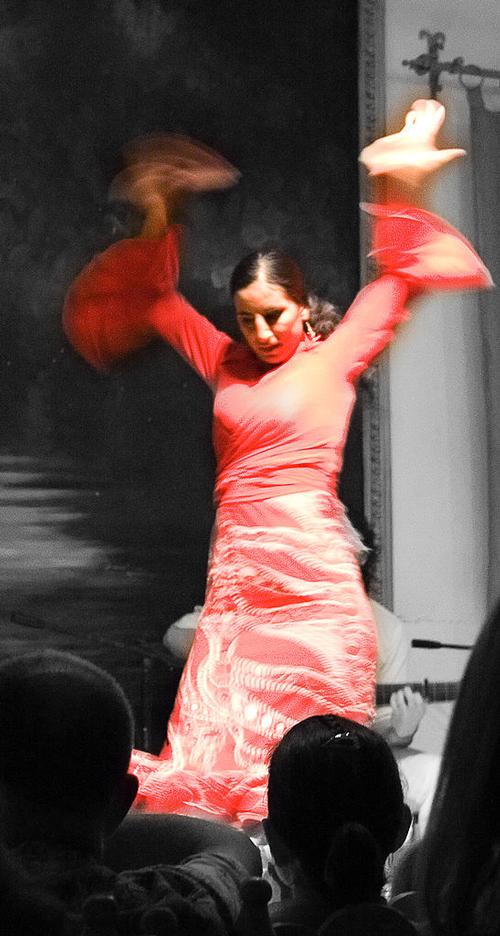 Flamenco dancer in traditional costume, Andalusia Photo: Michael Cohen CC 2.0 Generic no changes made
In Seville, there are the most and most varied possibilities to enjoy flamenco.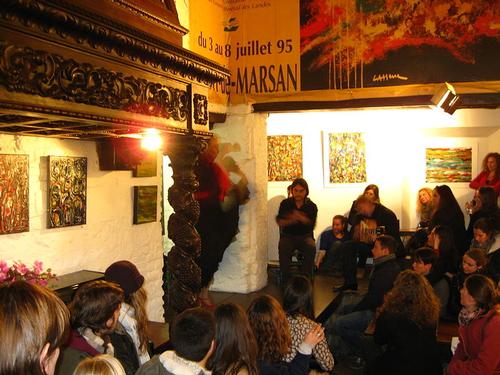 Typical flamenco tavern in SevillePhoto: Feranza CC 3.0 Unported no changes made
The greatest flamenco guitarist of the modern era was Paco de Lucía (1947-2014), born in the Andalusian Algeciras (province of Cádiz); one of the greats of the moment is Paco de Peña, born in Andalusian Córdoba. He ensured the popularization of flamenco, not only abroad but also in Spain itself. Together with the famous flamenco singer Camarón de la Isla (1952-1992) he developed the 'flamenco nuevo', a style variant of the flamenco guitar playing. Another famous singer was Manuel Ortega Juárez (1909-1973), also known as Manolo Caracol or 'El Caracol'. At the moment the sisters Fernanda and Bernarda de Utrera are among the best flamenco singers; famous flamenco dancers or 'bailaoras' were Eva Yerbabuena, Sara Baras, Juana Amaya and the Seville-born Cristina Hoyos; important flamenco dancers or 'bailaors' are or were Antonio Canales and Joaquin Cortés.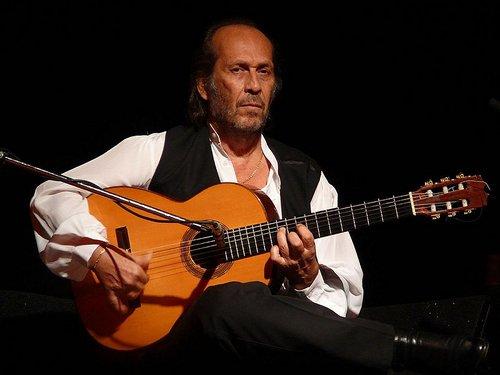 Francisco Sánchez Gómez (1947-2014), stage name Paco de LucíaPhoto: Cornel Putan CC 2.0 Generic no changes made
---
Sources
Andalucía
Lonely Planet

Andalusië
Lannoo

Baird, David / Sevilla & Andalusië
Van Reemst

BBC - Country Profiles

CIA - World Factbook

Dahms, Martin / Andalusië
Van Reemst

Hannigan, Des / Andalusië
Kosmos

Kennedy, Jeffrey / Andalusië & Costa del Sol
Van Reemst

O'Bryan, Linda / Andalusië
Uitgeverij J.H. Gottmer/H.J.W. Becht BV

Wikipedia
Last updated August 2023
Copyright: Team
The World of Info