ANDALUSIA
Plants and Animals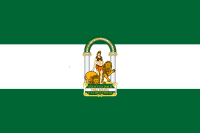 Popular destinations SPAIN
Plants and Animals
Plants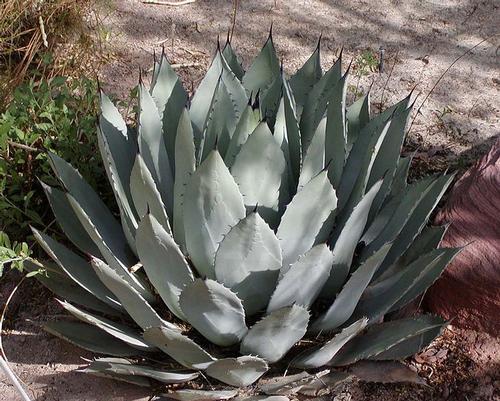 Agave AndalusiaPhoto: Stan Shebs CC 3.0 Unported no changes made
Due to the contrasting landscape, the Andalusian plant world is very rich and varied.

The most typical landscape in Andalusia consists of Mediterranean vegetation with maquis, scrub (including juniper, mastic tree, cistus rose) combined with low trees (cork oak, holm oak, pedunculate oak) and wild herbs (lavender, rosemary, thyme). Subtropical trees and plants such as agave, disc cactus, eucalyptus and various types of palm trees also grow there. Hilly and mountainous areas are covered with different types of pine: umbrella pine, maritime pine, Aleppo pine and Corsican pine. Along rivers and streams, mainly ash trees, black poplars and willows grow, swamps are attractive for (sugar) cane, tamarisks, lye herb and seven trees, a cypress species related to the juniper.

The Spanish silver fir, which is up to 30 meters high. or Abies pinsapo is a rare tree species and is found in Andalusia only in the Sierra de Grazalema and the Parque Natural Sierra de las Nieves near Ronda. Special plants in the Parque Natural de Cabo de Gata are the jujube and the rare dwarf fan palm.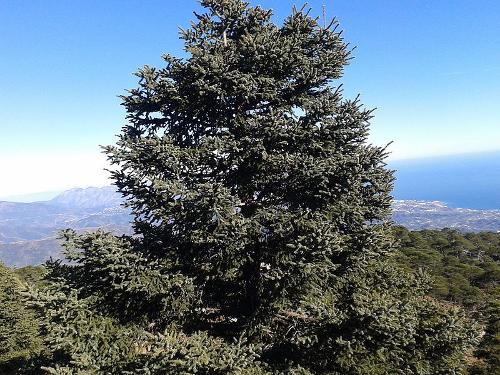 Spanish firPhoto: 15Gitte CC 3.0 Spain no changes made
The 862 km2 Parque Nacional Sierra Nevada is home to about 2100 species of flowers, plants and trees, the whole of Spain has about 7000. Below a number of unique types of crocuses, daffodils, thistles, poppies, clover, gentian and a huge native honeysuckle species.

In Spain's largest natural park, the Parque Natural de las Sierras de Cazorla, Segura y Las Villas, in addition to around 1200 different species, native plants such as the Cazorla violet, the Cazorla geranium and the carnivorous plant Pinguicula vallisneriifolia. Larici pine, hazel, holly, stone and down oak trees also grow in the woods of the park.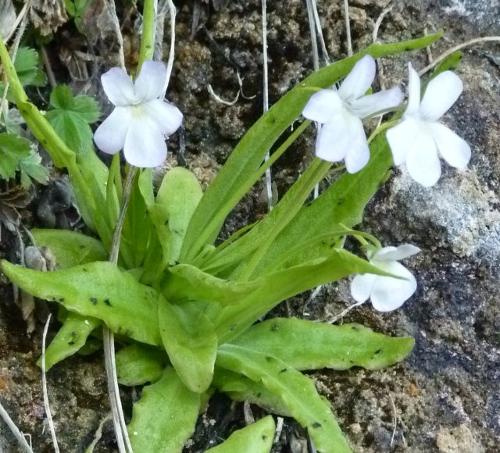 Pinguicula vallisneriifiola occurs only in AndalusiaPhoto: Juandiegocano CC 3.0 Unported no changes made
The Parque Natural de Los Alcornocales (170,000 ha) consists largely of pedunculate oaks, holm oaks, wild olive trees and cork oaks, from which the park owes its name. One of the largest cork oak forests in Europe is located in this park. Cork is still extracted here, the cork oak is on average about 150 years old and during that period it can be harvested about ten times. Cork oaks cannot supply cork until they are at least 30 years old and the trunk has a diameter of more than 60 centimeters.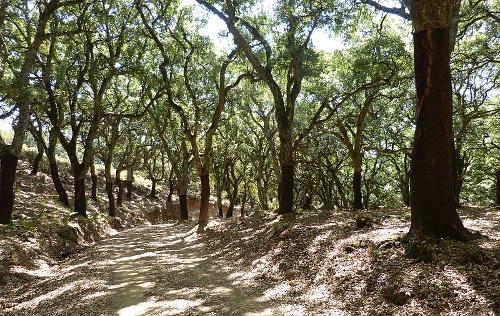 Cork Oaks, AndalusiaPhoto: Gailhampshire CC 2.0 Generic no changes made
The Parque Natural de la Sierra Subbética has a Mediterranean vegetation with holm oak, summer oak, pepper trees, hawthorn, peonies, thorns and gorse. Strawberry trees, tamarisks, hawthorns, willows, poplars, tamarisks, wild blackberries, kermes oaks and American windes grow where it is a bit more humid. Native species are also Hipochaeris rutea and Allium reconditum, a garlic species.
Animals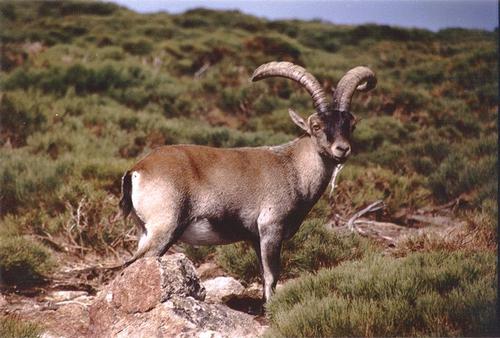 Ibex AndalusiaPhoto: Javier García Diz CC 3.0 Unported no changes made
Just like the plant world, the animal world of Andalusia varied, with quite a few protected species. The animal world is South European-Mediterranean in character with a number of African elements (chameleon, genet, mongoose, etc.). Andalusia forms an important springboard for about 350 species of migratory birds on their way from Northern Europe to Africa, among others. To the ornithological highlights of Andalusiaaalso include the many different species of birds of prey, including the rare Spanish or Iberian imperial eagle, and water birds. The ibex is a mountain goat with long horns. Nearly wiped out in 1900, the population has recovered and it is estimated that there are now about 70,000 individuals, mainly in Andalusia. The largest national park in Spain alone, the Parque nacional Sierra Nevada (862 km2), has more than 5000 specimens. Off the coast, in the Chafarinas Islands, the rare Mediterranean monk seal can still be seen.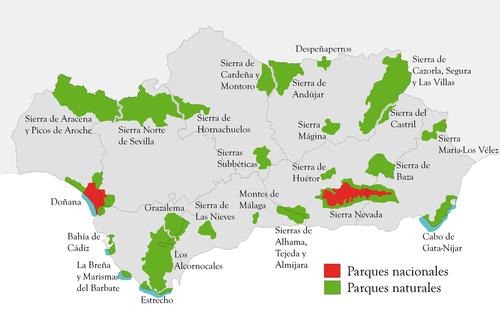 National and Natural Parks of AndalusiaPhoto: Falconaumanni CC 4.0 International no changes made
In the Parque Nacional de Coto Doñana (surface approx. 55,000 ha with coastal marshes or 'marismas', 'walking' drifting dunes and so-called 'cotos', dry, undulating areas with scrubland), by UNESCO on the international list Located in Cádiz, Seville and Huelva provinces of biosphere reserves, its size is home to many reptiles, amphibians and mammals, including Spurr-tighed Tortoise, Snub-nosed Viper, Fringed Lizard, Midwife Toad, Wild Boar, Fallow Deer, Red Deer, Genet Cat fox. Like many other areas, this area, one of the largest and most important wetlands in Europe for birds, is of great importance for breeding and migratory birds, including marbled duck, the rare slender-billed gull, blue heron, squirrel heron, little egret, night heron, stork, spoonbill, gadwall, common pochard, red-tailed duck, purple scoot, burdock coot, avocet, black-winged stilt, white-faced tern, greylag goose, wigeon, pintail, teal, shoveler, coot and black-tailed godwit, pygmy eagle, snake eagle, Spanish or Iberian imperial eagle, kestrel, white-eyed duck, casarca or rusty goose, black ibis, banded buttonquail and black kite.

Peñon the Zaframagón is an important bird sanctuary with Europe's largest colony of griffon vultures. Parque Natural Sierra de Grazalema is home to a small number of vultures or white bitch vultures and greater numbers of griffon vultures and golden eagles. Another reserve, Dehesa de Bajo, is home to the curmudgeon or blaze coot and this wooded area is home to the largest colony (more than 400 pairs) of storks in Europe. The Parque Natural Sierra de Hornachuelos is home to the second largest colony of black vultures of Andalusia.
Laguna de Fuente de Piedra is, if not dried up, the largest natural lake in Andalusia and also one of the two largest breeding grounds of the (common or European) flamingo, the only species found in Europe. After a wet winter, about 20,000 pairs breed in the barely one meter deep lake. The other great breeding ground for flamingos is the Camargue in South West France.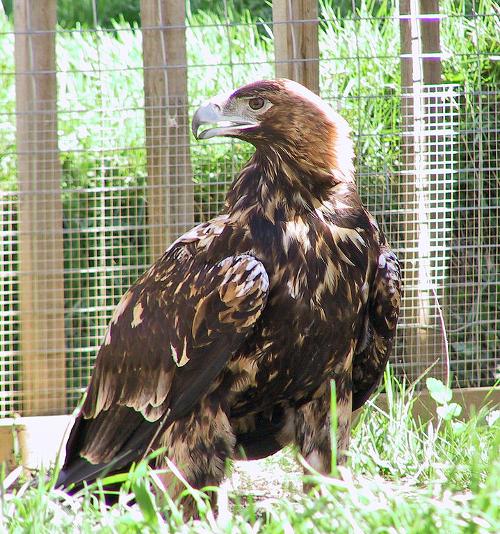 The rare Spanish or Iberian Imperial Eagle still occurs in AndalusiaPhoto: Antonio Lucio Carrasco Gómez CC 3.0 no changes made
The lagoons of Albufera de Adra on the coast of Almería are home to important populations of the Aphanius iberus, a ray-finned fish from the egg-laying toothcarp family that is only found in the Iberian Peninsula. Also special is the globally endangered white-headed duck, which breeds and hibernates here. The also endangered marble duck rests here on its way to Africa. Other waterfowl that breed here are grebe, little bittern, pochard, red-crested duck, tufted duck and coot.
Also botanically, especially in the field of aquatic plants, this relatively small area has a lot to offer, including reed, arrow reed, bulrush cattail, cattail or sea rush, large nymphpowder and galigaan, a perennial plant belonging to the cyper grass family. Bahia de Cadiz is a fine example of a wetland tidal area typical of the Iberian Peninsula. This area is crucial for many migratory and wintering water birds, including spoonbill, ringed plover, Kentish plover, black-winged stilt, silver plover, lesser black-backed gull, Caspian gull, little egret, cormorant, redshank and little tern.

The Sierra Morena is one of the last habitats of the rare Iberian lynx. Thanks to a successful zoo breeding program, the number of Iberian lynxes, almost all of them found in Andalusia, is on the increase again. In 2011 there were again 200-300 copies counted, ten years earlier there were only about 100.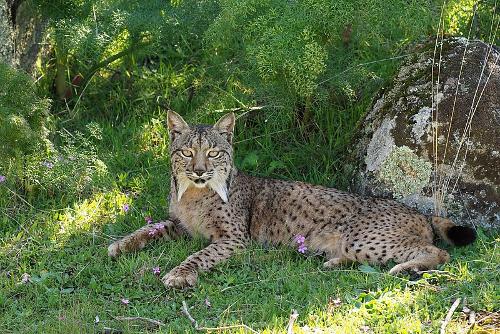 Iberian Lynx, rare in AndalusiaPhoto: Frank Vassen CC 2.0 Generic no changes made
The area west of Aracena is known for its typical black Iberian pigs, the 'porco pretos'.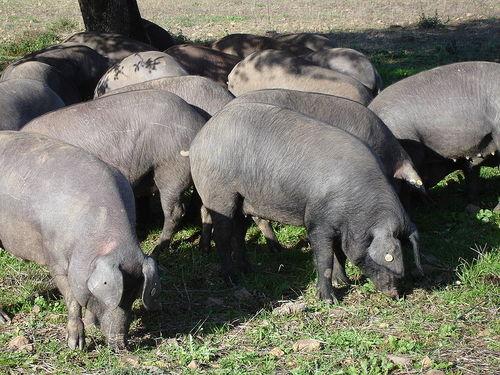 Typical Andalusia: black Iberian pigs or 'porco pretos' Photo: Comakut CC 3.0 Unported no changes made
Other Areas:

-Hoya de Bazade Guadix and Tabernas Cabo de Gata (approx. 29,000 ha),Crested Cuckoo, Spurr-tighed Nightjar, Griffon Swift, Alpine Swift, Roller, Dupont Lark, Lesser Short-toed Lark, Thekla Lark, Spanish Sparrow, Desert Finch and recently breeding racing birds have been found in this area for the first time in Europe.
Laguna de Fuente de Piedra (important salt lagoon in Central Andalusia): (common) flamingo, laughing tern, thin-billed gull, Kentish plover, Montagu's harrier

Laguna de la Janda: Spanish imperial or Iberian eagle, gray kite, crane, hermit ibis, house swift, black-backed swallow

Marismas del Odiel (7150 ha): spoonbill, little tern

Gibraltar: the tailless Barbary macaque or magot is the only outside Asia and the only monkey species that can be found in the wild in Europe. Besides Gibraltar, where about two hundred monkeys live, the Barbary macaque is also found in Morocco and Algeria. Fossils of a Barbary macaque species related to the Barbary macaque species have also been found in the Netherlands (Tweede Maasvlakte and Tegelen in Limburg).

Parque Natural de las Sierras de Cazorla, Segura Y Las Villas: largest nature park in Andalusia(214,300 ha) with 1200 plant species, wild boar, genet, stone marten, wild cat, fox, otter, golden eagle, peregrine falcon, hawk, osprey, trout, carp, black bass

Parque Natural de la Sierra Subbética (32,000 ha): peregrine falcon, golden eagle, griffon vulture, wild boar, forest cat, stone marten, Cabrera vole

Serranía de Ronda: barred warbler, mountain warbler, orpheus warbler, Iberian warbler, snake eagle, dwarf eagle, hawk eagle, black wheatear

Osuna: great bustard, small bustard, black-bellied sandgrouse, curlew, gray kite, fork-tailed plover, Montagu's harrier, crane

Parque Natural de la Desembocadura del Río Guadalhorce: white-headed duck, slender-billed gull, Audouin's gull, black-headed gull, little eagle

Sierra del Torcal (1171 ha): black wheatear, blue rock thrush, red rock thrush, ring thrush, gray bunting, Alpine hedge sparrow, hawk eagle, golden eagle, griffon vulture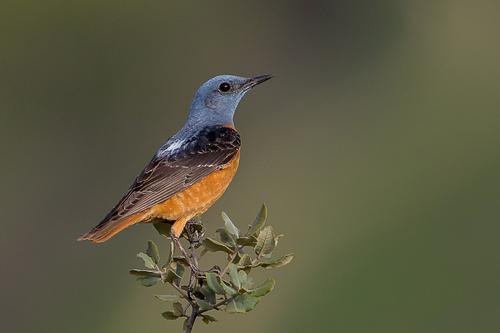 Red Rock ThrushPhoto: Pierre Darlous CC 3.0 Unported no changes made
Sierra de Grazalema (approx. 51,000 ha): griffon vulture, golden eagle, hawk eagle, snake eagle, pygmy eagle, peregrine falcon, eagle owl, osprey, egyptian vulture, alpine crow, blue rock thrush, black wheatear, red partridge, hoopoe, bee-eater, hawfinch, great spotted woodpecker, golden oriole, alpine hedge sparrow, alpine swift, Spanish or Iberian ibex, wild boar.

Marismas del Ordiel: spoonbill, blue heron, purple heron, little egret, marsh harrier, purple-footed stilt, black-tailed stilt, fork-tailed plover, Kentish plover, slum billed gull, laughing tern, little tern, wigeon, mallard, shoveler, pochard, avocet

Parque Natural Sierra de Baza
-Mammals: Spanish or Iberian ibex, red deer, wild boar, weasel, (European) badger, polecat, stone marten, (common or red) fox, wild cat, genet cat, rabbit, Iberian hare, red or common squirrel, acorn mouse, wood mouse, Algerian mouse, house mouse, black rat, brown rat, Cabrera vole, Western European vole, Provençal vole, house shrew, eyelash shrew, Iberian blind mole, great horseshoe bat, lesser horseshoe bat, purple horseshoe bat, potted bat, fringed tail, long-tailed bat, common pipistrelle bat, little pipistrelle bat, Savi's pipistrelle bat, gray long-eared bat, pug bat, long-winged bat, long-winged bat: red-tailed bat common or brown toad, natterjack toad, European chitjak, smooth snake, Andalusian midwife toad, flip-nose viper, lesser marble salamander, ribbed newt, Southern Spanish or Eastern Iberian disc-tongue frog, Spanish garlic toad, green-spotted Iberian frog, Mediterranean tree frog and Iberian lake frog.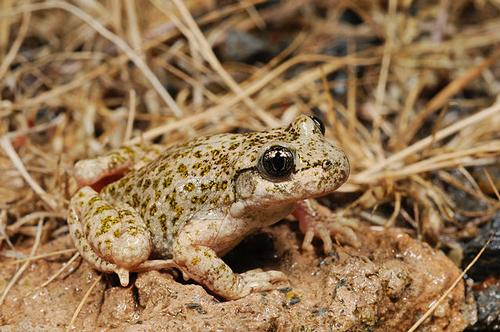 Andalusian midwife toadPhoto: Benny Trapp CC 3.0 Unported no changes made
Spotted birds in the Sierra de Baza
| | | | |
| --- | --- | --- | --- |
| Alpine Swift | warbler | Redwing | starling |
| Alpine hedge mus | meadow pipit | Short-toed lark | long-tailed tit |
| Red-billed Chough | gray bunting | Fieldfare | golden eagle |
| chaffinch | gray flycatcher | crossbill | Little Owl |
| Bearded Warbler | gray bunting | crested cuckoo | Wheatear |
| flusher | green woodpecker | crested lark | thekla lark |
| mountain whistler | greenfinch | Crested Tit | Chiffchaff |
| bee-eater | Great Spotted Woodpecker | quail | kestrel |
| Blue Rock Thrush | Great Yellow Wagtail | blackbird | garden warbler |
| blond wheatear | big thrush | Spurr-tighed nightjar | Collared Dove |
| barn swallow | hawk | Nightingale | griffon vulture |
| pied flycatcher | hawk eagle | oehoe | Skylark |
| Nuthatch | hedge sparrow | orpheus warbler | tick |
| tree creeper | stock pigeon | orpheusspotvogel | Jay |
| tree lark | hop | Blue Tit | water pipit |
| falcon | wood pigeon | Provençal warbler | Oriole |
| tawny owl | house sparrow | putter | Wren |
| Spectacled Warbler | house martin | raven | White Wagtail |
| buzzard | Iberian Gray Shrike | long-eared owl | Song Thrush |
| cirl bunting | Iberian Chiffchaff | tree sparrow | summer dove |
| dune pipit | calendar lark | red partridge | Carrion Crow |
| Dupont's lark | keep | robin | Black Tit |
| pygmy eagle | Barn Owl | European Stonechat | black redstart |
| Scops Owl | lapwing | Red-headed Shrike | black starling |
| magpie | little reed warbler | red-rumped swallow | Black Wheatear |
| European Canary | Lesser Kestrel | rock pigeon | black kite |
| fitness | small stairs | rock swallow | blackcap |
| whistler | little blackcap | roller | |
| collared redstart | little short-toed lark | siskin | |
| Yellow Wagtail | Linnet | snake eagle | |
| common swift | cuckoo | Peregrine Falcon | |
| golden rooster | Great Tit | Sparrowhawk | |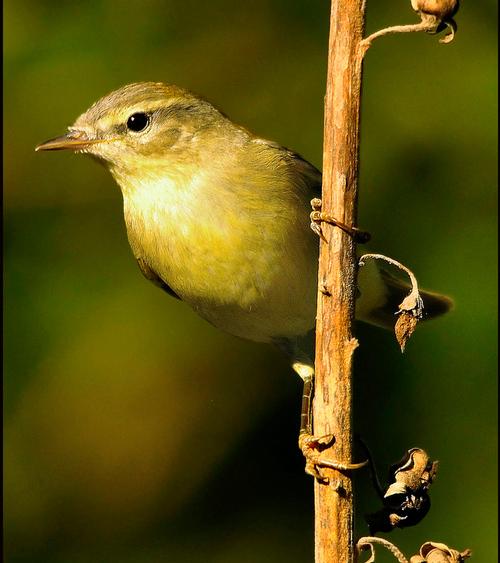 Iberian ChiffchaffPhoto: Rodrigo Saldanha de Almeida CC 2.0 Generic no changes made
Spotted butterflies in Andalusia
| | | | |
| --- | --- | --- | --- |
| strawberry tree greengrocer | essenpage | little firecracker head | orange tip |
| amethyst blue | geranium blue | little cabbage white | Reseda white |
| argus butterfly | striped white marble | little tiger blue | muzzle butterfly |
| atalanta | Striped Pile Butterfly | little ranger | Spanish flower blue |
| blowing bush blue | gray sandy eye | Little Pile Butterfly | Spanish orange sand eye |
| turned out to be a haystack | green clover page | little fritillary butterfly | Spanish thyme blue |
| flower blue | rookie | little fox | Spanish king page |
| colorful sand eye | large-veined white | little fire butterfly | Spanish fritillary butterfly |
| tree blue | large cabbage white | quartz blue | Spanish pipe flower butterfly |
| forest white | big fox | malrovedikkopje | tiger blue |
| lemon butterfly | haybeast | Moorish checkerboard | violet fire butterfly |
| Cleopatra | Icarus blue | Moorish dwarf blue | Western Marble White |
| thistle butterfly | Jasius butterfly | Moorish thyme blue | white laced speckled frog |
| dwarf tadpole | mallow tadpole | orange lucerne butterfly | Southern Midget Blue |
Andalusian horse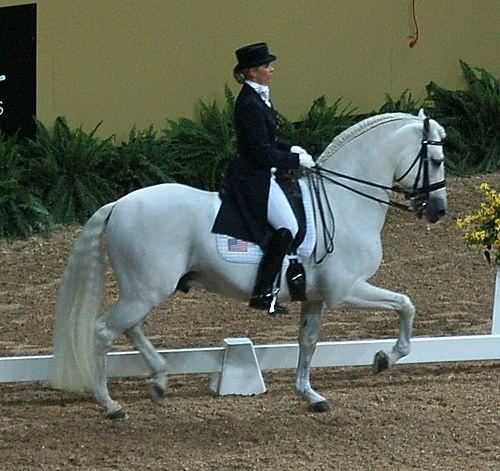 The Andalusian is used for dressagePhoto: Nickage CC 3.0 Unported no changes made
The Andalusiar, usually a gray, is an ancient Spanish horse breed from the area around the Andalusian capital of Seville. Since 1967 there has been a studbook and breeding organization recognized by the Spanish government, the 'Associación Nacional de Criadores de Caballos de Pura Raza Española', which represents the pure Andalusian breed. As is so often the case in such cases, other domestic studbooks also claim their studbook, and even distant foreign countries such as Australia have their own 'Andalusian' studbooks.
There is also a lot of discussion about the origin and the oldest history of the Andalusians. For example, the Andalusian was first bred in a Carthusian abbey in the 15th century and descended from the Sorraia horse, which is only found in Portugal. But also the horses of Berber people are said to have been at the origin of the Spanish horse. Other European breeds such as the Frisian horse, the Lipizzaner and the Holsteiner are influenced by the Andalusian.
The Andalusian is used in riding schools all over the world, but is also extremely suitable and is widely used in circuses and all kinds of dressage. The specific capacities of the Andalusians are optimally developed in the Spanish riding school, in classical dressage, the 'doma classica', and in the high school dressage, the 'alta escuela'. But also in much less elegant bullfighting, the Andalusian is gladly used, mainly because of its courage and maneuverability.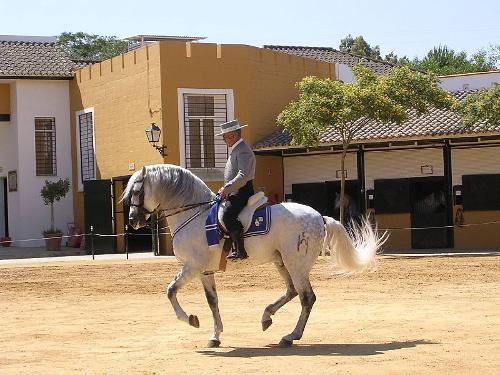 Cartujano or Carthusian, horse breed from AndalusiaPhoto: Fresco Tours CC 2.0 Generic no changes made
The Cartujano or 'Carthusian' is another famous Andalusian horse breed. It is a variant of the Andalusian, bred by Carthusian monks in the 15th century and one of the oldest and purest horse breeds worldwide. To protect the breed, Cartujano's are currently bred and controlled by the state stud farms of Córdoba, Jerez de la Frontera and Badajoz. The majestic Cartujano has been ridden by many powerful men throughout history, including Napoleon Bonaparte. The height at the withers of the Cartujano is between 1.52 and 1.62 meters and the most common color is gray, but the colors black, chestnut and brown are also common.
Sources
Andalucía
Lonely Planet

Andalusië
Lannoo

Baird, David / Sevilla & Andalusië
Van Reemst

BBC - Country Profiles

CIA - World Factbook

Dahms, Martin / Andalusië
Van Reemst

Hannigan, Des / Andalusië
Kosmos

Kennedy, Jeffrey / Andalusië & Costa del Sol
Van Reemst

O'Bryan, Linda / Andalusië
Uitgeverij J.H. Gottmer/H.J.W. Becht BV

Wikipedia
Last updated February 2023
Copyright: Team
The World of Info