IBIZA
Vacations and Sightseeing

Basic information
Official language
Spanish
Capital
Ibiza Town
Area
572 km²
Population
147,914 (2019)
Currency
euro (EUR)
Web
.es
Code.
ESP
Tel.
+34

Popular destinations SPAIN
Vacations and Sightseeing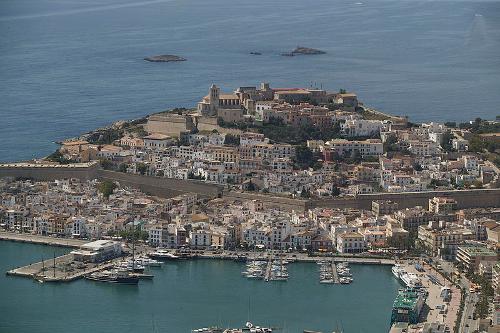 Ibiza Old townPhoto: Xaviduran CC 3.0 Unported no changes made
The economy of the Balearic Islands has grown tremendously due to tourism, making it the richest province in Spain. Annually about 10 million tourists visit Ibiza, Formentera, Mallorca and Menorca. In the 1960s it slowly became clear that tourism would become a gold mine for the economically ailing island. From the 1970s onwards, Europeans came to the island in large numbers and the areas around the famous beaches were filled with hotels, restaurants and apartment complexes. In the 1980s, the share of tourism in the Ibizan economy became increasingly important and the number of jobs also increased sharply, especially in construction, hotel and catering. That this "monoculture" is dangerous became clear in the late 1980s. The growth of tourism slowed down sharply, causing many companies to close their doors.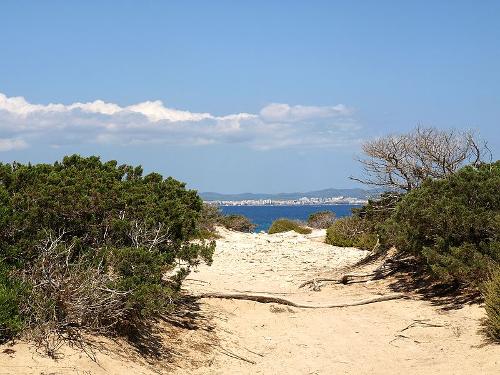 Quiet beach IbizaPhoto: Mr Pepanos CC 3.0 Unported no changes made
Due to the many tourists, nature and the environment came under increasing pressure. Fortunately, more and more attention is being paid to this. To preserve nature, about a third of Ibiza was protected. These include green areas and a 100-meter-wide coastal strip, which may not be built on. In addition, historic sites were restored and embellishments were made. The ports were given new promenades and the villages car-free zones.
The hippie market of Santa Eulària des Riu is a happening that attracts tourists and locals alike. The old town center of Ibiza town is known as Dalt Vila. Here is the cathedral and pieces of the 16th century wall can still be seen.
---
Sources
Mallorca & Ibiza, Menorca & Formentera
APA Publications
Mischke, R. / Ibiza, Formentera
Het Spectrum
Rokebrand, R. / Reishandboek Ibiza en Formentera
Elmar
Sale, R. / Ibiza & Formentera
Kosmos-Z&K
Schmid, N. / Ibiza, Formentera
Deltas

CIA - World Factbook

BBC - Country Profiles
Last updated August 2023
Copyright: Team
The World of Info