IBIZA
Population


Popular destinations SPAIN
Population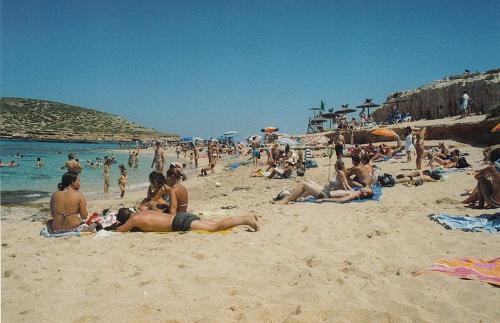 The beach is for residents and tourists in IbizaPhoto: Athinaf CC 2.0 Generic no changes made
Ibiza has approx. 140,000 inhabitants (2018), of which about 50,000 live in the capital Eivissa. Only half of the residents were born in Ibiza, the rest are Spaniards from the Iberian Peninsula or citizens from other European countries who have moved to Ibiza.
Traditions and customs have largely been preserved despite all the changes. These customs sometimes date back to Punic, Arab or Roman times. An example are the typical Ibizan farms or "fincas", with the rectangular roofs, where several rectangular buildings surround a large living space. They are reminiscent of the architectural style of the Berbers in North Africa.
Traditional costumes are only worn at folkloric festivals and then old so-called "gaites" songs are also sung. These songs also sound African.
From the mid-1950s many writers and painters settled in Ibiza, followed by the hippies in the late 1960s. The hippies mainly lived in the northern part of Ibiza around Sant Charles.
Every year, millions of tourists flood the four largest islands of the Balearic Islands.
---
Sources
Mallorca & Ibiza, Menorca & Formentera
APA Publications
Mischke, R. / Ibiza, Formentera
Het Spectrum
Rokebrand, R. / Reishandboek Ibiza en Formentera
Elmar
Sale, R. / Ibiza & Formentera
Kosmos-Z&K
Schmid, N. / Ibiza, Formentera
Deltas

CIA - World Factbook

BBC - Country Profiles
Last updated November 2023
Copyright: Team
The World of Info