IBIZA
Religion


Popular destinations SPAIN
Religion
Almost all of the inhabitants of Ibiza are adherents of the Roman Catholic faith, although secularization is rapidly increasing even in this once Catholic stronghold. Traditions and old customs come alive during parties, festivals and pilgrimages. Many celebrations have religious origins in which Mary is often the center of attention.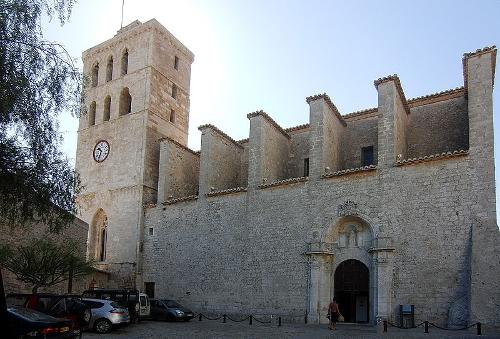 Cathedral of IbizaPhoto: Magerius CC 3.0 Unported no changes made
Famous are the "romerías", processions where the Roman Catholic faithful of the island, watched by thousands of tourists, carry the effigy of a saint through the streets of town or village or to a shrine on top of a mountain. On July 16, some ports host the "Fiestas de la Virgen del Carmen", celebrations in honor of the patron saint of seafarers. On that day people go out to sea with all kinds of boats and take a statue of the saint with them.
The traditional costume of Ibiza includes a necklace of silver, gold and coral with a medallion with an image of Mary. Girls receive the "emprenada" during their first communion.
The first churches were also built with the arrival of the Christians and King Jaume I. The often conspicuously whitewashed churches, which are characteristic of Ibiza, were also reinforced to offer the population a safe shelter in case of danger. These so-called fortified churches usually have a rectangular shape, small windows, a semi-circular barrel vault and are sometimes surrounded by battlements. Religious festivals are still often held in a courtyard or "porxada" or "portxo". It is also striking that almost every church in Ibiza has different altars and the oldest statues were made by Spanish and Flemish sculptors.
Eivissa Cathedral (Mare de Deu de la Nue or Santa María de las Nieves = Mary of the Snow) is Ibiza's largest church, located in the upper part of Dalt Vila, a UNESCO World Heritage Site. The oldest foundations date from 1235 and the construction of the church was not completed until 1592. Most of the paintings date from the 15th century. Due to the many renovations, only the apse and the bell tower have been preserved. Next to the cathedral is the episcopal palace, the residence of the bishop.
---
Sources
Mallorca & Ibiza, Menorca & Formentera
APA Publications
Mischke, R. / Ibiza, Formentera
Het Spectrum
Rokebrand, R. / Reishandboek Ibiza en Formentera
Elmar
Sale, R. / Ibiza & Formentera
Kosmos-Z&K
Schmid, N. / Ibiza, Formentera
Deltas

CIA - World Factbook

BBC - Country Profiles
Last updated November 2023
Copyright: Team
The World of Info