IBIZA
Language


Popular destinations SPAIN
Language
Most residents of Ibiza speak a variant of Catalan, namely Eivissenc or Ibicenco. In addition, of course, almost everyone speaks the Spanish that we know, Castillian. Since 1992, most names of places of interest have been indicated in Eivissenc. For example, the name Ibiza town was finally changed to Eivissa.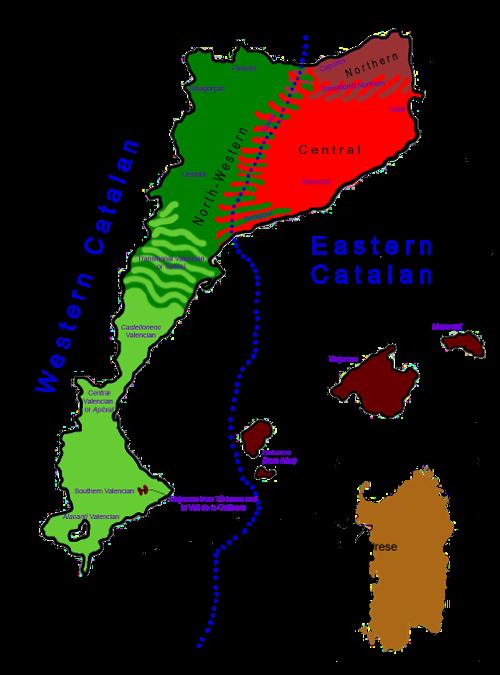 Dialect map of Catalan, IbizaPhoto: Pepets CC 3.0 Unported no changes made
The islands of Ibiza and Formentera were called Pytioussa and Ophioussa by the ancient Greeks. The Carthaginian settlers gave Ibiza the names Ibosim, Aibusim and Ebusim, after the Egyptian god Bes. At that time the abbreviation IBSM was used on coins.
Ibiza in different languages sounds like this:
Iberian - Ebeso
Greek - Ebysos
Latin - Ebusus
Arabic - Yebisah
Catalan - Eivissa
Castilian - Ibiza
The differences between Eivissenc, Catalan and Castilian are often significant:
| | | | |
| --- | --- | --- | --- |
| English | Eivissenc | Catalan | Castilian |
| Party | xacota | festa | fiesta |
| Glass | got | vas | vaso |
| Towel | caramàs | tovallo | latoalls |
| Dog | quisso | gos | perro |
| Boy | boix | nené | niño |
| Uncle | blonco | oncle | tío |
| Stone | mac | pedra | piedra |
---
Sources
Mallorca & Ibiza, Menorca & Formentera
APA Publications
Mischke, R. / Ibiza, Formentera
Het Spectrum
Rokebrand, R. / Reishandboek Ibiza en Formentera
Elmar
Sale, R. / Ibiza & Formentera
Kosmos-Z&K
Schmid, N. / Ibiza, Formentera
Deltas

CIA - World Factbook

BBC - Country Profiles
Last updated October 2023
Copyright: Team
The World of Info