CEVENNES
Vacations and Sightseeing

Basic information
Official language
French
Capital
Alès
Area
913 km²
Population
63,640 (2014, last known)
Currency
euro (EUR)
Web
.fr
Code.
FRA
Tel.
+33

Popular destinations FRANCE
Vacations and sightseeing
Tourism is of vital importance to the Cévennes. In this region, it is often small-scale or green tourism. People receive support from the government when they renovate old farms and turn them into gites ruraux. These gites are popular with hikers and cyclists.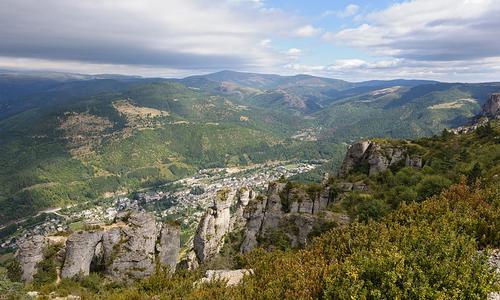 Parc National des CevennesPhoto: Myrabella CC 3.0 Unported no changes made
The big attraction is the Parc National des Cevennes, where low mountains smoothly merge into the Languedoc plain. It is a patchwork of rocky heights, grasslands, forests and farms. This park is a classic landscape of traditional French life. Canyons and cliffs are up to 500 metres high.
The caves of Aven Armand, Dargilan and Bramabiau have attracted visitors since the end of the 19th century. Aven Armand is large enough to contain the Notre-Dame Cathedral and has over 400 giant stalagmites. The Grotte de Dargilan is known as the "pink cave" because of the pink colour of its stalactites. Bramabiau is essentially an underground canyon carved out by the subterranean Bonheur River. Spectacular is also the Grotte des Demoiselles located above the river Hérault.
A special outing is a ride with an original old means of transport, the steam train 'Train à vapeur des Cévennes', over the line Anduze-Saint-Jean from 1909.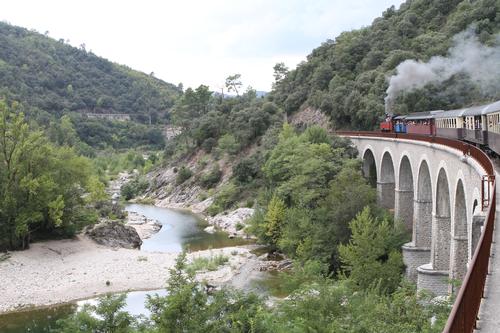 Train vapeur des CevennesPhoto: Georges Seguin CC 3.0 Unported no changes made
On the plateau of the Cham des Bandons is the largest concentration of menhirs in southern France. The 154 menhirs probably date from the late Neolithic period (approx. 2500 BC).
Sources
BBC - Country Profiles

CIA - World Factbook

Forst, Bettina / Cevennen-Ardèche : met Grands Causses, Aigoual-Massiv en Mont Lozère : 50 wandelingen tussen Centraal Massief en Rhônedal

Graaf, Gjelt de / Languedoc, Rousillion : Cevennen, Tarn
ANWB

Pijnenburg, Hans / Languedoc, Cevennen en Tarn
Gottmer/Becht

Wikipedia
Last updated January 2023
Copyright: Team
The World of Info